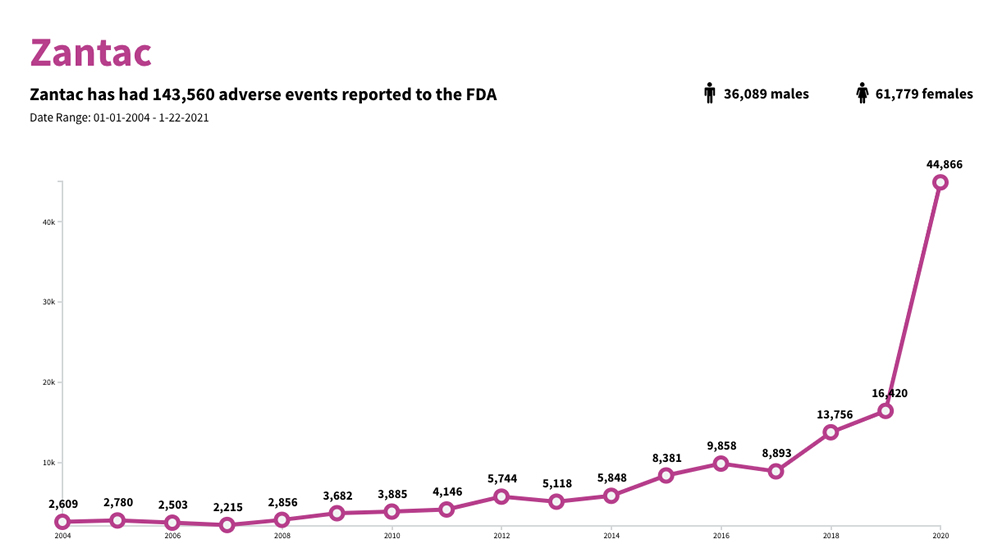 If you are a resident of Alabama who took the drug Zantac, and have been diagnosed with cancer, please know you are not alone. Recently, Zantac (also known as Ranitidine) has been shown to have a link to cause cancer. There have been tons of lawsuits coming forward against Zantac stating that the medication contains a cancer causing chemical known as N-Nitrosodimethylamine (NDMA). Our Alabama Zantac cancer attorneys are taking all Zantac cases in the state including the areas of Jefferson County, Mobile County, Baldwin County, Montgomery County, Madison County, Tuscaloosa County, Shelby County, Lee County, Morgan County, Calhoun County, Houston County, Limestone County, Etowah County, Marshall County, Lauderdale County, St. Clair County, Elmore County, Cullman County, Talladega County, DeKalb County, Walker County, Russell County, Blount County, Autauga County, and all other counties throughout the state of Alabama. If you are looking to find the best Zantac cancer attorney in Alabama to help represent your case against the makers of Zantac, Sanofi, contact us today and fight out what your legal rights are. We offer you a completely free and confidential case evaluation.
Why are Zantac Cancer Lawsuits being filed?
Due to Zantac showing its link to cancer, the FDA issued a statement in April of 2020 stating that manufacturers must withdraw Zantac, and any other prescriptions from the market right away. In the statement, it also included any over the counter prescriptions. The FDA discovered the dangers of Zantac had the possibility to increase in a patient over a certain period of time. Due to the fact NDMA is found in Zantac, this puts patients who took it at a way higher risk for developing cancer. Warnings regarding Zantac had been placed by the FDA dating back to 2019.
Zantac and Generic Ranitidine Can Cause Cancer
Zantac (also known as Ranitidine) goes by a lot of different names. Most commonly, it is known as Zantac. However, there are many other different brands that a patient may have taken, including:
Acid Control (ranitidine)
Zantac 75 Tablets
Zantac 150 Tablets
Zantac 150 Maximum Strength
Zantac 150 Maximum Strength Cool Mint
Heartburn Relieve (ranitidine)
CVS Health Acid Reducer (ranitidine)
Equate Ranitidine Tablets
Wal-Zan 75
Wal-Zan 150
Before the statement had been issued by the FDA, a lot of companies had known Zantac had a cancer causing ability for the consumer. Warnings had been placed against Ranitidine that dated back to 2019. Many of these companies had made recalls prior to the FDA issued a statement, including:
Sanofi
Apotex Corp.
Appco Pharma
American Health Packaging
Amneal Pharmaceuticals
Aurobindo Pharma USA
Denton Pharma (dba Northwind Pharmaceuticals)
GlaxoSmithKline (GSK)
Glenmark Pharmaceuticals
Golden State Medical Supply
Lannett Company
Novitium Pharma
Reddy's Laboratories
Perrigo Company
Precision Dose
Sandoz
Other Serious Side Effects of Zantac
Between the years 2004-2020, there had been many other side effects that were reported to the FDA that had to do with Zantac. These included, but were not limited to:
Colorectal cancer (was the #1 most common side effect reported to the FDA)
Chronic kidney disease (#4)
Renal cancer (#5)
Bladder cancer (#11)
Acute kidney injury (#14)
Renal failure (#15)
Prostate cancer (#19)
Oesophageal carcinoma (#21)
Gastric cancer
Hepatic cancer
Pancreatic cancer (pancreatic carcinoma)
The most commonly reported cancer that had been found in over 8,000 cases was colorectal cancer. In over 6,000 cases was renal cancer, and in over 5,000 cases was bladder cancer. Every patient who had taken Zantac took it with good faith. They believed that the drug was safe for them to help treat their health issues such asa heartburn, acid reflux, and/or stomach ulcers. Zantac (Ranitidine) was created as an anti-ulcer medicine made to block the gastric acid production in a patient. However, all the manufactures and companies who knew Zantac had a possibility of causing a patient cancer never made it known to any of their customers. Because fo this, many lawsuits are being filed agains them.
Filing a Zantac Cancer Lawsuit in Alabama
If you are debating on filing a Zantac cancer lawsuit in Alabama against the makers of Zantac, call to speak with one of our legal staff. Our team is experienced in handling both product liability cases, and dangerous drug cases like these. Our product liability lawyers will fight to make sure that you get the justice you deserve, including any financial compensation that might be available.
Alabama Zantac Cancer Attorneys: Serving Throughout the State
Our Zantac lawyers help clients throughout the entire state of Alabama. During these difficult times, we want to make sure to prioritize your safety and rae bale to help you from the safety of your own home. We are able to handle calls through Facetime, Zoom, as well as a regular phone call. Our legal team is now accepting all Zantac cases in Alabama, including:
Our Zantac attorneys serve clients all throughout the state of Wyoming, and are able to help you even from the safety of your own home. During these difficult times, we want to help and make sure to prioritize your safety. We are able to handle all calls through both Zoom, Facetime, as well as regular phone calls. Our team is currently accepting all Zantac cases in Wyoming, including:
Huntsville
Birmingham
Montgomery
Mobile
Tuscaloosa
Hoover
Auburn
Dothan
Decatur
Madison
Florence
Vestavia Hills
Phenix City
Prattville
Gadsen
Alabaster
Northtport
Opelika
Enterprise
Daphne
Homewoood
Trussville
Athens
Pelham
Fairhope
Mountain Brook
Albertville
Oxford
Anniston
Helena
Foley
Prichrad
Cullmaan
Selma
Troy
Hueytown
Millbrook
Calera
Center Point
Muscle Shoals
Saraland
Gardendale
Talladega
Scottsboro
Hartselle
Gulf Shores
Chelsea
Fort Payne
Alexander City
Jasper
Jacksonville
Ozark
Irondale
Moody
Pell City
Eufaula
Sylacauga
Leeds
Russellville
Valley
Clay
Rainbow City
Boaz
Spanish Fort
Fairfield
Fultondale
Pleasant Grove
Pike Road
Southside
Sheffield
Tuskegee
Tuscumbia
Clanton
Andalusia
Guntersville
Arab
Atmore
Bay Minette
Orange Beach
Greenville
All other cities throughout the state of Alabama.
Can Our Zantac Lawyers Answer Your Questions?
If you or someone you love has. been diagnosed with any of these cancers after taking Zantac, you might be eligible to receive financial compensation. These include, but are not limited to:
Bladder cancer
Brain cancer
Breast cancer
Esophageal/nasal/throat cancer
Intestinal cancer
Kidney cancer
Liver cancer
Lung cancer (in non-smokers)
Ovarian cancer
Pancreatic cancer
Prostate cancer
Stomach cancer
Testicular cancer
Thyroid cancer
Uterine cancer
If you want to know what your legal rights are, or curious if you might have a case against Zantac, contact our legal team today. We are here to help in any possible way that we can.