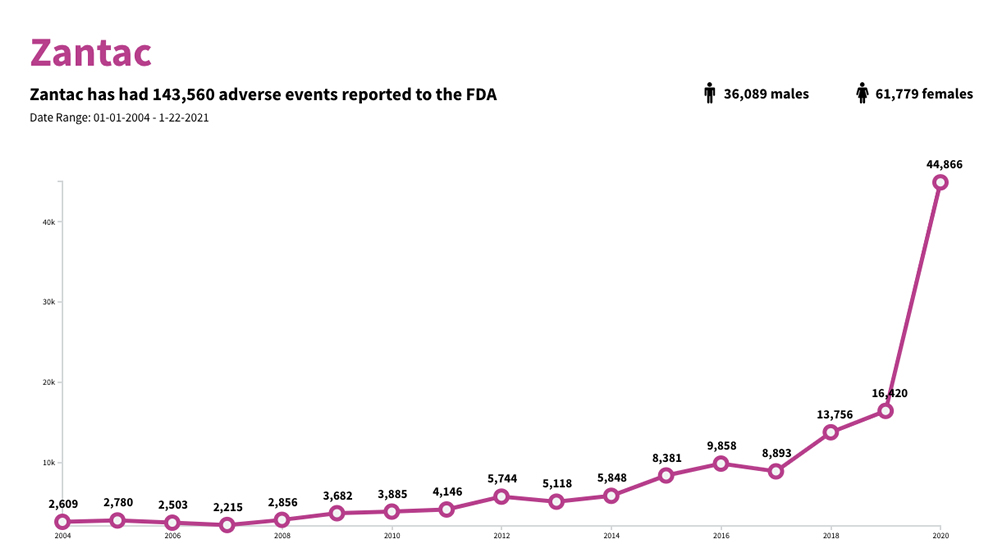 Have you been recently diagnosed with cancer after taking Zantac? If so and you live in California, you are not alone. Zantac (ranitidine) has been linked to cancer, and recent lawsuits against Zantac allege that this medication contains a cancer-causing chemical called N-Nitrosodimethylamine (NDMA). Our California lawyers are currently accepting Zantac cancer lawsuit cases all over the state, including Los Angeles County, San Diego County, Orange County, the Inland Empire, Santa Clara County, San Francisco County and all over the state. If you are looking for the best Zantac cancer lawyers in California to represent you in a case against drug maker Sanofi, please contact us today for a free and confidential consultation and find out what your legal options are.
Why are Zantac Cancer Lawsuits being filed?
Because of the cancer dangers of taking Zantac, on April 1, 2020, the FDA announced they were requesting all manufacturers to withdraw all prescription and over the counter Zantac products from the market immediately. The FDA determined that the dangers of using Zantac increases with time. They also have specifically said that NDMA is a probable human carcinogen, meaning that it can cause cancer. Since Zantac contains NDMA, this puts anyone who has taken Zantac at risk. The FDA has been warning about Zantac since 2019.
Zantac and Generic Ranitidine Can Cause Cancer
Ranitidine goes by many names.  Along with Zantac, there are many generics brands that a person may have taken, including:
Zantac 75 Tablets
Zantac 150 Tablets
Zantac 150 Maximum Strength
Zantac 150 Maximum Strength Cool Mint
Wal-Zan 75
Wal-Zan 150
Heartburn Relieve (ranitidine)
CVS Health Acid Reducer (ranitidine)
Acid Control (ranitidine)
Equate Ranitidine Tablets
Even before the FDA announcements, companies have known that Zantac was tied to cancer. Warnings about ranitidine have been out since 2019. Many companies made recalls prior to that FDA announcement, including:
American Health Packaging
Amneal Pharmaceuticals
Aurobindo Pharma USA
Apotex Corp.
Appco Pharma
Denton Pharma (dba Northwind Pharmaceuticals)
Reddy's Laboratories
GlaxoSmithKline (GSK)
Glenmark Pharmaceuticals
Golden State Medical Supply
Lannett Company
Novitium Pharma
Perrigo Company
Precision Dose
Sandoz
Sanofi
The Serious Side Effects of Zantac
 Some of the more serious side effects reported to the FDA from 2004-2020 include:
Colorectal cancer (the #1 most common side effect reported to the FDA)
Chronic kidney disease (#4)
Renal cancer (#5)
Bladder cancer (#11)
Acute kidney injury (#14)
Renal failure (#15)
Prostate cancer (#19)
Oesophageal carcinoma (#21)
Gastric cancer
Hepatic cancer
Pancreatic cancer (pancreatic carcinoma)
Colorectal cancer was listed in over 8,000 adverse events reported to the FDA. Renal cancer was reported in nearly 6,000 cases and bladder cancer was reported in nearly 5,000 cases. Consumers took Zantac in good faith, with an expectation that this was a safe medication to take on order to treat heartburn, acid reflux, and stomach ulcers. Ranitidine is an anti-ulcer medication that blocks the production of gastric acid to help treat gastroesophageal reflux disease (GERD). The manufacturers and companies selling Zantac did not make consumers aware that their product could cause cancer, and as a result, lawsuits are being filed.
Filing a Zantac Cancer Lawsuit
If you are considering filing a lawsuit, you should speak with an Zantac cancer attorney in California who is experienced in handling product liability and dangerous product lawsuits. Our product liability lawyers have extensive experience handling these types of cases. Our attorneys will fight hard to make sure you get justice and financial compensation.
California Zantac Cancer Lawyers: We Serve All Over the State
Our Zantac lawyers serve all over California from the safety and comfort of your own home. In order to prioritize your safety, we can handle all calls using Zoom, FaceTime or just regular phone calls if you prefer. We are accepting Zantac cases all over the state, including:
Los Angeles
San Diego
San Jose
San Francisco
Fresno
Sacramento
Long Beach
Oakland
Bakersfield
Anaheim
Santa Ana
Riverside
Stockton
Chula Vista
Fremont
Irvine
San Bernardino
Modesto
Oxnard
Fontana
Moreno Valley
Glendale
Huntington Beach
Santa Clarita
Garden Grove
Santa Rosa
Oceanside
Rancho Cucamonga
Ontario
Lancaster
Elk Grove
Palmdale
Corona
Salinas
Pomona
Torrance
Hayward
Escondido
Sunnyvale
Pasadena
Fullerton
Orange
Thousand Oaks
Visalia
Simi Valley
Concord
Roseville
Santa Clara
Vallejo
Victorville
El Monte
Berkeley
Downey
Costa Mesa
Inglewood
Ventura
West Covina
Norwalk
Carlsbad
Fairfield
Richmond
Murrieta
Burbank
Antioch
Daly City
Temecula
Can Our Zantac Lawyers Answer Your Questions?
If you are a family member has been diagnosed with any of the following cancers after taking Zantac, you may be eligible for significant compensation:
Bladder cancer
Brain cancer
Breast cancer
Esophageal/nasal/throat cancer
Intestinal cancer
Kidney cancer
Liver cancer
Lung cancer (for non-smokers)
Ovarian cancer
Pancreatic cancer
Prostate cancer
Stomach cancer
Testicular cancer
Thyroid cancer
Uterine cancer
If you have any questions our Zantac lawyers can answer for you, please don't hesitate to contact us right away. We are here to help you in any way possible.