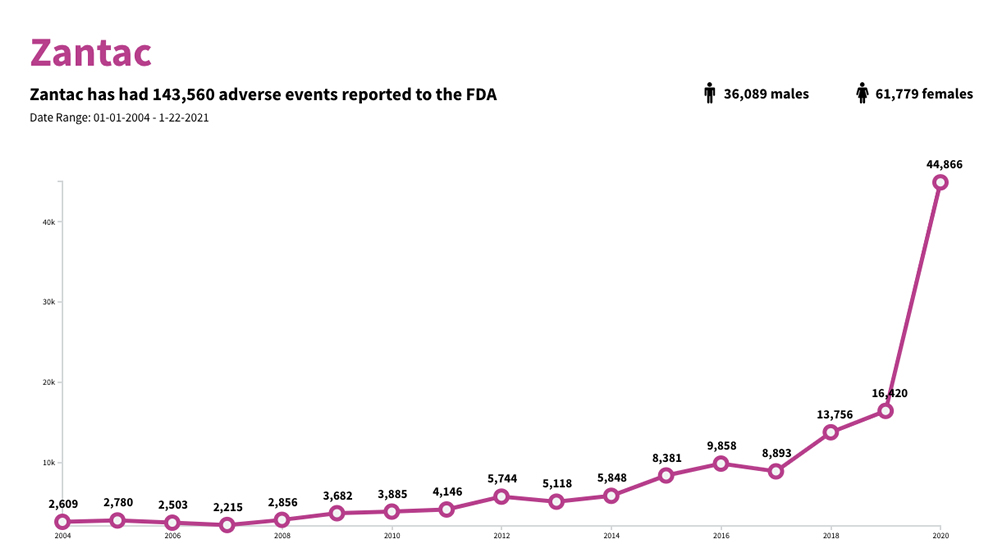 Are you a resident of Missouri and have been diagnosed with cancer after taking Zantac? If so, know you are not alone. Zantac (also known as ranitidine) has been shown to have a link to cancer. Recently, there have been many lawsuits against Zantac coming forward stating that the medicine contains a cancer causing chemical named N-Nitrosodimethylamine (NDMA). Our Missouri Zantac cancer attorneys are currently taking cases all throughout the state including Saint Louis County, Jackson County, Saint Charles County, Saint Louis City, Greene County, Clay County, Jefferson County, Boone County, Jasper County, Cass County, Platte County, Franklin County, Christian County, Buchanan County, Cape Girardeau County, Cole County, Saint Francois County, Lincoln County, Newton County, Taney County, Johnson County, Pulaski County, Phelps County, and anywhere else in the state. If you are looking for the best Zantac cancer lawyer in Missouri to help represent you in filing a case against Sanofi, the manufacturers of Zantac, call us today to find out what your legal options are. We offer a completely free, and 100% confidential case evaluation.
Why are Zantac Cancer Lawsuits being filed?
Due to the risks Zantac has shown to cause and the links to cancer it has, the FDA issued a statement in April 2020 that stated all manufacturers must withdraw all of their prescriptions from the market immediately, including all of their over the counter prescriptions.  The FDA had discovered that the dangers of Zantac would increase in a patient over time. Because NDMA is found in Zantac, it puts the people who took it at a high risk to develop cancer. Since 2019, the FDA had been placing warnings out against Zantac.
Zantac and Generic Ranitidine Causes Cancer
Zantac (Ranitidine) is known by many different names, but the most commonly known is Zantac. There are a lot of other different brands that a person may have taken. These include:
Zantac 150 Maximum Strength
Zantac 150 Maximum Strength Cool Mint
Zantac 75 Tablets
Heartburn Relieve (ranitidine)
Zantac 150 Tablets
Zantac 150 Maximum Strength
Zantac 150 Maximum Strength Cool Mint
Equate Ranitidine Tablets
CVS Health Acid Reducer (ranitidine)
Wal-Zan 75
Wal-Zan 150
Before the statement had been issued by the FDA, there had been a lot of different companies  who had known that Zantac had ties to cancer. There had been warnings put out against ranitidine dating back since 2019. Many of these companies had made recalls prior to the FDA even issuing a statement. Some of these companies include:
Apotex Corp.
Appco Pharma
American Health Packaging
Amneal Pharmaceuticals
Aurobindo Pharma USA
Denton Pharma (dba Northwind Pharmaceuticals)
GlaxoSmithKline (GSK)
Glenmark Pharmaceuticals
Golden State Medical Supply
Lannett Company
Novitium Pharma
Reddy's Laboratories
Perrigo Company
Precision Dose
Sandoz
Sanofi
The Serious Side Effects of Zantac
 Other serious side effects that consumers had reported to the FDA during 2004-2020 include:
Colorectal cancer (#1 most common side effect that is reported to the FDA)
Chronic kidney disease (#4)
Renal cancer (#5)
Bladder cancer (#11)
Acute kidney injury (#14)
Renal failure (#15)
Prostate cancer (#19)
Oesophageal carcinoma (#21)
Gastric cancer
Hepatic cancer
Pancreatic cancer (pancreatic carcinoma)
The #1 most commonly reported adverse effect of Zantac was colorectal cancer and was found in over 8,000 adverse events. In around 6,000 cases was renal cancer. And the 3rd most common reported adverse event was bladder cancer. The people who took Zantac had taken it in good faith, believing that the drug was a safe medication to treat their heartburn, stomach ulcers, and acid reflux. Ranitidine is made as an anti-ulcer medication that is designed to block gastric acid production and help treat gastroesophageal reflux disease (GERD). All of the companies and manufacturers who sold Zantac never made their consumers aware that their product had the potential to cause cancer, and as a result of this, there have been many people coming forward filing lawsuits.
Filing a Zantac Cancer Lawsuit in Missouri
Are you considering filing a Zantac cancer lawsuit in Missouri? If so, you should speak with a Zantac lawsuit attorney today. Our legal team is experienced in handling dangerous product lawsuits like these. Our product liability attorneys have extensive experience in handling these types of cases. Our lawyers will help you during this difficult time and fight to make sure you get the justice you deserve and to gain any financial compensation.
Missouri Zantac Cancer Attorneys: We Serve All Throughout the State
Our Zantac attorneys serve all over the state of Missouri and even from the safety of your own home. We want to prioritize your safety during this time and are able to handle your calls by either Zoom, Facetime, or just a regular phone call. We are currently accepting all Zantac cases in the state of Missouri, including:
St. Louis
Kansas City
Springfield
Columbia
Lee's Summit
Independence
O'Fallon
St. Joseph
St. Charles
St. Peters
Blue Springs
Florissant
Joplin
Chesterfield
Jefferson City
Wentzville
Cape Girardeau
Wildwood
University City
Liberty
Ballwin
Raytown
Kirkwood
Gladstone
Maryland Heights
Hazelwood
Grandview
Belton
Webster Groves
Nixa
Raymore
Arnold
Ferguson
Sedalia
Ozark
Rolla
Warrensburg
Farmington
Creve Coeur
Machester
Hannibal
Republic
Poplar Bluff
Lake St. Louis
Clayton
Sikeston
Overland
Jackson
Lebanon
Carthage
Washington
Moberly
Grain Valley
Jennings
Dardenne Prairie
Troy
St. Ann
All other areas throughout Missouri.
Can Our Zantac Lawyers Answer Your Questions?
If you or somebody you love was diagnosed with any of the following cancers after taking Zantac, you may be eligible to receive a significant financial compensation.
Bladder cancer
Brain cancer
Breast cancer
Esophageal/nasal/throat cancer
Intestinal cancer
Kidney cancer
Liver cancer
Lung cancer (for non-smokers)
Ovarian cancer
Pancreatic cancer
Prostate cancer
Stomach cancer
Testicular cancer
Thyroid cancer
Uterine cancer
If you have any questions regarding your legal rights, don't hesitate to contact us. We are here to help you in any way possible.