You may have been riding a motorcycle on your usual route home from work when suddenly a negligent driver changes lanes without seeing you in their blind spot. Your typically quick ride home turns into a traumatic motorcycle crash as you are sideswiped by a car and thrown off your motorcycle. 
This describes just one of the common ways motorcycle accidents occur. Accidents can happen when you least expect it and handling the aftermath can be difficult. Moreover, working with insurance companies to file a claim can be challenging and confusing all the while you are recovering from the emotional trauma and physical injuries suffered from the crash.
To ensure a smooth and efficient process, here are five tips for filing a motorcycle accident insurance claim:
Document the details of the crash.
Gathering as much evidence as possible will be extremely helpful when you are filing an insurance claim after your accident. If you are physically able to, document photos of the accident scene as evidence or call for help to do so. Having photo or video evidence of the scene after the accident can be very valuable when examining the extent of damages for your claim. Additionally, documenting the contact and insurance information of the other party involved is critical. If there are witnesses nearby, collecting their contact information can be helpful with providing more information on details of the crash.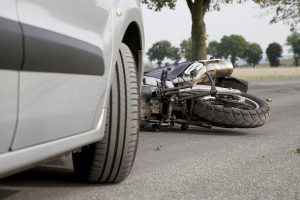 Keep proof of your injuries and documentation of medical treatment. 
In addition to keeping the details of the scene of the accident, keeping proof of your injuries and documentation of medical treatment is also important. Collecting medical records that show treatment expenses are valuable forms of evidence for your personal injury claim. Demonstrating proof of the other party's negligence resulting in your injury is an important component of a successful insurance claim.
Promptly handle communications with insurance companies. 
While you may be recovering from the physical injuries and emotional trauma after your motorcycle accident, promptly calling your insurance company after your crash is always beneficial for an efficient claims process. Handling the necessary communications with the insurance company in a timely manner can demonstrate the importance of your claim. Having someone, a family member or legal professional, to help you get the ball rolling if you are recovering from severe injuries can be helpful to avoid falling short of the time period to file an injury claim with your insurance company. 
Avoid giving the insurance agent a recorded statement. 
It is important to remember that anything you say when communicating with an insurance agent can be used against you. When speaking to an insurance agent over the phone, you will most likely be notified that the call will be recorded. Because of this, it is important to be cautious about what you say specifically regarding determining fault and the severity of injuries. The insurance company will want to settle your claim with as little cost as possible, which is often done by manipulating you into admitting fault to the accident or minimizing the extent of your injuries. Insurance companies can then use the information against you later on in the process of filing your claim and justify a low settlement. 
Work with a specialized insurance law attorney. 
The unfortunate reality of working with insurance companies is that some will deny an insurance claim after an accident or limit coverage in a personal injury claim. The insurance lawyers at Cannon & Dunphy, S.C. in Milwaukee have extensive experience in handling personal injury claims with insurance companies trying to take advantage of victims. To avoid being swindled through bad faith insurance practices, working with a specialized insurance law attorney can help ensure you receive the appropriate compensation that you are entitled to. An experienced legal professional can represent you and negotiate a fair settlement with the insurance company. 
The motorcycle accident lawyers at Cannon & Dunphy, S.C. in Milwaukee have over 30 years of experience handling personal injury claims from motorcycle accidents and have seen the devastating aftermath of many cases. Being taken advantage of by an insurance company is the last thing you would want to experience on top of suffering physical injuries as a victim of a motorcycle crash. Following these tips when filing your insurance claim after your motorcycle accident will help guide you towards a successful case and receiving the compensation you deserve.