The University of Michigan is facing multiple lawsuits alleging sexual misconduct by Dr. Robert E. Anderson, who held job titles of Director of University Health Service and athletic team physician. Dr. Anderson would use routine medical exams as his opportunity to prey on innocent students. Some of the things he is accused of includes:
Conduct unwarranted hernia checks
Conduct unwarranted penis checks
Conduct unwarranted prostate checks
Conduct unwarranted testicle exams
Genital fondling of patients
Groping boys he was examining
Digital anal penetration of patients
Exposing himself to patients
Touching himself in front of patients
Using patients hands to touch his own body parts
Many student athletes at the U of M were subjected to "routine" rectal exams that he told the patients were medically required. It is likely that there are hundreds of sexual abuse victims of doctor Anderson, based on the over 100 calls already placed to the sexual abuse hotline.
If any of these things happened to you while at the University of Michigan, you may be entitled to compensation.
Lawsuits Filed Against University of Michigan
The first lawsuit filed against the University of Michigan and the UM Board of Regents alleges that the school knew about Dr. Anderson's actions and attempted to cover it up. According to the lawsuit, the abuse started when the student arrived at UM as a freshman. In the lawsuit against the U of M, it is alleged that Anderson abused a former wrestler on 35 different occasions between 1984 and 1989. There are more lawsuits being filed, including former hockey players, football players and wrestlers.
Three Former University of Michigan Athletes Speak Out
At a recent press conference, former wrestlers Andy Hrovat (a former Olympian), Thomas Evashevski and Tad Deluca spoke about Dr. Anderson's conduct. Deluca wrote a letter to the school in July 1975 but was ignored. He write another letter in 2018, and that was also ignored.
What to do if You Were a Victim of Dr. Anderson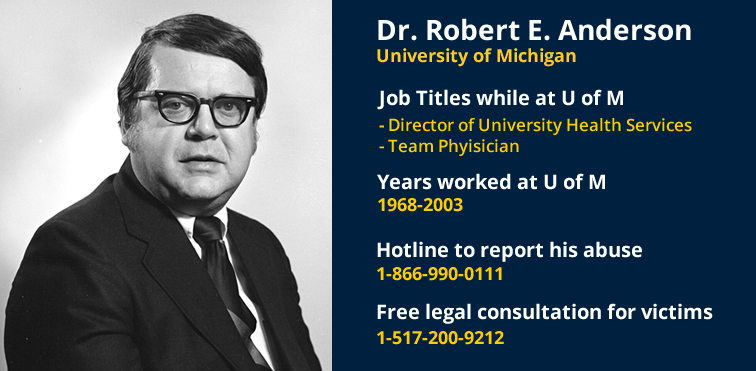 If you were a victim of Dr. Robert Anderson while at the University of Michigan, it's important to speak to a lawyer about your case. While many law firms want to handle a high profile case such as this one, it's important that you choose a law firm with significant experience handling sexual abuse cases involving schools. Additionally, you should choose a lawyer who has a past history of getting large verdicts or settlements handling college sexual abuse cases. The athletic department and school knew about the sexual abuse and chose to try to cover this up, instead of doing the right thing and taking allegations seriously so that this wouldn't happen to other victims.
Attorneys handling these cases will provide you with:
Free consultations
Complete confidentiality
No fees to handle your case unless you win (so no money upfront is needed).
How to Choose the Best Lawyers to Handle a Sex Abuse Case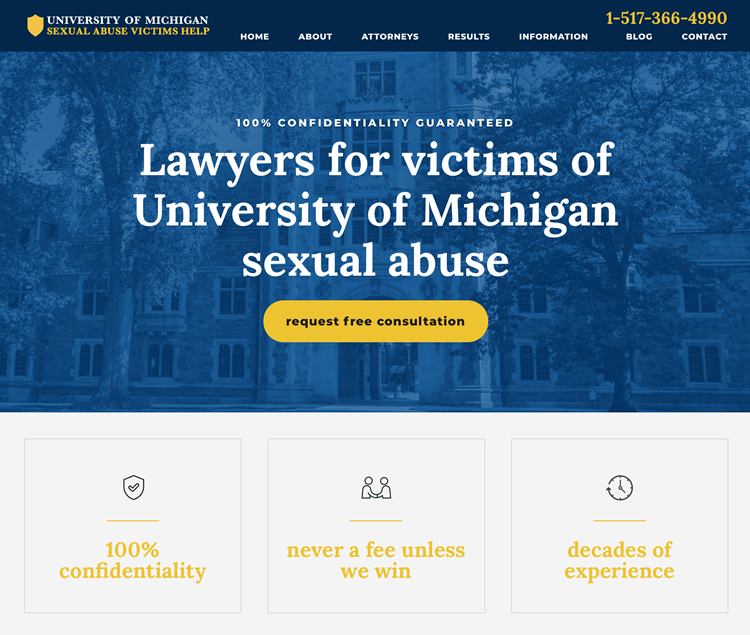 There are many factors to consider when it comes to hiring the right lawyers for handling a case of this nature. Anytime you have a high profile sexual abuse case against a powerful institution like the University of Michigan, you can be assured that the institution will have a powerful team of lawyers on their site. For this reason, you should choose a law firm that has:
Experience handling institutional sex abuse cases: While many lawyers will gladly accept your case, you should be highly selective of the firm you hire. You should hire a lawyer with significant experience handling and winning cases against large institutions.
Past history of impressive results for sex assault victims: Choose an attorneys with a history of large (successful) results for their clients. While past results do not guarantee future ones, it can be a great indicator that the law firm you hire has previously had success handling sexual abuse lawsuits.
Recommended Attorneys

Considering they have the largest per person settlement average in the country when it comes to victims of sexual assault, we highly recommend the University of Michigan sexual abuse lawyers of Mike Bomberger and Steve Estey to handle your case against the U of M. They are already representing multiple people against the University of Michigan, as mentioned in multiple news sources such on ABC News, Mlive and Bloomberg, so they are already familiar with the details of this case.
They have significant experience handling cases against institutions like UMich, including most recently where they were part of a team of lawyers handling cases against Ohio State University and the sexual abuse by Dr. Richard Strauss who, just like Dr. Robert Anderson, was a university physician.
The firm serves clients nationwide. While many U of M graduates live in Michigan, the firm is also accepting cases from residents of California, Illinois, New York, Florida, Ohio, Texas, Massachusetts, Virginia, Maryland and anywhere else in the country.
Confidentiality for Those Who Want to File a Claim

It's important to know that you can remain completely confidential throughout this process if you wish to file a lawsuit. Attorneys can file a claim as John Doe on all court filings and will remain anonymous if you prefer.
Statute of Limitations in Michigan Sex Assault Cases
While Dr. Anderson is deceased and no criminal charges can be brought against him, a civil lawsuit can be filed against the University of Michigan and the University of Michigan Board of Regents, regardless of how many years ago the abuse occurred. You may be entitled to compensation for what you endured if you were a victim.
Other Sexual Abuse Lawsuit Involving College Physicians and Coaches
Ohio State: Doctor Richard Strauss had nearly 1,500 sexual abuse allegations filed against him.
Michigan State: The University agreed to a $500 million dollar settlement after Doctor Larry Nassar was found to have sexually abused hundreds of women and girls.
Penn State University: Assistant football coach Jerry Sandusky molested multiple children over a period of 15 years. Sandusky was indicted on 52 counts of child molestation. The school settled the lawsuit with 33 people for $109 million dollars.
USC: Campus gynecologist George Tyndall allegedly sexually assaulted girls on campus for many years. A lawsuit was filed and resulted in a $215 million settlement. Additionally, males students are also suing claiming they were sexual abused by campus physician Dennis Kelly.
UCLA: Former UCLA physician James Heaps was charged with sexual battery (2019)