Warming Blanket Causing Infections After Surgery
If you or a loved one has suffered a serious infection after use of a 3M Bair Hugger warning blanket, you are not alone. More than 80% of hospitals use the warming blankets and victims have suffered serious infections as a result of these defective devices. There have also been reports of severe burns resulting from blankets overheating. Lawsuits are currently being filed against 3M and if you are looking for a Bair Hugger lawsuit lawyer, we may be able to help you today. Board certified attorney Brian White is experienced with handling dangerous and defective medical device cases and can help answer any questions you may have about this product.

The inventor of this product himself, Dr. Scott D. Augustine, says that the device should not be used any longer because of the risk it poses to patients. There are other safer methods to keep a patient warm during surgery such as electric heating blankets. The deadly infections these devices are causing are leading to patients having to go multiple surgeries to treat the deadly infections they contract due to the use of the Bair Hugger warming blanket. If this has happened to you or a family member, contact us today if you are considering filing a lawsuit.
Lawsuits against 3M Company and Arizant Healthcare, Inc.
On August 3rd, 2015 a from Howell, Michigan filed a lawsuit against 3M Company and Arizant Healthcare, Inc. for damages relating to the design, development, testing, assembling, manufacturing, packaging, promoting, marketing, distribution, supplying and/or selling  of the Bair Hugger Forced Air Warming. The device was using during the man's left hip replacement surgery and as a result he suffered a serious infection that required three additional surgeries to remove the hip implant and clean the infected and dead tissue in his leg. This led to the majority of his theigh muscle having to be removed because the infection was so bad. The Bair Hugger device has caused this man permanent and painful injuries. In another case a man from Fort Worth, Texas filed a lawsuit alleging the same. In this case, the Bair Hugger device was used during a right hip replacement surgery which led to a severe infection that required two additional surgeries within 9 months of his original implant surgery. These are a few of the latest lawsuits but there are plenty of other stories of people being seriously harmed after hip replacement surgery or knee replacement surgery.
The Problems with the Bair Hugger Warming Blankets
The Bair Hugger device is a portable heater that blows warm air into a disposable blanket that is used on patients during surgery in order to keep the body warm by blowing on the skin. The hot air that is produced by the device ends up accumulating under the surgical drape that is covering the patient during surgery but some of the air blowing escapes and moves into the operating room floor. As the air rises, it ends up depositing bacteria from the floor of the surgical room into the open surgical wound.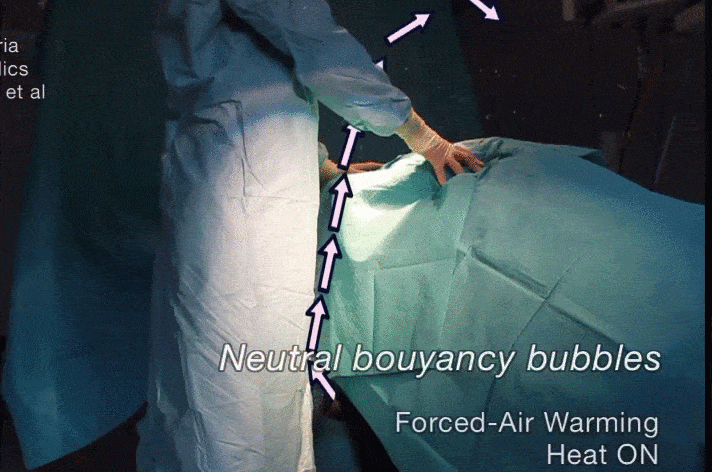 The bubbles in the image above represent particles that rise from the floor of the operating room and can end up entering the surgical site.
The lawsuits allege that between 2002-2009, 3M reduced the efficiency of the air filtration system in the blowers, which increased the danger and chance of infection. By reducing the efficiency of the air filtration, the Bair Hugger devices were more prone to being contaminated with pathogens, which can incubate inside the blowers and can enter the surgical site during surgery then the air is blown out. 3M knew about this problem since at least 2009 (possibly before) but still aggressively marketed the device as safe to use. The air filters on the device do not meet the HEPA (High Efficiency Particulate Air) standards of 99.97% elimination of all particles 0.3 microns or larger. It is alleged in lawsuits that the filter is only capable of 65% or less. In 1997, in communications with the FDA, 3M admitted that air blown across the surgical wound during surgery could result in airborne contamination so this is a problem they have known about for a long time. The lawsuits also state that 3M addressed the problems by making misrepresentations to the FDA.
Video of Forced Air Blower Warming Blanket Infection Problems
Problems Identified:
Waste air from the forced air blowers release 900 watts of waste heat. Where does that waste air go?
Air should never rise in a laminar flow
Air from the floor is always contaminated, even in operating rooms
It takes only a single germ to cause an infection of an implant
How to File a 3M Bair Hugger Lawsuit
If you are looking for a Bair Hugger lawsuit lawyer, request a free case evaluation and we will match you up with a lawyer who is knows exactly what is going on with these cases. No matter what state you live in, we can help connect you with the right attorneys. There is no cost to you and our attorneys take these cases on a contingency fee basis, which means you pay nothing at all unless your case is won.

Hospitals Where Your Surgery May Have Taken Place
Below are some of the nations largest hospitals and your surgery may have taken place here. However, even if your hospital is not on the list you may still have a case if you suffered an infection during surgery and a Bair Hugger warming blanket was used during the procedure.  Contact us at anytime for a free, no obligation consultation!
New York-Presbyterian Hospital/Weill Cornell Medical Center (New York City)
Florida Hospital Orlando (Orlando, Florida)
Jackson Memorial Hospital (Miami)
Methodist Hospital (San Antonio, Texas)
UPMC Presbyterian (Pittsburgh, Pennsylvania)
Yale-New Haven (Connecticut) Hospital
Orlando (Fla.) Regional Medical Center
Montefiore Hospital-Moses Campus (Bronx, N.Y.)
Baptist Medical Center (San Antonio)
Indiana University Health Methodist Hospital (Indianapolis)
Methodist University Hospital (Memphis, Tenn.)
Barnes-Jewish Hospital (St. Louis)
Norton Hospital (Louisville, Ky.)
The Cleveland Clinic
The Mount Sinai Medical Center (New York City)
Memorial Hermann Southwest Hospital (Houston)
Buffalo (N.Y.) General Hospital
UAB Hospital (Birmingham, Ala.)
North Shore University Hospital (Manhasset, N.Y.)
Beaumont Hospital, Royal Oak (Mich.)
Christiana Hospital (Newark, Del.)
Memorial Regional Hospital (Hollywood, Fla.)
Mount Sinai Beth Israel Medical Center (New York City)
Saint Joseph's Hospital (Tampa, Fla.)
Massachusetts General Hospital (Boston)
Butterworth Hospital (Grand Rapids, Mich.)
Ohio State University Wexner Medical Center (Columbus)
The Johns Hopkins Hospital (Baltimore)
Vanderbilt University Hospital (Nashville, Tenn.)
Tampa (Fla.) General Hospital
Thomas Jefferson University Hospital (Philadelphia)
Carolinas Medical Center (Charlotte, N.C.)
University of Michigan Hospitals and Health Centers (Ann Arbor)
Mercy Hospital St. Louis
Long Island Jewish Medical Center (New Hyde Park, N.Y.)
The Moses H. Cone Memorial Hospital (Greensboro, N.C.)
Aurora Saint Luke's Medical Center (Milwaukee)
Bellevue Hospital Center (New York City)
Mount Sinai St. Luke's (New York City)
Houston Methodist Hospital
Cedars-Sinai Medical Center (Los Angeles)
Jewish Hospital (Louisville, Ky.)
Northwestern Memorial Hospital (Chicago)
Charlton Memorial Hospital (Fall River, Mass.)
Mayo Clinic Hospital-Saint Mary's (Rochester, Minn.)
Memorial Hermann-Texas Medical Center (Houston)
UF Health Shands at the University of Florida (Gainesville)
Sharp Memorial Hospital (San Diego)
Huntsville (Ala.) Hospital
Inova Fairfax Hospital (Falls Church, Va.)
Baylor University Medical Center at Dallas
Lehigh Valley Hospital-Cedar Crest (Allentown, Pa.)
Baptist Medical Center Jacksonville (Fla.)
Hartford (Conn.) Hospital
Vidant Medical Center (Greenville, N.C.)
Loma Linda (Calif.) University Medical Center
Wake Forest Baptist Medical Center (Winston-Salem, N.C.)
Lakeland (Fla.) Regional Medical Center
Novant Health Forsyth Medical Center (Winston-Salem, N.C.)
Lee Memorial Hospital (Fort Meyers, Fla.)
Charleston (W.Va.) Area Medical Center General Hospital
Miami Valley Hospital (Dayton, Ohio)
Parkland Hospital (Dallas)
Baptist Memorial Hospital-Memphis (Tenn.)
Duke University Hospital (Durham, N.C.)
Edinburg (Texas) Regional Medical Center
Greenville (S.C.) Memorial Hospital
Mercy Hospital Springfield (Mo.)
Saint Francis Hospital (Tulsa, Okla.)
Presbyterian Hospital (Albuquerque, N.M.)
University of North Carolina Hospitals (Chapel Hill)
Community Regional Medical Center (Fresno, Calif.)
CJW Medical Center-Chippenham Campus (Richmond, Va.)
North Shore Medical Center (Miami)
Strong Memorial Hospital (Rochester, N.Y.)
Saint Vincent Indianapolis Hospital
CHRISTUS Spohn Hospital Corpus Christi (Texas)-Memorial
Brigham and Women's Hospital (Boston)
Henry Ford Hospital (Detroit)
Medstar Washington (D.C.) Hospital Center
Hospital of the University of Pennsylvania (Philadelphia)
Riverside Methodist Hospital (Columbus, Ohio)
Sutter Memorial Hospital (Sacramento, Calif.)
Saint John's Medical Center (Jackson, Wyoming)
Ochsner Medical Center-New Orleans
Via Christi Hospital on Saint Francis (Witchita, Ka.)
Ben Taub General Hospital (Houston)
Willis-Knighton Medical Center (Shreveport, La.)
Carilion Roanoke (Va.) Memorial Hospital
Our Lady of the Lake Regional Medical Center (Baton Rouge, La.)
Saint John Hospital and Medical Center (Detroit)
Henrico Doctor's Hospital (Richmond, Va.)
VCU Medical Center (Richmond, Va.)
Mission Hospitals-Memorial Campus (Asheville, N.C.)
New Hanover Regional Medical Center (Wilmington, N.C.)
Medical University of South Carolina-University Hospital (Charleston)
University of Kentucky Albert B. Chandler Hospital (Lexington)
NCH Downtown Naples (Fla.) Hospital
Upstate University Hospital (Syracuse, N.Y.)
Maimonides Medical Center (Brooklyn, N.Y.)
University Hospital of Brooklyn (N.Y.)
Mount Carmel West (Columbus, Ohio)
Temple University Hospital (Philadelphia, Pa.)
ProMedica Toledo (Ohio) Hospital
Rhode Island Hospital (Providence)
Cox North (Springfield, Mo.)
Baptist Health Medical Center-Little Rock (Ark.)
CHI Saint Luke's Health-Baylor Saint Luke's Medical Center (Houston)
The Reading Hospital and Medical Center (West Reading, Pa.)
University of Iowa Hospitals & Clinics (Iowa City)
Hackensack (N.J.) University Medical Center
Saint Anthony's Medical Center (St. Louis)
Oklahoma University Medical Center (Oklahoma City)
Mobile (Ala.) Infirmary Medical Center
University of Maryland Medical Center (Baltimore)