If you were injured or a family member has died after attending the Astroworld Music Festival in Houston, Texas, you may be entitled to significant compensation. i-Lawsuit has a team of the very best lawyers in the entire country who will do everything possible to ensure that justice is served for you and your family. Our music festival injury lawyers have been able to recover millions for injury victims over the years and will try and maximize the settlement you and your family deserve.
There is no fee for our consultations, they are 100% free without any obligation. If we accept your case, you pay nothing unless we win your case and successfully recover money for you.
What happened at Astroworld?
So far, eight people were killed and many more people were injured after being trampled while rapper Travis Scott was performing. According to Houston fire chief Samuel Peña, a crowd surge "caused some panic, and it started causing some injuries". Astroworld was a two day event that started Friday, November 5th. Nearly 50,000 people attended the music festival.
In a statement posted on Instagram, organizers said: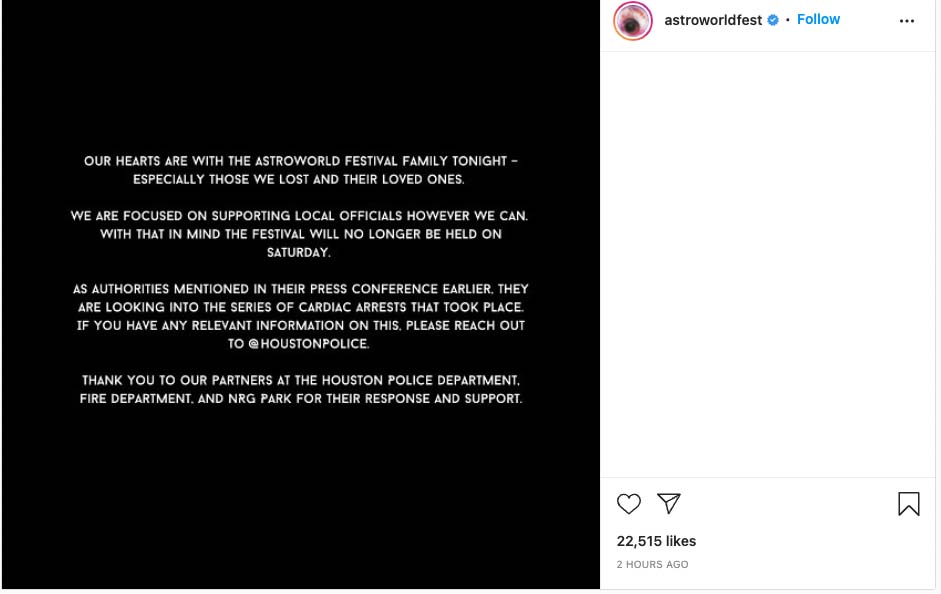 "Our hearts are with the Astroworld Festival Family tonight – especially those we lost and their loved ones. We are focused on supporting local officials however we can. With that in mind the festival will no longer be held on Saturday. As authorities mentioned int heir press conference earlier. They are looking into the series of cardiac arrests that took place. If you have any relevant information on this, please reach out to @houstonpolice. Thank you to our partners at the Houston Police Department, Fire Department and NRG Park for their response and support."
Legal Liability of Astroworld Music Festival
Lawsuits will be filed. A venue and the organizers may be found legally liable for the injuries and deaths that occurred. It's important that you get the very best representation possible, otherwise you may miss out on getting justice and maximizing your settlement money. For this reason, we have partnered with the very best law firms in the country and will connect you with the best attorneys for your situation. If you would like a freeconsultation and legal advice, feel free to reach out to us at anytime. There is no fee for this service. Contact us today.
Music Festival Premises Liability
When people are injured or killed at a music festival, this falls under premises liability law, which means that it is the responsibility of property owners to maintain a reasonably safe environment so that people who are on the property are not harmed. Determining the fault and responsibility is sometimes clear, while other times it may not be as obvious when it comes to premises liability matters.
Multiple parties were responsible for safety at the Astroworld music festival. Is Travis Scott liable? Are the Astroworld promoters liable? Is NRG park, as the venue, liable? What about the security company? Did they provide adequate security? These are questions that the Astroworld lawsuits will determine. This isn't the first time that people have been injured at a Travis Scott event. Back in 2019, three people were trampled in the process of people trying to get in to the music festival.
Get Free Legal Advice from Music Festival Injury Lawyers
The smartest thing you can do at this time is speak to a lawyer so you can find out what your legal options are. Finding the right premises liability lawyer is not an easy task. There are many lawyers, all who claim that they can do the job for you. However, as with any profession, not all lawyers have the same abilities. Here at i-lawsuit, we will connect you (at no cost) with the very best concert venue liability lawyers to help ensure you get the very best outcome possible.