If you are considering filing a lawsuit for the side effects caused by AndroGel, you are not alone. Many people in the U.S. have been harmed by this drug , either from use or from secondary exposure.
What is AndroGel?
AndroGel is a prescription medication used to treat men with low "T" levels (hypogonadism). It is a clear gel that is applied directly onto the skin, which it then penetrates and gradually testosterone enters the bloodstream.
A normal range of T levels for an adult male is between 300 ng/dL and 1000 ng/dL. Normally the brain and testes work together to produce testosterone but some men cannot produce normal levels of testosterone. AndroGel helps to increase testosterone to restore a mans sex drive and sexual function. Additionally, AndroGel can decrease fat and increase lean body mass. AndroGel comes in a pump bottle and is applied to the shoulders, upper arms and in some cases, the stomach. It is supposed to be applied once daily after showering or bathing.
Recent AndroGel Studies
A 42 month study on the safety of this testosterone gel was conducted and supervised by a team at the Research and Education Institute (REI) at Harbor-UCLA Medical Center where Dr. Christina Wang was the lead author.
A recent study in JAMA ( Journal of the American Medical Association) analyzed more than 8,000 men , most who were around age 60 where many already had health problems like heart disease, blocked heart arteries, high blood pressure and diabetes. Researches found that those being treated with testosterone were 6% more likely to have a heart attack, stroke or even die. So although there are definitely short term benefits of taking AndroGel, there are long term dangers in using the gel.
AndroGel Side Effects
Some of the side effects of taking AndroGel include:
Heart Attack
Ischemic Stroke
Respiratory problems (trouble breathing)
Blood Clots
Mood Swings
Problems with Urination
Ankle Swelling
Irregular errections
Nausea and/or stomach pain
Loss of appetite
Jaundice
Death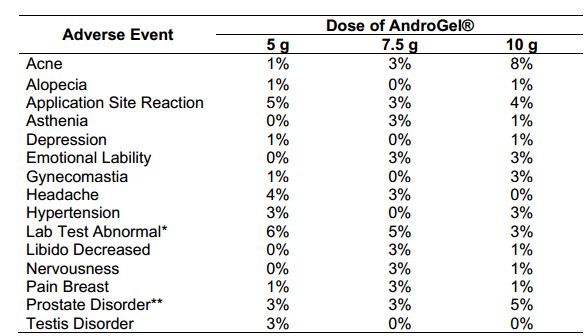 Obviously some are more serious than others, and what is most concerning is the increase in heart attacks, strokes, respiratory problems, blood clots and death.
Danger to children, women who come into contact with someone taking AndroGel
AndroGel is also dangerous to those who can come into contact with those taking it, such as children and women. In September 2009 the FDA required that the makers of AndroGel, AbbVie, to use a black box label on the product to warn that exposure to children could cause serious side effects such as changes in genital size, pubic hair or libido, as well as causing  signs of aggressive behavior. Because of the way that is applied, there is a high risk of contact to women and children for families who live together where an adult is taking the gel.
Exposure to children is dangerous as there have been multiple events reported to the FDA. These include inappropriate enlargement of the penis or clitoris, increased bone age, premature development of pubic hair, aggressive or irregular behavior and increased libido. In the majority of cases the symptoms regressed after the child was no longer exposed to AndroGel but in some cases, the symptoms did not subside. Some children have had to have invasive procedures, including hospitalization and surgery to treat the problems.
Filing an AndroGel Lawsuit
If you or your loved ones have been harmed as a result of taking AndroGel, you may be entitled to compensation for the problems caused by this topical gel. AbbVie, that maker of AndroGel, may be held liable for the damage caused and you may be able to recover monetary damages. You have be wondering how much your case could be worth, but as with any product liability lawsuit, this depends on a variety of factors. If you would like to speak to an AndroGel attorney you will be able to find out what your legal rights and options are without any obligation at all. If your case is accepted, you will not need to pay the attorney unless that law firm successfully recovers money on your behalf.