Below are adverse events reported to the FDA between October 2011 and September 2012 for those using Risperdal. As you can see there are a large number of adverse events tied to the use of Risperdal, aka Risperidone. Keep in mind that drug side effects and adverse events are under-reported so there are significantly more problems then just the list below. One of the more serious side effects of this drug is Gynaecomastia which is the growth of abnormally large breasts in males. Risperdal lawsuits are currently being filed as a result of young boys developing female like breasts. It is due to the excess growth of breast tissue, not excess fat tissue and unfortunately it is happening in young teens. In the sample below, Gynaecomastia was reported in one male as young as 15 years old and there are many other stories of gynaecomastia in teenagers.
The top 5 adverse events as reported to the FDA: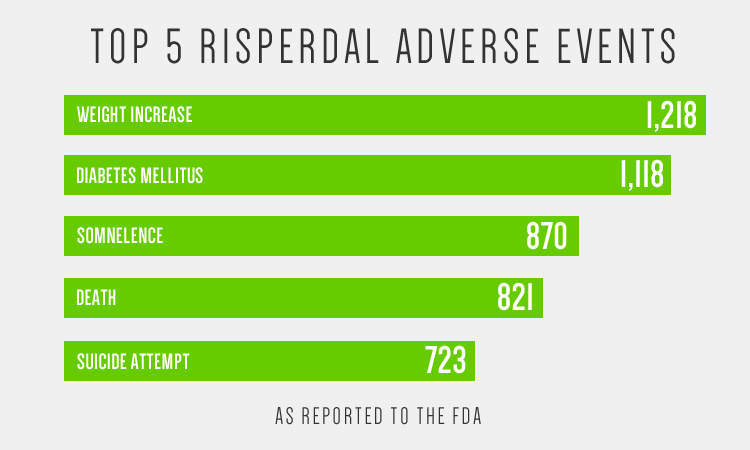 The manufacturers of Risperdal include:
Cardinal Health
Janssen Pharmaceuticals, Inc.
PD-Rx Pharmaceuticals, Inc.
Physicians Total Care, Inc.
Rebel Distributors Corp
If you have experienced adverse events yourself or would like to share your story to help warn others about Risperdal dangers, please use the comment section below.
| DRUGNAME | DATE | AGE | GENDER | ADVERSE_EVENTS | OUTCOMES |
| --- | --- | --- | --- | --- | --- |
| RISPERDAL | 27-Aug-12 | 3 | Male | Abnormal Behaviour, Aggression, Fall, Regressive Behaviour | Other |
| RISPERDAL CONSTA | 27-Aug-12 | 31 | Male | Condition Aggravated, Substance Abuse | Other |
| RISPERDAL | 27-Aug-12 | | | Toxicity To Various Agents | Hospitalization |
| RISPERDAL | 27-Aug-12 | | Female | Maternal Exposure During Pregnancy, Premature Labour | Other |
| RISPERDAL | 27-Aug-12 | | Female | Abortion Spontaneous, Maternal Exposure During Pregnancy | Hospitalization, Other |
| RISPERDAL | 27-Aug-12 | | Female | Asthma, Cardiac Murmur, Constipation, Faecaloma, Gastrooesophageal Reflux Disease, Heart Disease Congenital, Mitral Valve Incompetence, Multiple Allergies, Premature Baby, Pulmonary Artery Stenosis Congenital, Rash, Respiratory Disorder | Congenital Anomaly |
| RISPERDAL | 24-Aug-12 | | Male | Aggression, Anxiety, Irritability, Stubbornness | Hospitalization |
| RISPERDAL | 24-Aug-12 | | | Respiratory Arrest | Death, Other |
| RISPERDAL | 23-Aug-12 | | Female | Embolism Arterial | Death |
| RISPERDAL CONSTA | 23-Aug-12 | | Male | Hospitalisation, Product Quality Issue | Hospitalization |
| RISPERDAL | 23-Aug-12 | | Male | Abasia, Aphasia, Dysstasia, Foaming At Mouth, Hyperhidrosis, Hypersomnia, Incontinence, Parkinson's Disease | Other |
| RISPERDAL | 23-Aug-12 | | | Gynaecomastia, Osteomyelitis, Weight Increased | Other |
| RISPERDAL | 23-Aug-12 | | | Gynaecomastia, Hepatic Steatosis, Weight Increased | Other |
| RISPERDAL | 23-Aug-12 | | Female | Gastritis, Hallucination | Other |
| RISPERDAL | 23-Aug-12 | 21 | Male | Abnormal Behaviour, Anxiety, Drug Ineffective, Drug Intolerance, Irritability, Off Label Use | Unknown |
| RISPERDAL | 22-Aug-12 | | Female | Deep Vein Thrombosis, Pulmonary Embolism | Death, Hospitalization, Other |
| RISPERDAL | 21-Aug-12 | | Female | Abasia, Depression, Hyperhidrosis, Night Sweats, Speech Disorder | Other |
| RISPERDAL | 21-Aug-12 | | Female | Chest Pain, Respiratory Distress | Other |
| RISPERDAL CONSTA | 21-Aug-12 | | Male | Condition Aggravated, Substance Abuse | Other |
| RISPERDAL CONSTA | 21-Aug-12 | | Female | Chest Pain, Coordination Abnormal, Drug Prescribing Error, Dyspnoea, Headache, Hypersensitivity, Injury, Malaise, Swelling Face, Vision Blurred | Other |
| RISPERDAL | 20-Aug-12 | | | Respiratory Arrest | Death, Other |
| RISPERDAL | 20-Aug-12 | | | Diabetes Mellitus, Inappropriate Schedule Of Drug Administration, Renal Impairment | Other |
| RISPERDAL CONSTA | 20-Aug-12 | | | Diabetes Mellitus, Inappropriate Schedule Of Drug Administration, Renal Impairment | Other |
| RISPERDAL | 20-Aug-12 | 33 | Male | Dyslalia, Dysphagia, Mastication Disorder, Tardive Dyskinesia | Disability |
| RISPERDAL CONSTA | 20-Aug-12 | | Male | Dependence, Drug Prescribing Error, Incorrect Drug Administration Duration | Other |
| RISPERDAL CONSTA | 20-Aug-12 | | Male | Economic Problem, Insomnia, Mania, Restlessness, Tobacco User | Other |
| RISPERDAL | 20-Aug-12 | 29 | Female | Altered State Of Consciousness, Multiple Drug Overdose, Suicide Attempt | Hospitalization |
| RISPERDAL | 20-Aug-12 | | | Toxicity To Various Agents | Hospitalization |
| RISPERDAL CONSTA | 20-Aug-12 | 32 | Male | Confusional State, Fatigue, Feeling Abnormal, Hypokinesia, Muscle Twitching, Social Problem, Tic, Vision Blurred | Other |
| RISPERDAL | 17-Aug-12 | | | Drug Ineffective, Dry Throat, Weight Increased | Unknown |
| RISPERDAL CONSTA | 17-Aug-12 | | Female | Extrapyramidal Disorder, Slow Response To Stimuli | Other |
| RISPERDAL | 17-Aug-12 | 3 | Male | Abnormal Behaviour, Aggression, Regressive Behaviour | Other |
| RISPERDAL | 17-Aug-12 | 94 | Female | Abdominal Distension, Dyskinesia, Haematuria | Other |
| RISPERDAL | 17-Aug-12 | | | Death | Death |
| RISPERDAL | 17-Aug-12 | 60 | Male | Platelet Count Decreased | Other |
| RISPERDAL CONSTA | 17-Aug-12 | | | Aggression, Hallucination, Auditory, Irritability | Hospitalization |
| RISPERDAL | 17-Aug-12 | 88 | | Incorrect Dose Administered, Respiratory Arrest | Death |
| RISPERDAL | 16-Aug-12 | | | Hallucination, Auditory | Other |
| RISPERDAL | 14-Aug-12 | 28 | Female | Akathisia, Completed Suicide | Death, Other |
| RISPERDAL | 14-Aug-12 | 21 | Male | Neutropenia | Other |
| RISPERDAL | 14-Aug-12 | 21 | Male | Neutropenia | Other |
| RISPERDAL | 14-Aug-12 | 43 | Female | Multiple Drug Overdose Intentional, Self Injurious Behaviour | Other |
| RISPERDAL | 14-Aug-12 | 44 | Male | Hypotension, Multiple Drug Overdose, Self Injurious Behaviour, Tachycardia | Other |
| RISPERDAL | 13-Aug-12 | 44 | Female | Drug Hypersensitivity | Unknown |
| RISPERDAL CONSTA | 13-Aug-12 | | Male | Ascites, Blood Albumin Decreased, Convulsion, Face Oedema, Haemoglobin Decreased, Hyperglycaemia, Hypoglycaemia | Hospitalization, Other |
| RISPERDAL | 13-Aug-12 | | Male | Tongue Spasm, Type 2 Diabetes Mellitus, Weight Increased | Other |
| RISPERDAL | 13-Aug-12 | | Female | Galactorrhoea, Type 2 Diabetes Mellitus | Other |
| RISPERDAL | 13-Aug-12 | 43 | Male | Dysarthria, Fatigue, Hypotension, Intentional Overdose, Suicide Attempt, Tachycardia | Hospitalization |
| RISPERDAL | 10-Aug-12 | 83 | Female | Diet Refusal, Dizziness, Refusal Of Treatment By Patient | Hospitalization |
| RISPERDAL | 10-Aug-12 | 34 | Male | Erectile Dysfunction, Penile Size Reduced | Unknown |
| RISPERDAL | 9-Aug-12 | 3 | Male | Abnormal Behaviour, Aggression, Regressive Behaviour | Other |
| RISPERDAL | 9-Aug-12 | | Male | Cognitive Disorder, Thought Blocking, Treatment Noncompliance | Hospitalization |
| RISPERDAL CONSTA | 9-Aug-12 | | Male | Cognitive Disorder, Thought Blocking, Treatment Noncompliance | Hospitalization |
| RISPERDAL | 9-Aug-12 | | | Drug Abuse, Poisoning | Other |
| RISPERDAL | 8-Aug-12 | | Female | Embolism Arterial | Death |
| RISPERDAL | 7-Aug-12 | 83 | Female | Hospitalisation, Supraventricular Tachycardia | Hospitalization, Other |
| RISPERDAL | 6-Aug-12 | 56 | Female | Cardiomyopathy | Hospitalization |
| RISPERDAL | 6-Aug-12 | | | Respiratory Arrest | Other |
| RISPERDAL CONSTA | 6-Aug-12 | 37 | Male | Apathy, Lethargy, Tongue Biting | Other |
| RISPERDAL CONSTA | 6-Aug-12 | | Male | Blood Glucose Abnormal | Other |
| RISPERDAL CONSTA | 6-Aug-12 | | Male | Renal Impairment | Hospitalization |
| RISPERDAL CONSTA | 6-Aug-12 | | Female | Exposure To Contaminated Device, Injury Associated With Device, Needle Issue | Other |
| RISPERDAL | 6-Aug-12 | 40 | Female | Drug Abuse, Extrapyramidal Disorder, Intentional Overdose | Other |
| RISPERDAL | 6-Aug-12 | | Male | Delusion | Other |
| RISPERDAL | 6-Aug-12 | | Female | Blood Alkaline Phosphatase Increased, Cytolytic Hepatitis, Gamma-glutamyltransferase Increased, Psychotic Disorder | Hospitalization, Other |
| RISPERDAL | 6-Aug-12 | 46 | Female | Blood Prolactin Increased, Pituitary Tumour | Other |
| RISPERDAL | 6-Aug-12 | 22 | Male | Mood Swings, Obsessive-compulsive Disorder, Suicidal Ideation | Other |
| RISPERDAL CONSTA | 3-Aug-12 | | | Treatment Noncompliance | Unknown |
| RISPERDAL | 3-Aug-12 | | Male | Oedema, Treatment Noncompliance | Unknown |
| RISPERDAL CONSTA | 3-Aug-12 | | | Akathisia, Fatigue, Panic Disorder, Product Quality Issue, Sleep Disorder | Other |
| RISPERDAL | 3-Aug-12 | 45 | Female | Condition Aggravated, Delusion, Hallucination, Product Quality Issue | Unknown |
| RISPERDAL | 2-Aug-12 | 32 | Female | Akathisia, Dysphagia, Psychotic Disorder, Salivary Hypersecretion, Suicidal Ideation | Hospitalization, Other |
| RISPERDAL | 2-Aug-12 | | Female | Adverse Drug Reaction, Galactorrhoea, Type 2 Diabetes Mellitus | Other |
| RISPERDAL | 2-Aug-12 | | Female | Abasia, Depression, Hyperhidrosis, Night Sweats, Speech Disorder | Other |
| RISPERDAL | 2-Aug-12 | | Male | Type 2 Diabetes Mellitus | Other |
| RISPERDAL | 2-Aug-12 | | Male | Aggression, Irritability | Hospitalization |
| RISPERDAL | 2-Aug-12 | 20 | Male | Product Substitution Issue, Treatment Failure | Other |
| RISPERDAL | 1-Aug-12 | 83 | Female | Hospitalisation | Hospitalization, Other |
| RISPERDAL | 1-Aug-12 | | | Cataract | Other |
| RISPERDAL | 1-Aug-12 | 48 | Male | Multiple Drug Overdose, Self Injurious Behaviour, Sopor | Other |
| RISPERDAL | 1-Aug-12 | | Male | Tachycardia | Hospitalization |
| RISPERDAL CONSTA | 1-Aug-12 | 35 | Male | Hospitalisation, Treatment Noncompliance | Hospitalization |
| RISPERDAL | 31-Jul-12 | 88 | | Death, Incorrect Dose Administered | Death |
| RISPERDAL | 31-Jul-12 | 21 | Male | Neutropenia | Other |
| RISPERDAL | 31-Jul-12 | 21 | Male | Drug Ineffective, Drug Intolerance | Unknown |
| RISPERDAL CONSTA | 31-Jul-12 | | Male | Device Malfunction, Exposure To Contaminated Device | Other |
| RISPERDAL | 30-Jul-12 | | Female | Blood Alkaline Phosphatase Increased, Cytolytic Hepatitis, Gamma-glutamyltransferase Increased | Other |
| RISPERDAL CONSTA | 30-Jul-12 | | Female | Blood Alkaline Phosphatase Increased, Cytolytic Hepatitis, Gamma-glutamyltransferase Increased | Other |
| RISPERDAL | 30-Jul-12 | | Female | Abnormal Loss Of Weight, Dental Caries, Poor Dental Condition, Skin Atrophy, Skin Striae, Weight Increased | Other |
| RISPERDAL | 30-Jul-12 | | | Neuroleptic Malignant Syndrome | Other |
| RISPERDAL | 29-Jul-12 | 80 | Female | Fatigue, Gastrointestinal Sounds Abnormal, Multiple Drug Overdose Intentional, Suicide Attempt | Other |
| RISPERDAL | 27-Jul-12 | 69 | Male | Anger, Face Oedema, Fall, Hypokinesia, Impulsive Behaviour | Hospitalization |
| RISPERDAL | 27-Jul-12 | | Female | Adverse Drug Reaction | Unknown |
| RISPERDAL | 27-Jul-12 | | Male | Abnormal Behaviour, Adverse Event, Condition Aggravated, Food Aversion, Therapeutic Response Unexpected | Unknown |
| RISPERDAL | 27-Jul-12 | 44 | Male | Off Label Use, Restless Legs Syndrome | Unknown |
| RISPERDAL CONSTA | 27-Jul-12 | 43 | Female | Blood Prolactin Increased, Overdose, Unresponsive To Stimuli | Death, Other |
| RISPERDAL CONSTA | 26-Jul-12 | 45 | Female | Blood Prolactin Increased, Breast Discharge, Breast Pain | Other |
| RISPERDAL CONSTA | 26-Jul-12 | | Male | Dependence, Drug Prescribing Error, Incorrect Drug Administration Duration | Other |
| RISPERDAL CONSTA | 26-Jul-12 | | Female | Pancytopenia | Other |
| RISPERDAL CONSTA | 26-Jul-12 | 43 | Female | Schizophrenia, Sudden Death | Death |
| RISPERDAL | 26-Jul-12 | 85 | Female | Belligerence, Drug Dose Omission, Feeling Abnormal, Gait Disturbance, Insomnia, Off Label Use | Unknown |
| RISPERDAL | 26-Jul-12 | 38 | Male | Self Injurious Behaviour | Other |
| RISPERDAL | 26-Jul-12 | 38 | Male | Drug Abuse, Incorrect Dose Administered, Self Injurious Behaviour | Hospitalization, Other |
| RISPERDAL CONSTA | 25-Jul-12 | 60 | Male | Death | Death |
| RISPERDAL | 25-Jul-12 | 88 | | Death, Incorrect Dose Administered | Death |
| RISPERDAL | 25-Jul-12 | | | Nervous System Disorder, Vascular Occlusion | Other |
| RISPERDAL | 25-Jul-12 | | Female | Intermittent Claudication, Peroneal Nerve Palsy, Somnolence, Tremor | Other |
| RISPERDAL CONSTA | 25-Jul-12 | 43 | Female | Sudden Death, Unresponsive To Stimuli, Vomiting | Death |
| RISPERDAL CONSTA | 24-Jul-12 | 22 | Male | Sudden Death | Death |
| RISPERDAL CONSTA | 23-Jul-12 | | Female | Abdominal Distension, Asthenia, Chest Pain, Gastric Infection, Gingival Swelling, Incontinence, Loss Of Consciousness, Malaise, Renal Impairment | Other |
| RISPERDAL | 23-Jul-12 | 57 | Female | Injection Site Abscess, Injection Site Infection, Neuroleptic Malignant Syndrome, Sensory Disturbance | Other |
| RISPERDAL CONSTA | 23-Jul-12 | 57 | Female | Injection Site Abscess, Injection Site Infection, Neuroleptic Malignant Syndrome, Sensory Disturbance | Other |
| RISPERDAL | 23-Jul-12 | 83 | Female | Diet Refusal, Dizziness, Refusal Of Treatment By Patient | Hospitalization |
| RISPERDAL CONSTA | 23-Jul-12 | 63 | Female | Cardiac Arrest, Fall, Renal Failure, Rheumatoid Arthritis | Death, Other |
| RISPERDAL CONSTA | 23-Jul-12 | 63 | Female | Cardiac Arrest, Fall, Hip Fracture, Renal Failure, Rheumatoid Arthritis | Death, Other |
| RISPERDAL | 21-Jul-12 | 35 | Male | Coma, Multiple Drug Overdose Intentional, Self Injurious Behaviour | Other |
| RISPERDAL CONSTA | 20-Jul-12 | 54 | Female | Balance Disorder, Fall, Musculoskeletal Stiffness, Thermal Burn, Unevaluable Event | Disability, Hospitalization, Other |
| RISPERDAL CONSTA | 20-Jul-12 | | Male | Abnormal Behaviour, Aggression, Logorrhoea | Hospitalization |
| RISPERDAL | 20-Jul-12 | 27 | Male | Adverse Drug Reaction, Extrapyramidal Disorder, Gait Disturbance | Other |
| RISPERDAL | 20-Jul-12 | 56 | Female | Cardiomyopathy | Hospitalization |
| RISPERDAL CONSTA | 20-Jul-12 | | Male | Coma, Drug Ineffective, Feeling Abnormal, Hospitalisation, Verbal Abuse | Hospitalization, Other |
| RISPERDAL | 20-Jul-12 | | Male | Erectile Dysfunction, Suicidal Ideation | Hospitalization |
| RISPERDAL CONSTA | 20-Jul-12 | | Female | Pancreatic Carcinoma, Refusal Of Treatment By Patient | Other |
| RISPERDAL | 20-Jul-12 | | | Hallucination, Mania | Other |
| RISPERDAL CONSTA | 19-Jul-12 | | Female | Hallucination, Auditory | Other |
| RISPERDAL CONSTA | 19-Jul-12 | 54 | Female | Balance Disorder, Fall, Musculoskeletal Stiffness, Thermal Burn, Unevaluable Event | Disability, Hospitalization, Other |
| RISPERDAL | 19-Jul-12 | | Female | Diabetes Mellitus, Hypersomnia, Polydipsia, Somnolence, Urinary Incontinence, Weight Increased | Required Intervention to Prevent Damage |
| RISPERDAL | 18-Jul-12 | | Female | Diabetes Mellitus | Other |
| RISPERDAL | 18-Jul-12 | | Male | Alanine Aminotransferase Increased, Hepatic Cirrhosis, Weight Increased | Other |
| RISPERDAL | 17-Jul-12 | 44 | Male | Aphasia, Choking, Delusion, Flushing, Hallucination, Auditory, Hypokinesia, Suicide Attempt | Hospitalization, Other |
| RISPERDAL | 17-Jul-12 | | Female | Tardive Dyskinesia, Type 1 Diabetes Mellitus, Weight Increased | Hospitalization, Other |
| RISPERDAL CONSTA | 16-Jul-12 | | Male | Schizophrenia, Treatment Noncompliance | Hospitalization |
| RISPERDAL | 16-Jul-12 | 48 | Male | Myocardial Infarction, Restlessness, Vomiting | Death |
| RISPERDAL | 16-Jul-12 | | Female | Maternal Exposure During Pregnancy, Muscle Spasms, Nervousness, Product Odour Abnormal, Product Taste Abnormal, Psychotic Disorder, Treatment Noncompliance | Hospitalization, Other |
| RISPERDAL CONSTA | 16-Jul-12 | | Female | Maternal Exposure During Pregnancy, Muscle Spasms, Nervousness, Product Odour Abnormal, Product Taste Abnormal, Psychotic Disorder, Treatment Noncompliance | Hospitalization, Other |
| RISPERDAL | 16-Jul-12 | 55 | Female | Multiple Drug Overdose Intentional, Self Injurious Behaviour, Sluggishness | Other |
| RISPERDAL CONSTA | 16-Jul-12 | 54 | Female | Abasia, Adverse Drug Reaction, Balance Disorder, Fall, Incorrect Drug Dosage Form Administered, Movement Disorder, Musculoskeletal Stiffness, Product Quality Issue, Thermal Burn | Disability, Hospitalization, Other |
| RISPERDAL | 14-Jul-12 | 22 | Male | Blood Pressure Increased, Catatonia, Hospitalisation, Pleurisy | Hospitalization, Life-Threatening |
| RISPERDAL | 13-Jul-12 | 32 | Female | Akathisia, Dysphagia, Psychotic Disorder, Salivary Hypersecretion, Suicidal Ideation | Hospitalization, Other |
| RISPERDAL | 13-Jul-12 | | | Gastrointestinal Disorder, Hospitalisation | Hospitalization, Other |
| RISPERDAL | 13-Jul-12 | | | Eosinophilic Pneumonia, Interstitial Lung Disease | Other |
| RISPERDAL | 13-Jul-12 | | Male | Burning Sensation, Dyskinesia, Respiratory Disorder | Other |
| RISPERDAL | 13-Jul-12 | 48 | Male | Gamma-glutamyltransferase Increased | Other |
| RISPERDAL | 13-Jul-12 | 31 | Male | Lung Disorder | Life-Threatening |
| RISPERDAL | 13-Jul-12 | 39 | Female | Abortion Spontaneous, Maternal Exposure During Pregnancy | Other |
| RISPERDAL CONSTA | 13-Jul-12 | 39 | Female | Abortion Spontaneous, Maternal Exposure During Pregnancy | Other |
| RISPERDAL CONSTA | 13-Jul-12 | | Male | Death, Device Leakage, Drug Dose Omission, Needle Issue | Death |
| RISPERDAL | 13-Jul-12 | 50 | Male | Self Injurious Behaviour, Sluggishness, Sopor | Other |
| RISPERDAL | 12-Jul-12 | | | Fracture | Other |
| RISPERDAL CONSTA | 12-Jul-12 | | Male | Hospitalisation | Hospitalization |
| RISPERDAL | 11-Jul-12 | 54 | Female | Balance Disorder, Fall, Gait Disturbance, Musculoskeletal Stiffness, Pain, Thermal Burn | Disability, Hospitalization, Other |
| RISPERDAL | 11-Jul-12 | 25 | Male | Completed Suicide | Death |
| RISPERDAL | 11-Jul-12 | 82 | Female | Confusional State, Drug Diversion, Hypotension, Presyncope, Sopor | Other |
| RISPERDAL | 10-Jul-12 | 25 | Male | Blood Pressure Decreased, Decubitus Ulcer, Disseminated Intravascular Coagulation, Multiple Drug Overdose, Pneumonia Aspiration, Rhabdomyolysis, Toxicity To Various Agents | Hospitalization, Other |
| RISPERDAL | 10-Jul-12 | | Female | Dizziness, Fall, Loss Of Control Of Legs, Underdose | Other |
| RISPERDAL | 10-Jul-12 | 83 | Female | Hospitalisation, Supraventricular Tachycardia | Hospitalization, Other |
| RISPERDAL | 6-Jul-12 | | | Depressed Level Of Consciousness, Respiratory Depression, Restlessness | Other |
| RISPERDAL | 6-Jul-12 | | | Deep Vein Thrombosis, Pulmonary Embolism | Other |
| RISPERDAL | 6-Jul-12 | 46 | Female | Death | Death |
| RISPERDAL CONSTA | 6-Jul-12 | 46 | Female | Death | Death |
| RISPERDAL | 6-Jul-12 | | Male | Myocardial Infarction | Other |
| RISPERDAL CONSTA | 6-Jul-12 | | Male | Myocardial Infarction | Other |
| RISPERDAL | 6-Jul-12 | | Male | Hepatic Failure | Death, Hospitalization |
| RISPERDAL CONSTA | 6-Jul-12 | | Male | Hepatic Failure | Death, Hospitalization |
| RISPERDAL CONSTA | 6-Jul-12 | | Female | Blister, Blood Glucose Increased, Blood Pressure Increased, Death, Depression | Death, Hospitalization, Other |
| RISPERDAL | 6-Jul-12 | | Female | Aortic Stenosis, Pulmonary Valve Stenosis, Talipes | Congenital Anomaly, Hospitalization |
| RISPERDAL | 6-Jul-12 | 69 | Male | Anger, Face Oedema, Fall, Hypokinesia, Impulsive Behaviour | Hospitalization |
| RISPERDAL | 6-Jul-12 | 30 | Male | Blood Creatine Phosphokinase Increased, Multiple Drug Overdose, Neutrophil Count Increased, Pyrexia, White Blood Cell Count Increased | Hospitalization |
| RISPERDAL | 6-Jul-12 | 21 | Male | Leukopenia, Off Label Use, Thrombocytopenia | Hospitalization |
| RISPERDAL | 5-Jul-12 | 64 | Male | Swelling Face | Unknown |
| RISPERDAL | 5-Jul-12 | 39 | Female | Abortion Spontaneous, Maternal Exposure During Pregnancy | Other |
| RISPERDAL CONSTA | 5-Jul-12 | 39 | Female | Abortion Spontaneous, Maternal Exposure During Pregnancy | Other |
| RISPERDAL | 5-Jul-12 | 30 | Female | Blood Creatine Phosphokinase Increased, Multiple Drug Overdose, Neutrophil Count Increased, Pyrexia, White Blood Cell Count Increased | Hospitalization |
| RISPERDAL | 5-Jul-12 | 30 | Female | Blood Creatine Phosphokinase Increased, Multiple Drug Overdose, Neutrophil Count Increased, Pyrexia, White Blood Cell Count Increased | Hospitalization |
| RISPERDAL CONSTA | 5-Jul-12 | 47 | Male | Aggression | Hospitalization |
| RISPERDAL CONSTA | 5-Jul-12 | 47 | Male | Aggression | Hospitalization |
| RISPERDAL | 3-Jul-12 | | | Drug Interaction, Surgery | Other |
| RISPERDAL | 3-Jul-12 | 42 | Male | Intentional Overdose, Self Injurious Behaviour | Other |
| RISPERDAL | 3-Jul-12 | 42 | Male | Intentional Overdose, Psychomotor Hyperactivity, Self Injurious Behaviour | Hospitalization |
| RISPERDAL | 3-Jul-12 | 54 | Female | Blood Alkaline Phosphatase Increased, Cholestasis, Cytolytic Hepatitis, Erysipelas, Gamma-glutamyltransferase Increased, Psychotic Disorder | Hospitalization, Other |
| RISPERDAL CONSTA | 2-Jul-12 | 36 | Male | Drug Ineffective, Psoriasis | Other |
| RISPERDAL | 2-Jul-12 | 13 | Male | Drooling, Ill-defined Disorder, Overdose, Protrusion Tongue, Salivary Hypersecretion | Other |
| RISPERDAL CONSTA | 2-Jul-12 | 39 | Female | Angina Pectoris, Chest Discomfort, Drug Ineffective | Other |
| RISPERDAL | 2-Jul-12 | 32 | Male | Drug Abuse, Hypoglycaemia, Sluggishness | Other |
| RISPERDAL | 2-Jul-12 | 31 | Male | Eosinophilic Pneumonia, Haemorrhage, Interstitial Lung Disease, Neuroleptic Malignant Syndrome | Death, Other |
| RISPERDAL CONSTA | 1-Jul-12 | 38 | Male | Aggression, Disturbance In Social Behaviour, Drug Intolerance, Insomnia, Paranoia | Hospitalization |
| RISPERDAL | 1-Jul-12 | | Male | Deep Vein Thrombosis | Hospitalization |
| RISPERDAL | 1-Jul-12 | 360 | Female | Hypotension, Overdose, Self Injurious Behaviour, Sopor, Tachycardia | Hospitalization |
| RISPERDAL | 1-Jul-12 | 20 | Male | Coma, Disseminated Intravascular Coagulation, Hyperthermia, Laryngeal Haemorrhage, Multi-organ Failure, Off Label Use, Pharyngeal Haemorrhage, Status Epilepticus | Death, Hospitalization, Life-Threatening |
| RISPERDAL | 1-Jul-12 | 60 | Female | Hypotension, Overdose, Self Injurious Behaviour, Sopor, Tachycardia | Hospitalization |
| RISPERDAL | 1-Jul-12 | 34 | Male | Bipolar Disorder | Other |
| RISPERDAL | 1-Jul-12 | 34 | Male | Bipolar Disorder | Other |
| RISPERDAL | 30-Jun-12 | 51 | Male | Aphagia, Feeling Abnormal, Hallucination, Auditory, Hunger, Insomnia, Vomiting | Other |
| RISPERDAL | 30-Jun-12 | 51 | Male | Aphagia, Feeling Abnormal, Hallucination, Auditory, Hunger, Insomnia, Vomiting | Other |
| RISPERDAL | 30-Jun-12 | 51 | Male | Aphagia, Feeling Abnormal, Hallucination, Auditory, Hunger, Insomnia, Vomiting | Other |
| RISPERDAL CONSTA | 29-Jun-12 | | Male | Breast Cancer Recurrent | Other |
| RISPERDAL CONSTA | 29-Jun-12 | | | Hospitalisation | Hospitalization |
| RISPERDAL | 29-Jun-12 | 83 | | Supraventricular Tachycardia | Other |
| RISPERDAL CONSTA | 29-Jun-12 | | Female | Blood Prolactin Increased, Breast Cancer | Other |
| RISPERDAL CONSTA | 29-Jun-12 | | Male | Abnormal Behaviour, Aggression, Logorrhoea | Hospitalization |
| RISPERDAL CONSTA | 29-Jun-12 | | Female | Acute Psychosis, Rash, Treatment Noncompliance | Hospitalization |
| RISPERDAL | 29-Jun-12 | 7 | Female | Poor Quality Drug Administered, Product Quality Issue | Other |
| RISPERDAL CONSTA | 29-Jun-12 | | | Drug Abuse | Other |
| RISPERDAL | 29-Jun-12 | 18 | Female | Gait Disturbance, Somnolence, Suicide Attempt | Other |
| RISPERDAL | 29-Jun-12 | 48 | Female | Dysarthria, Gait Disturbance, Somnolence, Suicide Attempt | Hospitalization, Other |
| RISPERDAL CONSTA | 28-Jun-12 | 82 | Female | Incorrect Route Of Drug Administration, Procedural Complication | Other |
| RISPERDAL CONSTA | 28-Jun-12 | 43 | Female | Death | Death |
| RISPERDAL | 28-Jun-12 | 41 | Male | Product Quality Issue | Other |
| RISPERDAL CONSTA | 27-Jun-12 | 54 | Female | Adverse Drug Reaction, Balance Disorder, Fall, Gait Disturbance, Hospitalisation, Musculoskeletal Stiffness, Thermal Burn, Unevaluable Event | Disability, Hospitalization, Other |
| RISPERDAL | 27-Jun-12 | | | Depressed Level Of Consciousness, Respiratory Depression, Restlessness | Other |
| RISPERDAL CONSTA | 27-Jun-12 | 54 | Female | Balance Disorder, Burning Sensation, Fall, Feeling Abnormal, Gait Disturbance, Musculoskeletal Stiffness, Thermal Burn | Hospitalization, Other |
| RISPERDAL | 27-Jun-12 | 25 | Male | Blood Pressure Decreased, Decubitus Ulcer, Disseminated Intravascular Coagulation, Multiple Drug Overdose, Pneumonia Aspiration, Rhabdomyolysis, Toxicity To Various Agents | Other |
| RISPERDAL | 27-Jun-12 | | | Condition Aggravated | Unknown |
| RISPERDAL CONSTA | 27-Jun-12 | 54 | Female | Adverse Drug Reaction, Balance Disorder, Fall, Gait Disturbance, Hospitalisation, Musculoskeletal Stiffness, Thermal Burn, Unevaluable Event | Disability, Hospitalization, Other |
| RISPERDAL | 27-Jun-12 | | | Fracture | Other |
| RISPERDAL | 27-Jun-12 | 29 | Female | Heart Rate Increased | Unknown |
| RISPERDAL | 26-Jun-12 | 25 | Male | Altered State Of Consciousness, Blood Pressure Decreased, Decubitus Ulcer, Disseminated Intravascular Coagulation, Multiple Drug Overdose, Pneumonia Aspiration, Rhabdomyolysis, Toxicity To Various Agents | Hospitalization |
| RISPERDAL CONSTA | 26-Jun-12 | | Male | Renal Impairment | Hospitalization |
| RISPERDAL CONSTA | 26-Jun-12 | | Female | Death | Death |
| RISPERDAL | 25-Jun-12 | | | Cardiomyopathy | Other |
| RISPERDAL CONSTA | 25-Jun-12 | | Male | Schizophrenia, Treatment Noncompliance | Hospitalization |
| RISPERDAL CONSTA | 25-Jun-12 | | | Blood Disorder, Product Quality Issue, Weight Increased | Other |
| RISPERDAL | 25-Jun-12 | | Male | Laboratory Test Abnormal, Somnolence, Suicide Attempt | Other |
| RISPERDAL | 24-Jun-12 | 31 | Male | Acute Respiratory Distress Syndrome, Eosinophilic Pneumonia, Neuroleptic Malignant Syndrome, Pneumonia Staphylococcal, Pulmonary Alveolar Haemorrhage | Death, Other |
| RISPERDAL | 24-Jun-12 | 31 | Male | Acute Respiratory Distress Syndrome, Eosinophilic Pneumonia, Neuroleptic Malignant Syndrome, Pneumonia Staphylococcal, Pulmonary Alveolar Haemorrhage | Death, Other |
| RISPERDAL | 24-Jun-12 | 31 | Male | Acute Respiratory Distress Syndrome, Eosinophilic Pneumonia, Neuroleptic Malignant Syndrome, Pneumonia Staphylococcal, Pulmonary Alveolar Haemorrhage | Death, Other |
| RISPERDAL | 24-Jun-12 | 31 | Male | Acute Respiratory Distress Syndrome, Eosinophilic Pneumonia, Neuroleptic Malignant Syndrome, Pneumonia Staphylococcal, Pulmonary Alveolar Haemorrhage | Death, Other |
| RISPERDAL | 23-Jun-12 | 21 | Male | Neutropenia | Other |
| RISPERDAL | 22-Jun-12 | 38 | Male | Multiple Drug Overdose Intentional, Self Injurious Behaviour, Sopor | Other |
| RISPERDAL CONSTA | 21-Jun-12 | 39 | Male | Thrombophlebitis | Other |
| RISPERDAL | 21-Jun-12 | 30 | Male | Skin Wrinkling, Slow Response To Stimuli | Hospitalization |
| RISPERDAL CONSTA | 21-Jun-12 | 43 | Female | Death | Death |
| RISPERDAL CONSTA | 21-Jun-12 | 54 | Female | Abasia, Balance Disorder, Fall, Incorrect Dose Administered, Musculoskeletal Stiffness, Product Quality Issue, Thermal Burn, Unevaluable Event | Disability, Hospitalization, Other |
| RISPERDAL CONSTA | 20-Jun-12 | 43 | Male | Cognitive Disorder, Condition Aggravated, Drug Interaction, Drug Level Increased, Extrapyramidal Disorder, Fear Of Eating, Hallucination, Auditory, Persecutory Delusion, Psychomotor Hyperactivity, Psychotic Disorder, Thought Blocking | Hospitalization |
| RISPERDAL CONSTA | 20-Jun-12 | 43 | Female | Death | Death |
| RISPERDAL CONSTA | 20-Jun-12 | 41 | Female | Hospitalisation, Product Quality Issue | Hospitalization |
| RISPERDAL | 19-Jun-12 | 54 | Female | Balance Disorder, Fall, Gait Disturbance, Musculoskeletal Stiffness, Pain, Thermal Burn | Disability, Hospitalization, Other |
| RISPERDAL | 18-Jun-12 | | Female | Thrombophlebitis | Other |
| RISPERDAL | 18-Jun-12 | 48 | Male | Death, Restlessness, Vomiting | Death |
| RISPERDAL | 18-Jun-12 | | Male | Hypertension, Loss Of Consciousness | Hospitalization |
| RISPERDAL | 18-Jun-12 | 47 | Female | Multiple Drug Overdose Intentional, Self Injurious Behaviour | Other |
| RISPERDAL | 18-Jun-12 | 47 | Female | Multiple Drug Overdose Intentional, Self Injurious Behaviour | Other |
| RISPERDAL | 16-Jun-12 | 42 | Female | Intentional Overdose, Suicide Attempt | Other |
| RISPERDAL | 15-Jun-12 | 24 | Male | Acute Generalised Exanthematous Pustulosis | Other |
| RISPERDAL CONSTA | 15-Jun-12 | | Male | Drug Prescribing Error, Physical Abuse | Hospitalization |
| RISPERDAL | 15-Jun-12 | 60 | Male | Platelet Count Decreased | Other |
| RISPERDAL | 15-Jun-12 | 83 | Male | Pulmonary Embolism | Death |
| RISPERDAL | 15-Jun-12 | 83 | Male | Pulmonary Embolism | Death |
| RISPERDAL | 14-Jun-12 | | Female | Activities Of Daily Living Impaired, Aphasia, Feeling Abnormal, Feeling Jittery, Tremor | Other |
| RISPERDAL | 14-Jun-12 | | Male | Gastric Ulcer Haemorrhage | Other |
| RISPERDAL CONSTA | 14-Jun-12 | | Male | Drug Ineffective, Hypoglycaemia, Intentional Drug Misuse, Throat Tightness, Urinary Incontinence | Hospitalization |
| RISPERDAL | 13-Jun-12 | 42 | Male | Death, Psychotic Disorder | Death, Hospitalization |
| RISPERDAL CONSTA | 13-Jun-12 | 42 | Male | Death, Psychotic Disorder | Death, Hospitalization |
| RISPERDAL | 13-Jun-12 | | | Blood Prolactin Increased, Dizziness, Extrapyramidal Disorder, Fear, Galactorrhoea, Hepatic Function Abnormal, Insomnia, Menstrual Disorder, Muscle Rigidity, Sexual Dysfunction, Somnolence, Tachycardia, Tremor, Weight Increased | Unknown |
| RISPERDAL CONSTA | 12-Jun-12 | | Female | Adverse Drug Reaction, Balance Disorder, Burning Sensation, Fall, Gait Disturbance, Hospitalisation, Incorrect Dose Administered, Musculoskeletal Stiffness, Thermal Burn, Unevaluable Event | Disability, Hospitalization, Other |
| RISPERDAL | 12-Jun-12 | | | Suicidal Ideation, Thinking Abnormal | Other |
| RISPERDAL CONSTA | 12-Jun-12 | 15 | Male | Disability | Disability, Other |
| RISPERDAL | 11-Jun-12 | | Female | Loss Of Consciousness, Tardive Dyskinesia | Other |
| RISPERDAL CONSTA | 10-Jun-12 | 62 | Male | Aspartate Aminotransferase Increased, Drug Level Increased, Gamma-glutamyltransferase Increased, Psychotic Disorder | Other |
| RISPERDAL | 10-Jun-12 | 64 | Female | Self Injurious Behaviour, Sopor | Other |
| RISPERDAL CONSTA | 10-Jun-12 | | Male | Cerebrovascular Accident | Death, Other |
| RISPERDAL | 8-Jun-12 | 29 | Female | Self Injurious Behaviour, Sluggishness, Sopor | Other |
| RISPERDAL CONSTA | 8-Jun-12 | 28 | Male | Blood Triglycerides Increased, Condition Aggravated, Incorrect Dose Administered, Weight Increased | Hospitalization, Other |
| RISPERDAL CONSTA | 8-Jun-12 | 28 | Male | Blood Triglycerides Increased, Condition Aggravated, Incorrect Dose Administered, Weight Increased | Hospitalization |
| RISPERDAL | 8-Jun-12 | 29 | Female | Abdominal Pain, Self Injurious Behaviour, Sopor | Hospitalization, Other |
| RISPERDAL | 8-Jun-12 | 74 | Female | Cytolytic Hepatitis | Hospitalization |
| RISPERDAL | 7-Jun-12 | 43 | Male | Drug Effect Decreased, Product Substitution Issue | Other |
| RISPERDAL | 7-Jun-12 | 17 | Female | Dizziness, Presyncope, Self Injurious Behaviour | Other |
| RISPERDAL | 7-Jun-12 | 17 | Female | Dizziness, Presyncope, Self Injurious Behaviour | Other |
| RISPERDAL | 6-Jun-12 | | | Deep Vein Thrombosis, Pulmonary Embolism | Other |
| RISPERDAL | 6-Jun-12 | | Male | Adverse Event, Hunger, Hyperhidrosis, Psychotic Disorder, Suicidal Ideation, Thirst, Urinary Incontinence, Weight Increased | Hospitalization |
| RISPERDAL CONSTA | 6-Jun-12 | | Male | Adverse Event, Hunger, Hyperhidrosis, Psychotic Disorder, Suicidal Ideation, Thirst, Urinary Incontinence, Weight Increased | Hospitalization |
| RISPERDAL | 6-Jun-12 | 56 | Male | Coma, Miosis, Multiple Drug Overdose Intentional, Self Injurious Behaviour | Other |
| RISPERDAL | 5-Jun-12 | | Female | Lactose Intolerance | Other |
| RISPERDAL | 5-Jun-12 | 36 | Male | Extrapyramidal Disorder | Other |
| RISPERDAL | 5-Jun-12 | | Female | Enterocolitis Haemorrhagic, Malaise | Hospitalization |
| RISPERDAL CONSTA | 5-Jun-12 | 60 | Female | Myocardial Infarction | Hospitalization |
| RISPERDAL | 5-Jun-12 | | Female | Anxiety, General Physical Health Deterioration, Restlessness | Hospitalization |
| RISPERDAL CONSTA | 5-Jun-12 | 48 | Female | Blood Prolactin Increased, Breast Cancer | Hospitalization, Other |
| RISPERDAL CONSTA | 5-Jun-12 | 48 | Female | Blood Prolactin Increased, Breast Cancer | Hospitalization, Other |
| RISPERDAL CONSTA | 4-Jun-12 | | Male | Brain Injury, Dysstasia, General Physical Health Deterioration | Other |
| RISPERDAL CONSTA | 4-Jun-12 | 24 | Male | Inappropriate Schedule Of Drug Administration, Schizophrenia, Treatment Noncompliance | Other |
| RISPERDAL | 4-Jun-12 | | | Dizziness, Endocrine Disorder, Extrapyramidal Disorder, Fear, Galactorrhoea, Hepatic Function Abnormal, Insomnia, Menstrual Disorder, Muscle Rigidity, Sexual Dysfunction, Somnolence, Tachycardia, Tremor, Weight Increased | Other |
| RISPERDAL | 4-Jun-12 | | | Hepatitis | Other |
| RISPERDAL | 1-Jun-12 | 16 | Male | Blister | Other |
| RISPERDAL | 1-Jun-12 | | | Metabolic Disorder | Death |
| RISPERDAL CONSTA | 1-Jun-12 | | | Metabolic Disorder | Death |
| RISPERDAL | 1-Jun-12 | | | Hepatitis | Other |
| RISPERDAL CONSTA | 1-Jun-12 | 63 | Female | Deep Vein Thrombosis | Other |
| RISPERDAL | 1-Jun-12 | 36 | Male | Abdominal Distension, Extrapyramidal Disorder | Other |
| RISPERDAL | 1-Jun-12 | 49 | Male | Venous Thrombosis | Hospitalization, Other |
| RISPERDAL | 1-Jun-12 | 12 | Male | Abnormal Behaviour, Dyskinesia, Intentional Drug Misuse, Streptococcal Infection, Therapeutic Response Increased, Tic, Wrong Technique In Drug Usage Process | Other |
| RISPERDAL | 1-Jun-12 | 12 | Male | Abnormal Behaviour, Dyskinesia, Intentional Drug Misuse, Streptococcal Infection, Therapeutic Response Increased, Tic, Wrong Technique In Drug Usage Process | Other |
| RISPERDAL | 1-Jun-12 | | | Decreased Appetite, Diarrhoea, Eye Movement Disorder, Irritability, Nausea, Panic Reaction, Suicidal Ideation, Tremor, Withdrawal Syndrome, Yawning | Other |
| RISPERDAL | 1-Jun-12 | 40 | Male | Obsessive-compulsive Disorder | Hospitalization |
| RISPERDAL | 1-Jun-12 | | Male | Diarrhoea, Schizophrenia | Unknown |
| RISPERDAL CONSTA | 31-May-12 | | Female | Tardive Dyskinesia | Other |
| RISPERDAL | 31-May-12 | 32 | Female | Abdominal Distension, Aerophagia, Ileus | Hospitalization, Other |
| RISPERDAL CONSTA | 31-May-12 | 20 | Male | Multiple Fractures, Suicide Attempt, Surgery | Disability, Hospitalization, Life-Threatening, Other |
| RISPERDAL | 30-May-12 | 93 | Female | Accidental Overdose, Depressed Level Of Consciousness, Dysphagia, Hyperhidrosis, Hypernatraemia, Hypokalaemia, Pneumonia Aspiration, Respiration Abnormal, Somnolence | Hospitalization, Other |
| RISPERDAL | 30-May-12 | | Male | Aspiration, Diabetes Mellitus, Feeling Abnormal, Gynaecomastia, Pain, Parkinson's Disease, Pneumonia, Spinal Cord Compression, Tardive Dyskinesia, Vomiting | Other |
| RISPERDAL | 30-May-12 | 25 | Female | Caesarean Section, Gestational Diabetes, Polyhydramnios | Other |
| RISPERDAL CONSTA | 30-May-12 | 52 | Female | Device Malfunction, Foreign Body, Hospitalisation, Underdose, Wrong Technique In Drug Usage Process | Hospitalization |
| RISPERDAL CONSTA | 30-May-12 | 52 | Female | Device Malfunction, Foreign Body, Hospitalisation, Wrong Technique In Drug Usage Process | Hospitalization |
| RISPERDAL | 30-May-12 | | Female | Cytolytic Hepatitis, Depression, Dyspnoea, Palpitations | Hospitalization |
| RISPERDAL | 29-May-12 | | Female | Breast Discomfort, Galactorrhoea, Hyperprolactinaemia | Other |
| RISPERDAL | 29-May-12 | | Male | Cushing's Syndrome | Other |
| RISPERDAL | 29-May-12 | | Female | Feeling Abnormal, Off Label Use, Type 2 Diabetes Mellitus | Other |
| RISPERDAL | 29-May-12 | | Male | Burning Sensation, Dyskinesia, Respiratory Disorder | Other |
| RISPERDAL | 29-May-12 | 68 | Female | Hypersomnia, Malaise, Paranoia, Psychomotor Hyperactivity | Other |
| RISPERDAL | 29-May-12 | | | Body Mass Index Increased, Weight Increased | Other |
| RISPERDAL | 29-May-12 | | | Hospitalisation | Hospitalization |
| RISPERDAL | 29-May-12 | | | Death, Tremor | Death |
| RISPERDAL CONSTA | 29-May-12 | 60 | Female | Myocardial Infarction | Hospitalization |
| RISPERDAL CONSTA | 29-May-12 | | Male | Accidental Exposure | Hospitalization |
| RISPERDAL | 29-May-12 | | | Completed Suicide, Overdose | Death |
| RISPERDAL CONSTA | 29-May-12 | | Male | Dystonia, Liver Disorder, Treatment Noncompliance | Hospitalization |
| RISPERDAL CONSTA | 29-May-12 | | Male | Cardiac Arrest, Electrocardiogram Qt Prolonged, Hypokalaemia, Torsade De Pointes | Death |
| RISPERDAL | 29-May-12 | 36 | Male | Abdominal Distension, Extrapyramidal Disorder | Other |
| RISPERDAL | 29-May-12 | | | Overdose | Death |
| RISPERDAL | 29-May-12 | 37 | Female | Breast Feeding, Hysterectomy, Pancreatic Disorder, Pituitary Tumour | Other |
| RISPERDAL | 28-May-12 | 50 | Female | Multiple Drug Overdose Intentional, Self Injurious Behaviour, Sopor | Other |
| RISPERDAL | 28-May-12 | 52 | Female | Multiple Drug Overdose Intentional, Self Injurious Behaviour, Sopor | Other |
| RISPERDAL CONSTA | 26-May-12 | 36 | Male | Abnormal Behaviour, Decreased Appetite | Hospitalization |
| RISPERDAL | 25-May-12 | 40 | Male | Accommodation Disorder | Disability, Other |
| RISPERDAL CONSTA | 25-May-12 | 40 | Male | Accommodation Disorder | Disability, Other |
| RISPERDAL | 25-May-12 | | Female | Abdominal Rigidity, Asthenia, Asthenopia, Constipation, Dementia, Dizziness, Drug Dose Omission, Feeling Abnormal, Hyperkeratosis, Product Quality Issue, Tardive Dyskinesia, Weight Increased | Other |
| RISPERDAL CONSTA | 25-May-12 | | Female | Abdominal Rigidity, Asthenia, Asthenopia, Constipation, Dementia, Dizziness, Drug Dose Omission, Feeling Abnormal, Hyperkeratosis, Product Quality Issue, Tardive Dyskinesia, Weight Increased | Other |
| RISPERDAL | 25-May-12 | 58 | Male | Concussion, Disturbance In Attention, Jaw Disorder, Road Traffic Accident | Life-Threatening |
| RISPERDAL | 25-May-12 | 61 | Male | Hospitalisation, Pancreatic Enzymes Increased, Pyrexia, White Blood Cell Count Decreased | Hospitalization, Other |
| RISPERDAL | 24-May-12 | 3 | Male | Accidental Exposure, Depressed Level Of Consciousness | Other |
| RISPERDAL | 24-May-12 | | | Deep Vein Thrombosis, Pulmonary Embolism | Other |
| RISPERDAL | 24-May-12 | | | Gastric Ulcer Haemorrhage | Other |
| RISPERDAL | 24-May-12 | 17 | Female | Haemoptysis, Musculoskeletal Chest Pain, Nasal Congestion | Other |
| RISPERDAL CONSTA | 24-May-12 | | Male | Aggression, Agitation | Other |
| RISPERDAL | 24-May-12 | 15 | Male | Compulsions, Increased Appetite, Weight Increased | Other |
| RISPERDAL | 24-May-12 | 25 | Female | Dystonia, Joint Dislocation | Hospitalization, Other |
| RISPERDAL CONSTA | 24-May-12 | 63 | Male | Death | Death |
| RISPERDAL | 24-May-12 | 45 | Male | Multiple Drug Overdose Intentional, Self Injurious Behaviour | Other |
| RISPERDAL | 24-May-12 | 2 | Male | Accidental Exposure | Hospitalization |
| RISPERDAL | 24-May-12 | 33 | Male | Multiple Drug Overdose Intentional, Self Injurious Behaviour | Other |
| RISPERDAL CONSTA | 24-May-12 | 31 | Male | Drug Dose Omission, Hospitalisation, Wrong Technique In Drug Usage Process | Hospitalization |
| RISPERDAL | 24-May-12 | 75 | Female | Loss Of Consciousness, Suicide Attempt | Other |
| RISPERDAL | 24-May-12 | 2 | Male | Accidental Exposure | Hospitalization |
| RISPERDAL CONSTA | 24-May-12 | 31 | Male | Hospitalisation, Wrong Technique In Drug Usage Process | Hospitalization |
| RISPERDAL | 24-May-12 | 75 | Female | Loss Of Consciousness, Suicide Attempt | Other |
| RISPERDAL | 23-May-12 | 57 | Female | Electrocardiogram Qt Prolonged, Hypokalaemia, Overdose | Hospitalization, Other |
| RISPERDAL | 23-May-12 | 26 | Male | Autoimmune Disorder, Pernicious Anaemia, Vitamin B12 Deficiency | Other |
| RISPERDAL | 23-May-12 | | Male | Hyperglycaemia, Type 1 Diabetes Mellitus, Weight Increased | Other |
| RISPERDAL | 23-May-12 | 21 | Male | Drug Ineffective, Drug Intolerance | Unknown |
| RISPERDAL CONSTA | 23-May-12 | 53 | Female | Breast Cancer, Hyperprolactinaemia | Other |
| RISPERDAL CONSTA | 23-May-12 | | Female | Amenorrhoea, Lactation Disorder | Other |
| RISPERDAL | 23-May-12 | 25 | Male | Multiple Drug Overdose Intentional, Self Injurious Behaviour | Other |
| RISPERDAL | 23-May-12 | 33 | Male | Intentional Overdose, Suicide Attempt | Other |
| RISPERDAL | 23-May-12 | 25 | Male | Intentional Overdose, Self Injurious Behaviour | Hospitalization |
| RISPERDAL | 23-May-12 | 25 | Male | Multiple Drug Overdose Intentional, Self Injurious Behaviour | Hospitalization, Other |
| RISPERDAL CONSTA | 23-May-12 | 76 | Male | Pancreatitis Acute | Death |
| RISPERDAL | 23-May-12 | 25 | Male | Intentional Overdose, Self Injurious Behaviour | Hospitalization |
| RISPERDAL | 22-May-12 | 21 | Female | Eyelid Ptosis | Other |
| RISPERDAL | 22-May-12 | | Female | Constipation, Drug Dependence, Frustration, Haemorrhoids, Weight Increased | Other |
| RISPERDAL | 22-May-12 | | | Drug Interaction | Death |
| RISPERDAL CONSTA | 22-May-12 | 56 | Female | Aggression | Hospitalization |
| RISPERDAL CONSTA | 21-May-12 | | | Hospitalisation | Hospitalization |
| RISPERDAL | 21-May-12 | | Female | Blood Cholesterol Increased, Nicotine Dependence, Schizophrenia, Weight Increased | Other |
| RISPERDAL CONSTA | 21-May-12 | | Female | Blood Cholesterol Increased, Nicotine Dependence, Schizophrenia, Weight Increased | Other |
| RISPERDAL CONSTA | 21-May-12 | 39 | Male | Hospitalisation | Hospitalization |
| RISPERDAL | 18-May-12 | | Female | Type 2 Diabetes Mellitus, Weight Increased | Other |
| RISPERDAL | 18-May-12 | 73 | Female | Haemorrhage Intracranial, Hospitalisation, Intentional Drug Misuse | Hospitalization, Other |
| RISPERDAL CONSTA | 18-May-12 | 53 | Male | Accidental Exposure | Hospitalization |
| RISPERDAL | 18-May-12 | 73 | Female | Haemorrhage Intracranial, Hospitalisation, Intentional Drug Misuse | Hospitalization, Other |
| RISPERDAL | 17-May-12 | 77 | Female | Hypotension, Multiple Drug Overdose Intentional, Self Injurious Behaviour, Tachycardia | Other |
| RISPERDAL | 16-May-12 | | Male | Asphyxia, Aspiration, Dysphagia, Parkinsonism, Sedation | Death, Other |
| RISPERDAL CONSTA | 15-May-12 | 22 | Male | Urinary Incontinence | Other |
| RISPERDAL | 14-May-12 | 16 | Male | Intentional Drug Misuse, Overdose | Other |
| RISPERDAL | 14-May-12 | 16 | Male | Dizziness, Intentional Drug Misuse, Overdose | Other |
| RISPERDAL | 14-May-12 | 16 | Male | Dizziness, Intentional Drug Misuse, Overdose | Other |
| RISPERDAL | 11-May-12 | | Male | Burning Sensation, Dyskinesia, Respiratory Disorder | Other |
| RISPERDAL | 11-May-12 | | Male | Cardiovascular Disorder, Cyanosis, Organ Failure, Psychotic Disorder, Respiratory Depression | Death, Hospitalization |
| RISPERDAL CONSTA | 11-May-12 | 46 | Male | Deep Vein Thrombosis, Neuroleptic Malignant Syndrome | Hospitalization |
| RISPERDAL | 11-May-12 | | Male | Asphyxia, Aspiration, Dysphagia, Parkinsonism, Sedation | Death, Other |
| RISPERDAL | 11-May-12 | 90 | Female | Hypothermia, Oliguria, Pancreatitis Acute, Ventricular Fibrillation | Death, Hospitalization |
| RISPERDAL | 11-May-12 | 89 | Female | Somnolence, Toxicity To Various Agents | Hospitalization |
| RISPERDAL CONSTA | 11-May-12 | 17 | Male | Aggression, Social Avoidant Behaviour, Speech Disorder | Hospitalization |
| RISPERDAL CONSTA | 11-May-12 | 17 | Male | Abnormal Behaviour, Aggression, Social Avoidant Behaviour | Hospitalization |
| RISPERDAL CONSTA | 11-May-12 | 17 | Male | Abnormal Behaviour, Aggression, Social Avoidant Behaviour | Hospitalization |
| RISPERDAL | 10-May-12 | 64 | Female | Thrombophlebitis | Hospitalization |
| RISPERDAL CONSTA | 10-May-12 | | | Foetal Death, Foetal Growth Restriction | Death |
| RISPERDAL CONSTA | 10-May-12 | 46 | Male | Convulsion, Face Injury, Skin Injury | Other |
| RISPERDAL | 10-May-12 | 14 | Female | Poisoning Deliberate, Tongue Oedema | Hospitalization |
| RISPERDAL CONSTA | 9-May-12 | 57 | Male | Bone Disorder, Connective Tissue Disorder, Musculoskeletal Disorder, Musculoskeletal Pain | Other |
| RISPERDAL CONSTA | 9-May-12 | | Female | Balance Disorder, Emotional Disorder, Injection Site Pain, Insomnia, Urinary Incontinence | Other |
| RISPERDAL | 9-May-12 | 81 | Male | Blood Pressure Decreased, Cardiomegaly, Confusional State, Drug Ineffective, General Physical Health Deterioration, Restlessness, Screaming, Sudden Death | Death, Hospitalization, Other |
| RISPERDAL | 8-May-12 | 36 | Female | Akathisia, Completed Suicide, Extrapyramidal Disorder | Death, Other |
| RISPERDAL | 7-May-12 | 15 | Female | Bundle Branch Block Right, Electrocardiogram Qt Prolonged, Qrs Axis Abnormal | Other |
| RISPERDAL CONSTA | 7-May-12 | | Male | Arrhythmia, Incoherent | Other |
| RISPERDAL | 7-May-12 | 70 | Male | Dysphagia, Hypokinesia, Limb Operation, Musculoskeletal Stiffness | Other |
| RISPERDAL | 7-May-12 | | | Cataract | Other |
| RISPERDAL | 7-May-12 | 82 | Male | Aggression, Hospitalisation, Hypotonia | Hospitalization |
| RISPERDAL | 7-May-12 | | Female | Aphasia, Musculoskeletal Stiffness, Treatment Noncompliance, Weight Decreased | Hospitalization |
| RISPERDAL | 7-May-12 | 36 | Female | Depression, Disorientation, Feeling Abnormal, Feeling Hot, Heart Rate Decreased, Heart Rate Increased, Pallor, Palpitations, Thirst | Life-Threatening |
| RISPERDAL | 7-May-12 | | Female | Drug Prescribing Error, Increased Appetite, Nervousness, Sedation, Type 2 Diabetes Mellitus, Weight Increased | Other |
| RISPERDAL | 7-May-12 | | Male | Fall, Hypokalaemia, Hyponatraemia | Hospitalization |
| RISPERDAL | 7-May-12 | | Male | Coma, Overdose | Other |
| RISPERDAL | 6-May-12 | 29 | Female | Cholestasis, Cytolytic Hepatitis, Pyrexia | Hospitalization |
| RISPERDAL | 5-May-12 | 60 | Male | Inappropriate Schedule Of Drug Administration, Somnolence, Suicide Attempt, Vertigo | Other |
| RISPERDAL | 4-May-12 | | Female | Diabetes Mellitus, Hernia, Obesity | Other |
| RISPERDAL | 4-May-12 | | | Accidental Exposure, Depressed Level Of Consciousness | Other |
| RISPERDAL | 4-May-12 | | | Adenoma Benign, Blood Prolactin Increased, Galactorrhoea, Glucose Tolerance Impaired, Weight Increased | Other |
| RISPERDAL | 4-May-12 | 25 | Female | Dystonia, Joint Dislocation | Hospitalization, Other |
| RISPERDAL | 4-May-12 | 69 | Female | Cardiac Disorder, Myocardial Infarction | Hospitalization |
| RISPERDAL CONSTA | 4-May-12 | 69 | Female | Cardiac Disorder, Myocardial Infarction | Hospitalization |
| RISPERDAL | 3-May-12 | | Female | Completed Suicide, Drug Ineffective, Hallucination, Product Counterfeit | Death |
| RISPERDAL | 3-May-12 | 69 | Male | Coma | Life-Threatening |
| RISPERDAL | 3-May-12 | 69 | Male | Coma | Life-Threatening |
| RISPERDAL | 2-May-12 | 16 | Male | Dyskinesia, Dystonia, General Physical Health Deterioration, Incorrect Dose Administered, Medication Error | Other |
| RISPERDAL | 2-May-12 | 46 | Male | Asthenia, Dizziness, Dysphagia, Dyspnoea, Intentional Overdose, Musculoskeletal Stiffness, Somnolence, Tachycardia | Hospitalization |
| RISPERDAL CONSTA | 1-May-12 | | Female | Biliary Cirrhosis, Weight Increased | Other |
| RISPERDAL | 1-May-12 | | Male | Anxiety, Confusional State, Depression, Somnolence | Other |
| RISPERDAL | 1-May-12 | 20 | Male | Crying, Gait Disturbance, Musculoskeletal Stiffness, Stereotypy | Hospitalization, Other |
| RISPERDAL CONSTA | 1-May-12 | 20 | Male | Crying, Gait Disturbance, Musculoskeletal Stiffness, Stereotypy | Hospitalization, Other |
| RISPERDAL CONSTA | 1-May-12 | 19 | Male | Confusional State, Extrapyramidal Disorder, Heart Rate Increased, Incorrect Route Of Drug Administration, Malaise, Neuroleptic Malignant Syndrome, Palpitations, Rhinitis, Sedation, Somnolence | Other |
| RISPERDAL | 30-Apr-12 | | Male | Death | Death |
| RISPERDAL | 28-Apr-12 | | Female | Swollen Tongue | Unknown |
| RISPERDAL | 27-Apr-12 | | Male | Abnormal Behaviour, Aggression, Akathisia, Anger, Anxiety, Ataxia, Paranoia | Other |
| RISPERDAL CONSTA | 27-Apr-12 | | Male | Abnormal Behaviour, Aggression, Akathisia, Anger, Anxiety, Ataxia, Paranoia | Other |
| RISPERDAL | 27-Apr-12 | 27 | Male | Hyperprolactinaemia, Intentional Drug Misuse, Libido Disorder, Schizophrenia | Hospitalization |
| RISPERDAL | 27-Apr-12 | 40 | Male | Accommodation Disorder | Disability, Other |
| RISPERDAL CONSTA | 27-Apr-12 | 40 | Male | Accommodation Disorder | Disability, Other |
| RISPERDAL | 27-Apr-12 | | Male | Blood Cortisol Increased, Hypertension, Weight Increased | Other |
| RISPERDAL | 27-Apr-12 | | Male | Diabetes Mellitus, Diabetic Neuropathy, Hyperglycaemia, Hypothyroidism, Weight Increased | Other |
| RISPERDAL | 27-Apr-12 | | Male | Anxiety, Convulsion, Depression, Drug Dependence, Fatigue, Feeling Abnormal, Learning Disorder, Memory Impairment, Somnambulism, Weight Gain Poor, Weight Increased | Other |
| RISPERDAL CONSTA | 27-Apr-12 | | Female | Loss Of Consciousness, Road Traffic Accident | Life-Threatening |
| RISPERDAL CONSTA | 27-Apr-12 | | Female | Anxiety, Delirium, Psychotic Disorder, Thought Withdrawal | Hospitalization |
| RISPERDAL CONSTA | 27-Apr-12 | | Male | Malignant Melanoma | Hospitalization, Other |
| RISPERDAL CONSTA | 27-Apr-12 | 30 | Female | Pituitary Tumour | Other |
| RISPERDAL CONSTA | 27-Apr-12 | 33 | | Hospitalisation | Hospitalization |
| RISPERDAL | 26-Apr-12 | 8 | Male | Bacterial Infection, Product Blister Packaging Issue | Other |
| RISPERDAL | 25-Apr-12 | 49 | Male | Intraocular Pressure Increased | Other |
| RISPERDAL | 25-Apr-12 | 43 | Male | Intentional Overdose, Self Injurious Behaviour | Other |
| RISPERDAL | 25-Apr-12 | | Female | Diabetes Mellitus | Other |
| RISPERDAL CONSTA | 25-Apr-12 | | Female | Diabetes Mellitus | Other |
| RISPERDAL | 25-Apr-12 | | Female | Glycosuria | Unknown |
| RISPERDAL CONSTA | 25-Apr-12 | | Female | Glycosuria | Unknown |
| RISPERDAL | 25-Apr-12 | 41 | Male | Pulmonary Embolism | Hospitalization, Life-Threatening |
| RISPERDAL CONSTA | 25-Apr-12 | 41 | Male | Pulmonary Embolism | Hospitalization, Life-Threatening |
| RISPERDAL | 24-Apr-12 | 29 | Male | Weight Increased | Hospitalization, Other |
| RISPERDAL CONSTA | 23-Apr-12 | | | Foetal Death, Foetal Growth Restriction | Death |
| RISPERDAL CONSTA | 23-Apr-12 | | Male | Infection, Lymphadenopathy | Hospitalization |
| RISPERDAL | 23-Apr-12 | 86 | Female | Abulia, Altered State Of Consciousness, Bradycardia, Convulsion, Dystonia, Electrocardiogram Qt Prolonged, Hypothermia, Lack Of Spontaneous Speech, Pneumonia Aspiration | Hospitalization, Other |
| RISPERDAL | 23-Apr-12 | | Male | Neuroleptic Malignant Syndrome | Other |
| RISPERDAL | 23-Apr-12 | 19 | Male | Completed Suicide | Death |
| RISPERDAL | 23-Apr-12 | 19 | Male | Completed Suicide | Death |
| RISPERDAL CONSTA | 22-Apr-12 | 29 | Male | Aggression, Drug Dose Omission, Irritability | Hospitalization |
| RISPERDAL CONSTA | 21-Apr-12 | 41 | Male | Agranulocytosis | Hospitalization |
| RISPERDAL CONSTA | 20-Apr-12 | | Female | Balance Disorder, Emotional Disorder, Injection Site Pain, Insomnia | Other |
| RISPERDAL | 20-Apr-12 | 33 | Female | Bundle Branch Block Right, Tachycardia, Ventricular Extrasystoles | Other |
| RISPERDAL | 20-Apr-12 | | Female | Dementia | Other |
| RISPERDAL | 20-Apr-12 | | | Coma | Other |
| RISPERDAL CONSTA | 20-Apr-12 | | Male | Ascites, Blood Albumin Decreased, Convulsion, Face Oedema, Haemoglobin Decreased, Hyperglycaemia, Hypoglycaemia | Other |
| RISPERDAL CONSTA | 20-Apr-12 | 51 | Male | Epilepsy, Eye Swelling, Tongue Spasm | Other |
| RISPERDAL | 20-Apr-12 | 20 | Male | Abnormal Behaviour, Tic | Unknown |
| RISPERDAL CONSTA | 20-Apr-12 | 37 | Female | Adverse Event, Drug Dose Omission | Hospitalization |
| RISPERDAL CONSTA | 20-Apr-12 | 39 | Female | Adverse Drug Reaction | Other |
| RISPERDAL CONSTA | 20-Apr-12 | 58 | Female | Insomnia, Mental Disorder, Overdose, Psychotic Disorder | Hospitalization |
| RISPERDAL CONSTA | 20-Apr-12 | 58 | Female | Insomnia, Mental Disorder, Overdose, Psychotic Disorder | Hospitalization |
| RISPERDAL CONSTA | 19-Apr-12 | | | Hospitalisation, Insomnia, Malaise | Hospitalization |
| RISPERDAL | 19-Apr-12 | | | Depression, Drug Interaction, Onychomycosis | Other |
| RISPERDAL | 18-Apr-12 | 28 | Female | Suicide Attempt | Hospitalization |
| RISPERDAL | 18-Apr-12 | 28 | Female | Suicide Attempt | Hospitalization |
| RISPERDAL | 18-Apr-12 | 28 | Female | Suicide Attempt | Hospitalization |
| RISPERDAL | 18-Apr-12 | 28 | Female | Psychotic Disorder, Suicide Attempt | Hospitalization |
| RISPERDAL | 18-Apr-12 | 28 | Female | Psychotic Disorder, Suicide Attempt | Hospitalization |
| RISPERDAL | 18-Apr-12 | 28 | Female | Psychotic Disorder, Suicide Attempt | Hospitalization |
| RISPERDAL | 18-Apr-12 | 63 | Male | Bronchitis, Contusion, Fall, Pyrexia, Renal Failure Acute, Rhabdomyolysis, Treatment Noncompliance | Death, Hospitalization |
| RISPERDAL CONSTA | 18-Apr-12 | 63 | Male | Bronchitis, Contusion, Fall, Pyrexia, Renal Failure Acute, Rhabdomyolysis, Treatment Noncompliance | Death, Hospitalization |
| RISPERDAL | 17-Apr-12 | 60 | Male | Platelet Count Decreased | Other |
| RISPERDAL | 17-Apr-12 | 13 | Male | Eye Movement Disorder, Lethargy, Overdose, Pallor, Protrusion Tongue | Hospitalization |
| RISPERDAL | 17-Apr-12 | 87 | Female | Hypotension, Medication Error | Other |
| RISPERDAL | 17-Apr-12 | 84 | Female | Blood Pressure Decreased, Depressed Level Of Consciousness, Heart Rate Decreased, Lethargy, Oxygen Saturation Decreased, Psychomotor Hyperactivity, Somnolence, Tachycardia | Hospitalization |
| RISPERDAL | 17-Apr-12 | 44 | Female | Death, Dyspnoea | Death, Other |
| RISPERDAL | 17-Apr-12 | 84 | Female | Blood Pressure Decreased, Depressed Level Of Consciousness, Oxygen Saturation Abnormal, Psychomotor Hyperactivity, Pulse Abnormal, Somnolence, Tachycardia | Hospitalization, Other |
| RISPERDAL | 17-Apr-12 | | Male | Dizziness, Hypertension | Other |
| RISPERDAL CONSTA | 17-Apr-12 | | Male | Dizziness, Hypertension | Other |
| RISPERDAL | 16-Apr-12 | | Female | Meningitis, Neuroleptic Malignant Syndrome, Partial Seizures, Pyrexia, Serotonin Syndrome, Sopor, Suicide Attempt, Tachycardia | Hospitalization, Other |
| RISPERDAL CONSTA | 16-Apr-12 | 40 | Male | Device Leakage, Drug Dose Omission, Persecutory Delusion | Other |
| RISPERDAL CONSTA | 16-Apr-12 | 40 | Male | Device Leakage, Drug Dose Omission, Persecutory Delusion | Other |
| RISPERDAL | 13-Apr-12 | | Female | Amnesia, Body Height Decreased, Diabetes Mellitus, Obesity | Other |
| RISPERDAL | 13-Apr-12 | | Male | Musculoskeletal Stiffness, Protrusion Tongue | Other |
| RISPERDAL CONSTA | 13-Apr-12 | | Male | Cardiac Arrest, Electrocardiogram Qt Prolonged, Hypokalaemia | Death |
| RISPERDAL | 13-Apr-12 | | | Retinal Detachment | Other |
| RISPERDAL | 13-Apr-12 | 16 | Female | Multiple Drug Overdose Intentional, Self Injurious Behaviour, Sopor | Other |
| RISPERDAL | 13-Apr-12 | 6 | Female | Diarrhoea, Dyskinesia, Enuresis, Eye Movement Disorder, Increased Appetite, Polydipsia, Tic, Vomiting | Other |
| RISPERDAL | 13-Apr-12 | 16 | Female | Self Injurious Behaviour, Sopor | Other |
| RISPERDAL | 13-Apr-12 | 16 | Female | Multiple Drug Overdose Intentional, Self Injurious Behaviour, Sluggishness, Sopor | Other |
| RISPERDAL | 13-Apr-12 | 46 | Female | Incorrect Dose Administered, Self Injurious Behaviour, Sopor | Other |
| RISPERDAL | 13-Apr-12 | 89 | Female | Abnormal Behaviour, Disorientation, Disturbance In Attention, Extrapyramidal Disorder, Malaise, Status Epilepticus, Urinary Tract Infection | Hospitalization |
| RISPERDAL | 13-Apr-12 | 48 | Male | Anxiety, Arrhythmia, Dysstasia, Major Depression, Myocardial Infarction, Myocardial Ischaemia, Potentiating Drug Interaction, Restlessness, Scar, Sleep Disorder, Speech Disorder, Suicidal Ideation, Vomiting | Death, Hospitalization, Life-Threatening |
| RISPERDAL | 12-Apr-12 | | | Multiple Drug Overdose Accidental, Somnolence | Other |
| RISPERDAL | 12-Apr-12 | 11 | Male | Drug Interaction, Torticollis | Other |
| RISPERDAL | 10-Apr-12 | | | Death, Depressed Level Of Consciousness, Overdose | Death |
| RISPERDAL | 10-Apr-12 | | Female | Lactose Intolerance | Other |
| RISPERDAL | 10-Apr-12 | | | Gastric Haemorrhage, Haematochezia, Iron Deficiency Anaemia | Other |
| RISPERDAL CONSTA | 9-Apr-12 | | Female | Exposure To Contaminated Device, Injury Associated With Device, Product Quality Issue | Other |
| RISPERDAL | 9-Apr-12 | | Female | Arthritis, Gait Disturbance, Knee Operation | Disability, Other |
| RISPERDAL | 9-Apr-12 | 59 | Male | Multiple Drug Overdose Intentional, Somnolence, Suicide Attempt | Other |
| RISPERDAL | 9-Apr-12 | 51 | Female | Constipation, Multiple Drug Overdose Intentional, Restlessness, Suicide Attempt | Other |
| RISPERDAL | 9-Apr-12 | 80 | Male | Ileus Paralytic, Intestinal Obstruction | Death, Other |
| RISPERDAL | 9-Apr-12 | 51 | Female | Constipation, Multiple Drug Overdose Intentional, Restlessness, Suicide Attempt | Hospitalization, Other |
| RISPERDAL | 7-Apr-12 | 33 | Female | Sudden Death | Death |
| RISPERDAL | 7-Apr-12 | 56 | Female | Incorrect Dose Administered | Hospitalization |
| RISPERDAL CONSTA | 6-Apr-12 | 27 | Male | Anaemia, Blood Urine Present | Other |
| RISPERDAL | 6-Apr-12 | | Male | Drug Effect Decreased, Extrapyramidal Disorder, Gynaecomastia, Obsessive-compulsive Disorder, Weight Increased | Hospitalization, Other |
| RISPERDAL | 6-Apr-12 | | Male | Dysuria, Hospitalisation, Urinary Retention | Hospitalization, Other |
| RISPERDAL | 6-Apr-12 | 66 | Male | Bradyphrenia, Dyskinesia, Opisthotonus | Hospitalization |
| RISPERDAL | 5-Apr-12 | | Female | Abdominal Rigidity, Asthenia, Asthenopia, Constipation, Dementia, Dizziness, Drug Dose Omission, Feeling Abnormal, Product Quality Issue, Tardive Dyskinesia | Other |
| RISPERDAL CONSTA | 5-Apr-12 | | Female | Abdominal Rigidity, Asthenia, Asthenopia, Constipation, Dementia, Dizziness, Drug Dose Omission, Feeling Abnormal, Product Quality Issue, Tardive Dyskinesia | Other |
| RISPERDAL CONSTA | 5-Apr-12 | 59 | Female | Accidental Exposure, Laceration, Syringe Issue | Other |
| RISPERDAL | 5-Apr-12 | 3 | Male | Bundle Branch Block Right, Cogwheel Rigidity, Drug Prescribing Error, Hypotension, Poisoning, Somnolence, Tachycardia | Hospitalization, Other |
| RISPERDAL CONSTA | 4-Apr-12 | | Female | Abortion Spontaneous, Maternal Exposure During Pregnancy, Pregnancy | Other |
| RISPERDAL | 4-Apr-12 | 23 | Male | Drug Dose Omission, Treatment Noncompliance | Unknown |
| RISPERDAL | 4-Apr-12 | 60 | Male | Self Injurious Behaviour, Sluggishness, Vomiting | Other |
| RISPERDAL | 4-Apr-12 | 88 | Male | Bradycardia, Drug Interaction, Electrocardiogram Qt Prolonged, Epilepsy, Extrapyramidal Disorder, Hyperglycaemia, Inappropriate Antidiuretic Hormone Secretion, Malaise, Myocardial Infarction | Death, Hospitalization, Other |
| RISPERDAL CONSTA | 3-Apr-12 | | Male | Drug Effect Decreased, Hospitalisation | Hospitalization |
| RISPERDAL | 3-Apr-12 | | Female | Depression, Suicidal Ideation | Other |
| RISPERDAL | 3-Apr-12 | 66 | Male | Bradyphrenia, Communication Disorder, Drug Ineffective, Dyskinesia, Fall, Feeling Abnormal, Opisthotonus, Torticollis | Hospitalization |
| RISPERDAL | 2-Apr-12 | 11 | | Drug Interaction, Torticollis | Other |
| RISPERDAL | 2-Apr-12 | | Female | Meningitis, Neuroleptic Malignant Syndrome, Partial Seizures, Pyrexia, Serotonin Syndrome, Sopor, Suicide Attempt | Other |
| RISPERDAL | 2-Apr-12 | 13 | Male | Aggression, Chills, Hallucination, Insomnia, Muscle Twitching, Nervousness, Weight Increased | Hospitalization |
| RISPERDAL CONSTA | 2-Apr-12 | | Female | Amenorrhoea, Lactation Disorder | Other |
| RISPERDAL CONSTA | 2-Apr-12 | 55 | Male | Cerebral Atrophy, Hepatitis C, Increased Appetite, Treatment Noncompliance | Other |
| RISPERDAL | 2-Apr-12 | 9 | Male | Idiopathic Thrombocytopenic Purpura | Hospitalization |
| RISPERDAL CONSTA | 1-Apr-12 | 34 | Female | Blood Prolactin Increased, Breast Discharge, Breast Engorgement, Medication Error | Other |
| RISPERDAL CONSTA | 1-Apr-12 | | Female | Accidental Exposure, Laceration, Syringe Issue | Other |
| RISPERDAL | 1-Apr-12 | 27 | Female | Extrapyramidal Disorder, Withdrawal Syndrome | Hospitalization |
| RISPERDAL CONSTA | 1-Apr-12 | 27 | Female | Extrapyramidal Disorder, Withdrawal Syndrome | Hospitalization |
| RISPERDAL | 1-Apr-12 | 90 | Female | Dysarthria, Muscle Contracture, Muscular Weakness | Other |
| RISPERDAL CONSTA | 30-Mar-12 | | | Chromaturia, Myalgia | Other |
| RISPERDAL | 30-Mar-12 | 64 | Male | Pneumonia Aspiration, Septic Shock | Hospitalization, Other |
| RISPERDAL | 30-Mar-12 | | Female | Catatonia | Other |
| RISPERDAL CONSTA | 30-Mar-12 | | Male | Psychiatric Symptom | Hospitalization |
| RISPERDAL CONSTA | 30-Mar-12 | | Male | Psychiatric Symptom | Hospitalization |
| RISPERDAL CONSTA | 30-Mar-12 | | Female | Deafness Neurosensory, Respiratory Dyskinesia | Disability, Hospitalization |
| RISPERDAL | 30-Mar-12 | 37 | Female | Dyskinesia, Loss Of Consciousness | Hospitalization, Other |
| RISPERDAL | 30-Mar-12 | 71 | Male | Tooth Extraction | Other |
| RISPERDAL | 30-Mar-12 | 71 | Male | Tooth Extraction | Other |
| RISPERDAL | 29-Mar-12 | | Female | Dementia, Electrocardiogram Qt Prolonged | Hospitalization |
| RISPERDAL | 29-Mar-12 | 42 | Male | Death, Psychotic Disorder | Death, Hospitalization |
| RISPERDAL CONSTA | 29-Mar-12 | 42 | Male | Death, Psychotic Disorder | Death, Hospitalization |
| RISPERDAL CONSTA | 29-Mar-12 | | Male | Chronic Obstructive Pulmonary Disease | Other |
| RISPERDAL | 29-Mar-12 | | Male | Aggression, Delusion, Hostility, Irritability, Mental Impairment, Paranoia, Treatment Noncompliance | Other |
| RISPERDAL CONSTA | 29-Mar-12 | | Male | Cardiac Arrest, Electrocardiogram Qt Prolonged | Death |
| RISPERDAL CONSTA | 29-Mar-12 | | Female | Breast Cancer, Cerebrovascular Accident, Hysterectomy, Myocardial Infarction | Other |
| RISPERDAL | 29-Mar-12 | 63 | Female | Blood Creatine Phosphokinase Increased, Hypokalaemia, Pyrexia | Hospitalization |
| RISPERDAL | 29-Mar-12 | 63 | Female | Blood Creatine Phosphokinase Increased, Hypokalaemia, Pyrexia | Hospitalization |
| RISPERDAL CONSTA | 29-Mar-12 | 36 | Male | Fatigue, Insomnia, Nasopharyngitis, Oedema, Pharyngitis, Respiratory Disorder, Suffocation Feeling | Other |
| RISPERDAL | 28-Mar-12 | | | Ileus | Other |
| RISPERDAL CONSTA | 28-Mar-12 | | Female | Balance Disorder, Emotional Disorder, Injection Site Pain, Insomnia | Other |
| RISPERDAL | 28-Mar-12 | 85 | Female | Catatonia | Other |
| RISPERDAL | 27-Mar-12 | 82 | Male | Dysphagia, Eating Disorder, Pneumonia Aspiration | Other |
| RISPERDAL | 27-Mar-12 | 32 | Female | Multiple Drug Overdose Intentional, Self Injurious Behaviour | Other |
| RISPERDAL CONSTA | 27-Mar-12 | 40 | Female | Exposure To Contaminated Device, Injury Associated With Device | Other |
| RISPERDAL CONSTA | 26-Mar-12 | | Male | Renal Impairment | Hospitalization |
| RISPERDAL | 25-Mar-12 | 15 | Male | Fatigue, Hypotension, Suicide Attempt | Other |
| RISPERDAL CONSTA | 25-Mar-12 | 20 | Male | Compartment Syndrome | Other |
| RISPERDAL CONSTA | 25-Mar-12 | 30 | Male | Compartment Syndrome, Rhabdomyolysis | Disability, Hospitalization |
| RISPERDAL | 24-Mar-12 | 71 | Female | Abasia, Condition Aggravated, Drug Dispensing Error, Fatigue, Hypersomnia, Malaise, Medication Error, Mental Disorder, Parkinson's Disease, Tremor, Wrong Drug Administered | Life-Threatening |
| RISPERDAL | 23-Mar-12 | | Male | Abdominal Distension, Brain Contusion, Convulsion, Diabetes Mellitus, Hypertension, Hypotension, Schizophrenia, Syncope, Weight Increased | Other |
| RISPERDAL | 23-Mar-12 | | | Pulmonary Embolism | Other |
| RISPERDAL | 23-Mar-12 | | Female | Aggression | Other |
| RISPERDAL CONSTA | 23-Mar-12 | | | Blood Disorder, Weight Increased | Other |
| RISPERDAL | 23-Mar-12 | 25 | Female | Dystonia, Joint Dislocation | Hospitalization, Other |
| RISPERDAL | 23-Mar-12 | 66 | Male | Bradyphrenia, Dyskinesia, Opisthotonus | Hospitalization |
| RISPERDAL | 23-Mar-12 | 33 | Female | Sleep Apnoea Syndrome, Suicide Attempt, Weight Increased | Hospitalization |
| RISPERDAL RISPERADOL | 23-Mar-12 | | Male | Fatigue, Medication Error, Overdose, Somnolence | Unknown |
| RISPERDAL CONSTA | 22-Mar-12 | | Female | Abdominal Distension, Asthenia, Gastric Infection, Gingival Swelling, Incontinence, Loss Of Consciousness, Renal Impairment | Other |
| RISPERDAL | 22-Mar-12 | 64 | Male | Pneumonia Aspiration, Septic Shock | Other |
| RISPERDAL CONSTA | 22-Mar-12 | | | Hyperprolactinaemia, Hypogonadism, Leptin Level Increased, Weight Increased | Other |
| RISPERDAL | 21-Mar-12 | | | Death, Respiratory Depression | Death, Other |
| RISPERDAL CONSTA | 21-Mar-12 | 50 | Male | Eye Haemorrhage, Musculoskeletal Pain, Weight Increased | Other |
| RISPERDAL | 21-Mar-12 | 28 | Male | Agitation, Blood Prolactin Increased, Mass | Other |
| RISPERDAL | 21-Mar-12 | 85 | Male | Arrhythmia, Death | Death, Hospitalization, Life-Threatening |
| RISPERDAL CONSTA | 21-Mar-12 | 43 | Male | Antipsychotic Drug Level Increased, Cognitive Disorder, Extrapyramidal Disorder, Fear Of Eating, Hallucination, Auditory, Inhibitory Drug Interaction, Nail Infection, Persecutory Delusion, Psychomotor Hyperactivity, Psychotic Disorder | Hospitalization |
| RISPERDAL CONSTA | 20-Mar-12 | | Female | Device Malfunction, Exposure To Contaminated Device, Injury Associated With Device | Other |
| RISPERDAL CONSTA | 20-Mar-12 | 43 | Male | Drug Interaction, Extrapyramidal Disorder, Hallucination, Auditory, Persecutory Delusion, Psychotic Behaviour | Hospitalization |
| RISPERDAL | 19-Mar-12 | 42 | Male | Pulmonary Embolism | Hospitalization |
| RISPERDAL CONSTA | 19-Mar-12 | | | Death | Death |
| RISPERDAL | 19-Mar-12 | 33 | Male | Self Injurious Behaviour, Tachycardia | Other |
| RISPERDAL | 19-Mar-12 | 33 | Male | Intentional Overdose, Self Injurious Behaviour, Tachycardia | Life-Threatening, Other |
| RISPERDAL | 19-Mar-12 | 33 | Male | Intentional Overdose, Self Injurious Behaviour, Tachycardia | Life-Threatening, Other |
| RISPERDAL | 16-Mar-12 | 38 | Female | Breast Discomfort, Galactorrhoea, Hyperprolactinaemia | Other |
| RISPERDAL | 16-Mar-12 | | Female | Blood Prolactin Increased, Drug Ineffective | Other |
| RISPERDAL | 16-Mar-12 | | Male | Autoimmune Disorder, Pernicious Anaemia, Vitamin B12 Deficiency | Other |
| RISPERDAL | 16-Mar-12 | | Male | Cerebrovascular Accident, Type 2 Diabetes Mellitus | Death |
| RISPERDAL | 16-Mar-12 | 25 | Male | Aggression | Other |
| RISPERDAL | 16-Mar-12 | | | Neck Deformity, Spinal Column Injury | Hospitalization, Other |
| RISPERDAL | 16-Mar-12 | 43 | Female | Hypotension, Intentional Drug Misuse, Somnolence, Suicide Attempt | Hospitalization |
| RISPERDAL CONSTA | 15-Mar-12 | | | Hospitalisation, Treatment Noncompliance | Hospitalization |
| RISPERDAL CONSTA | 15-Mar-12 | | Female | Deep Vein Thrombosis | Other |
| RISPERDAL CONSTA | 15-Mar-12 | 19 | Female | Device Occlusion, Incorrect Dose Administered By Device, Syringe Issue | Unknown |
| RISPERDAL | 15-Mar-12 | 15 | Female | Self Injurious Behaviour, Sluggishness | Other |
| RISPERDAL CONSTA | 14-Mar-12 | | | Condition Aggravated, Drug Ineffective | Other |
| RISPERDAL CONSTA | 14-Mar-12 | 43 | Male | Antipsychotic Drug Level Increased, Cognitive Disorder, Condition Aggravated, Drug Interaction, Extrapyramidal Disorder, Fear Of Eating, Hallucination, Auditory, Hypophagia, Nail Infection, Persecutory Delusion, Psychomotor Hyperactivity, Psychotic Disorder | Hospitalization |
| RISPERDAL CONSTA | 14-Mar-12 | 66 | Female | Multiple Drug Overdose, Restlessness, Suicide Attempt, Tremor | Other |
| RISPERDAL | 14-Mar-12 | 61 | Male | Pulmonary Embolism | Hospitalization |
| RISPERDAL | 14-Mar-12 | | Female | Abnormal Behaviour, Insomnia, Weight Increased | Unknown |
| RISPERDAL CONSTA | 14-Mar-12 | 66 | Female | Multiple Drug Overdose, Restlessness, Suicide Attempt, Tremor | Hospitalization, Other |
| RISPERDAL | 14-Mar-12 | 33 | Female | Neutropenia, Overdose | Hospitalization |
| RISPERDAL CONSTA | 14-Mar-12 | 29 | Male | Thrombosis | Other |
| RISPERDAL | 13-Mar-12 | | Male | Cerebrovascular Accident, Type 2 Diabetes Mellitus | Death |
| RISPERDAL | 13-Mar-12 | 28 | Female | Abortion Spontaneous, Pregnancy | Other |
| RISPERDAL CONSTA | 13-Mar-12 | | Female | Blood Creatine Phosphokinase Increased, Cogwheel Rigidity, Confusional State, Hypertension, Neuroleptic Malignant Syndrome, Pyrexia, Tachycardia, Urinary Tract Infection | Hospitalization |
| RISPERDAL CONSTA | 13-Mar-12 | | Female | Anxiety, Blood Pressure Increased, Heart Rate Increased, Inappropriate Schedule Of Drug Administration, Muscle Rigidity | Hospitalization, Other |
| RISPERDAL | 13-Mar-12 | 85 | Female | Echolalia, Foreign Body Aspiration, Pneumonia Aspiration, Respiratory Distress | Hospitalization |
| RISPERDAL | 12-Mar-12 | 15 | Male | Dystonia | Other |
| RISPERDAL | 12-Mar-12 | 79 | Male | Blood Fibrinogen Decreased, Loss Of Consciousness, Poisoning | Hospitalization |
| RISPERDAL | 12-Mar-12 | 7 | | Attention Deficit/hyperactivity Disorder, Autism | Congenital Anomaly, Other |
| RISPERDAL | 12-Mar-12 | | Male | Type 1 Diabetes Mellitus | Other |
| RISPERDAL | 12-Mar-12 | | Female | Adverse Drug Reaction, Anxiety, Bedridden, Blood Pressure Increased, Constipation, Dyspnoea Exertional, Faecal Incontinence, Gastrooesophageal Reflux Disease, Nausea, Pain | Other |
| RISPERDAL CONSTA | 12-Mar-12 | | Female | Adverse Drug Reaction, Anxiety, Bedridden, Blood Pressure Increased, Constipation, Dyspnoea Exertional, Faecal Incontinence, Gastrooesophageal Reflux Disease, Nausea, Pain | Other |
| RISPERDAL | 12-Mar-12 | | Female | Depression, Suicidal Ideation | Other |
| RISPERDAL | 12-Mar-12 | | Female | Increased Appetite, Weight Increased | Unknown |
| RISPERDAL CONSTA | 12-Mar-12 | 43 | Male | Agitation, Cognitive Disorder, Condition Aggravated, Drug Interaction, Fear Of Eating, Hallucination, Auditory, Psychiatric Symptom, Psychomotor Hyperactivity, Thought Blocking | Hospitalization |
| RISPERDAL | 12-Mar-12 | 45 | Male | Intentional Overdose, Self Injurious Behaviour, Sluggishness | Other |
| RISPERDAL | 12-Mar-12 | 84 | Male | Aggression, Confusional State | Hospitalization |
| RISPERDAL | 12-Mar-12 | 75 | Female | Face Injury, Fall, Malaise | Hospitalization |
| RISPERDAL | 10-Mar-12 | 60 | Female | Self Injurious Behaviour, Sluggishness | Other |
| RISPERDAL | 10-Mar-12 | 60 | Female | Self Injurious Behaviour, Sluggishness | Other |
| RISPERDAL | 9-Mar-12 | | Male | Abnormal Loss Of Weight, Breast Mass, Coma, Diabetes Mellitus, Feeling Abnormal, Glossodynia, Gynaecomastia, Hypertension, Initial Insomnia, Intentional Drug Misuse, Mental Disability, Myocardial Infarction, Overdose, Suicide Attempt, Tardive Dyskinesia, Weight Increased | Disability, Other |
| RISPERDAL | 9-Mar-12 | 25 | Male | Aggression | Other |
| RISPERDAL CONSTA | 9-Mar-12 | | Female | Drug Ineffective For Unapproved Indication, Multiple Sclerosis, Product Quality Issue | Other |
| RISPERDAL CONSTA | 9-Mar-12 | | Male | Abnormal Behaviour, Anxiety | Hospitalization |
| RISPERDAL | 9-Mar-12 | 25 | Female | Caesarean Section, Gestational Diabetes, Polyhydramnios | Other |
| RISPERDAL | 9-Mar-12 | 26 | Male | Multiple Drug Overdose Intentional, Self Injurious Behaviour | Other |
| RISPERDAL | 8-Mar-12 | | | Protrusion Tongue | Other |
| RISPERDAL | 8-Mar-12 | | Female | Asthenia, Constipation, Dementia, Dizziness, Drug Dose Omission, Feeling Abnormal, Product Quality Issue, Tardive Dyskinesia | Other |
| RISPERDAL CONSTA | 8-Mar-12 | | Female | Asthenia, Constipation, Dementia, Dizziness, Drug Dose Omission, Feeling Abnormal, Product Quality Issue, Tardive Dyskinesia | Other |
| RISPERDAL | 8-Mar-12 | | | Nephrolithiasis | Other |
| RISPERDAL | 8-Mar-12 | | Male | Adverse Event | Other |
| RISPERDAL | 8-Mar-12 | | Female | Unevaluable Event | Other |
| RISPERDAL | 8-Mar-12 | | | Deep Vein Thrombosis | Other |
| RISPERDAL CONSTA | 7-Mar-12 | | Female | Death | Death |
| RISPERDAL | 7-Mar-12 | | Female | Hypotension, Loss Of Consciousness, Malaise, Musculoskeletal Disorder | Hospitalization, Other |
| RISPERDAL | 7-Mar-12 | 73 | Male | Accidental Exposure | Hospitalization |
| RISPERDAL CONSTA | 6-Mar-12 | | Male | Blood Creatinine Increased, Overdose, Renal Impairment, Wrong Technique In Drug Usage Process | Other |
| RISPERDAL CONSTA | 6-Mar-12 | 39 | Male | Myocardial Infarction | Hospitalization, Other |
| RISPERDAL | 6-Mar-12 | 25 | Male | Anaemia, Suicide Attempt | Disability, Hospitalization |
| RISPERDAL | 6-Mar-12 | 25 | Male | Suicide Attempt | Life-Threatening |
| RISPERDAL | 6-Mar-12 | 25 | Male | Joint Injury, Suicide Attempt | Life-Threatening |
| RISPERDAL CONSTA | 5-Mar-12 | 67 | Male | Pulmonary Embolism | Other |
| RISPERDAL CONSTA | 5-Mar-12 | 59 | Female | Cardiac Failure, Generalised Oedema, Off Label Use | Hospitalization |
| RISPERDAL CONSTA | 5-Mar-12 | | Male | Condition Aggravated, Confusional State, Convulsion, Gait Disturbance, Pneumonia, Vomiting | Hospitalization, Other |
| RISPERDAL | 5-Mar-12 | 30 | Male | Disturbance In Social Behaviour, Hypothermia, Suicide Attempt | Hospitalization, Other |
| RISPERDAL CONSTA | 5-Mar-12 | 30 | Male | Disturbance In Social Behaviour, Hypothermia, Suicide Attempt | Hospitalization, Other |
| RISPERDAL CONSTA | 3-Mar-12 | 27 | Female | Thrombosis | Other |
| RISPERDAL | 2-Mar-12 | | Female | Intermittent Claudication, Somnolence, Tremor, Weight Increased | Other |
| RISPERDAL CONSTA | 2-Mar-12 | 55 | Male | Death | Death |
| RISPERDAL | 2-Mar-12 | | Male | Tardive Dyskinesia, Type 2 Diabetes Mellitus | Other |
| RISPERDAL CONSTA | 2-Mar-12 | | Female | Aggression, Depression, Gait Disturbance | Other |
| RISPERDAL | 2-Mar-12 | 92 | Female | Malnutrition | Death |
| RISPERDAL CONSTA | 2-Mar-12 | | | Device Malfunction, Exposure To Contaminated Device, Injury Associated With Device | Other |
| RISPERDAL | 2-Mar-12 | 48 | Male | Ejaculation Disorder, Injection Site Pain, Tremor | Hospitalization, Other |
| RISPERDAL CONSTA | 2-Mar-12 | 48 | Male | Ejaculation Disorder, Injection Site Pain, Tremor | Hospitalization, Other |
| RISPERDAL | 2-Mar-12 | | Female | Breast Cancer Recurrent | Other |
| RISPERDAL | 2-Mar-12 | 29 | Female | Anxiety, Psychotic Disorder, Suicidal Ideation, Treatment Noncompliance | Hospitalization |
| RISPERDAL CONSTA | 2-Mar-12 | 29 | Female | Anxiety, Psychotic Disorder, Suicidal Ideation, Treatment Noncompliance | Hospitalization |
| RISPERDAL CONSTA | 2-Mar-12 | | Male | Hallucination, Auditory | Other |
| RISPERDAL CONSTA | 2-Mar-12 | | | Adverse Drug Reaction | Hospitalization |
| RISPERDAL | 2-Mar-12 | 64 | Male | Pneumonia Aspiration, Septic Shock | Other |
| RISPERDAL | 2-Mar-12 | | | Hospitalisation | Hospitalization |
| RISPERDAL | 2-Mar-12 | 67 | Male | Intentional Overdose, Nausea, Self Injurious Behaviour | Other |
| RISPERDAL CONSTA | 2-Mar-12 | 36 | Male | Foreign Body, Product Quality Issue, Wrong Technique In Drug Usage Process | Hospitalization, Other |
| RISPERDAL CONSTA | 2-Mar-12 | 58 | Male | Dizziness, Hypopnoea, Hypotension, Pruritus, Visual Impairment | Other |
| RISPERDAL CONSTA | 2-Mar-12 | 36 | Male | Foreign Body, Product Quality Issue, Wrong Technique In Drug Usage Process | Hospitalization, Other |
| RISPERDAL | 2-Mar-12 | 67 | Female | Intentional Overdose, Nausea, Self Injurious Behaviour | Hospitalization, Other |
| RISPERDAL | 1-Mar-12 | 38 | Female | Pulmonary Thrombosis | Other |
| RISPERDAL | 1-Mar-12 | 56 | Female | Incorrect Dose Administered, Tachycardia | Other |
| RISPERDAL | 1-Mar-12 | 88 | Female | Coma, Diabetes Mellitus, Paranoia, Pneumonia, Schizophrenia, Somnolence, Urinary Tract Infection | Other |
| RISPERDAL | 1-Mar-12 | 88 | Female | Depression, Dizziness | Other |
| RISPERDAL | 1-Mar-12 | 75 | Female | Grand Mal Convulsion | Hospitalization |
| RISPERDAL | 1-Mar-12 | 88 | Female | Coma, Diabetes Mellitus, Paranoia, Pneumonia, Schizophrenia, Somnolence, Urinary Tract Infection | Other |
| RISPERDAL | 1-Mar-12 | 88 | Female | Coma, Diabetes Mellitus, Paranoia, Pneumonia, Schizophrenia, Somnolence, Urinary Tract Infection | Other |
| RISPERDAL | 1-Mar-12 | 88 | Female | Coma, Diabetes Mellitus, Paranoia, Pneumonia, Schizophrenia, Somnolence, Urinary Tract Infection | Other |
| RISPERDAL | 1-Mar-12 | 88 | Female | Coma, Diabetes Mellitus, Drug Ineffective, Paranoia, Pneumonia, Schizophrenia, Somnolence, Urinary Tract Infection | Other |
| RISPERDAL | 1-Mar-12 | 68 | Female | Deep Vein Thrombosis, Off Label Use | Hospitalization |
| RISPERDAL CONSTA | 29-Feb-12 | | Female | Thrombosis | Life-Threatening |
| RISPERDAL CONSTA | 29-Feb-12 | 36 | Female | Pulmonary Embolism | Hospitalization, Life-Threatening |
| RISPERDAL | 28-Feb-12 | | Female | Hyperprolactinaemia | Unknown |
| RISPERDAL CONSTA | 28-Feb-12 | | Female | Balance Disorder, Emotional Disorder, Injection Site Pain, Insomnia | Other |
| RISPERDAL | 28-Feb-12 | 24 | Female | Caesarean Section, Maternal Drugs Affecting Foetus | Other |
| RISPERDAL | 28-Feb-12 | 18 | Female | Multiple Drug Overdose Intentional, Nystagmus, Suicide Attempt, Tachycardia | Other |
| RISPERDAL | 28-Feb-12 | 36 | Male | Nephrolithiasis | Other |
| RISPERDAL | 28-Feb-12 | 18 | Female | Multiple Drug Overdose Intentional, Nystagmus, Suicide Attempt, Tachycardia | Other |
| RISPERDAL | 27-Feb-12 | 14 | Male | Drug Ineffective, Increased Appetite, Weight Increased | Other |
| RISPERDAL | 27-Feb-12 | 14 | Male | Drug Ineffective, Increased Appetite, Weight Increased | Other |
| RISPERDAL | 27-Feb-12 | 42 | Male | Death, Psychotic Disorder | Death, Hospitalization |
| RISPERDAL CONSTA | 27-Feb-12 | 42 | Male | Death, Psychotic Disorder | Death, Hospitalization |
| RISPERDAL | 27-Feb-12 | 85 | Male | Arrhythmia, Death | Death, Hospitalization |
| RISPERDAL | 27-Feb-12 | 5 | Male | Aggression, Nervousness, Restlessness | Other |
| RISPERDAL | 27-Feb-12 | 57 | Female | Blood Potassium Decreased, Blood Pressure Systolic Decreased, Dizziness, Drug Interaction, Electrocardiogram Qt Prolonged | Hospitalization |
| RISPERDAL | 27-Feb-12 | 57 | Female | Electrocardiogram Qt Prolonged, Hypokalaemia, Overdose | Hospitalization, Other |
| RISPERDAL | 26-Feb-12 | 41 | Male | Suicide Attempt | Hospitalization, Other |
| RISPERDAL | 24-Feb-12 | 72 | Male | Miosis, Unresponsive To Stimuli | Hospitalization |
| RISPERDAL | 24-Feb-12 | 82 | Male | Dysphagia, Eating Disorder, Pneumonia Aspiration | Other |
| RISPERDAL CONSTA | 24-Feb-12 | | Female | Menorrhagia | Hospitalization |
| RISPERDAL | 24-Feb-12 | 56 | Male | Glucose Tolerance Increased, Psychiatric Symptom | Hospitalization, Other |
| RISPERDAL CONSTA | 23-Feb-12 | | Male | Bile Duct Obstruction, Cholelithiasis, Hepatic Function Abnormal, Jaundice | Other |
| RISPERDAL | 23-Feb-12 | | | Delusion, Parkinsonism | Other |
| RISPERDAL CONSTA | 23-Feb-12 | | Male | Hospitalisation, Weight Increased | Hospitalization, Other |
| RISPERDAL CONSTA | 23-Feb-12 | | Female | Thrombosis | Life-Threatening |
| RISPERDAL | 23-Feb-12 | 36 | Female | Anger, Incorrect Dose Administered | Life-Threatening |
| RISPERDAL | 23-Feb-12 | 35 | Male | Intentional Overdose, Suicide Attempt | Other |
| RISPERDAL | 23-Feb-12 | | Male | Tardive Dyskinesia | Other |
| RISPERDAL | 22-Feb-12 | 25 | Female | Gestational Diabetes, Maternal Exposure During Pregnancy | Other |
| RISPERDAL | 22-Feb-12 | 76 | Male | Oedema, Visual Impairment | Other |
| RISPERDAL CONSTA | 22-Feb-12 | | Female | Balance Disorder, Fall, Gait Disturbance, Musculoskeletal Stiffness, Thermal Burn, Unevaluable Event | Disability, Other |
| RISPERDAL | 22-Feb-12 | 16 | Female | Akinesia, Drug Ineffective, Dystonia, Systemic Lupus Erythematosus, Unevaluable Event | Hospitalization, Other |
| RISPERDAL | 22-Feb-12 | | Male | Anxiety, Aphasia, Aphonia, Bladder Dilatation, Convulsion, Deformity, Disturbance In Social Behaviour, Flushing, Gait Disturbance, Goitre, Insomnia, Intentional Self-injury, Personality Change, Prostatomegaly, Pruritus, Stupor, Tardive Dyskinesia, Thyroid Disorder, Tourette's Disorder, Unresponsive To Stimuli | Other |
| RISPERDAL | 22-Feb-12 | | Male | Anhedonia, Extrapyramidal Disorder, Gynaecomastia, Suicidal Ideation, Weight Increased | Other |
| RISPERDAL | 22-Feb-12 | 25 | Female | Foetal Macrosomia, Gestational Diabetes, Maternal Exposure During Pregnancy, Polyhydramnios | Other |
| RISPERDAL CONSTA | 21-Feb-12 | | Male | Akathisia, Hospitalisation, Incorrect Dose Administered | Hospitalization |
| RISPERDAL | 21-Feb-12 | | Male | Paroxysmal Perceptual Alteration | Hospitalization, Other |
| RISPERDAL | 21-Feb-12 | 25 | Female | Gestational Diabetes | Other |
| RISPERDAL | 20-Feb-12 | 23 | Female | Dizziness, Sluggishness, Tachycardia, Wrong Drug Administered | Other |
| RISPERDAL | 20-Feb-12 | 21 | Male | Hypersomnia, Mental Disorder | Other |
| RISPERDAL | 20-Feb-12 | 24 | Male | Intentional Drug Misuse, Somnolence, Suicide Attempt | Other |
| RISPERDAL | 20-Feb-12 | 35 | Male | Intentional Overdose, Suicide Attempt | Hospitalization, Other |
| RISPERDAL | 19-Feb-12 | 16 | Female | Dysphagia, Extrapyramidal Disorder, Salivary Hypersecretion | Hospitalization |
| RISPERDAL | 18-Feb-12 | 85 | Female | Coma, Death, Dyskinesia, Dystonia, Hyperglycaemia, Hyperthermia, Hypotension, Tachycardia, Thrombophlebitis | Death, Other |
| RISPERDAL | 18-Feb-12 | 13 | Female | Liver Disorder, Neuroleptic Malignant Syndrome | Other |
| RISPERDAL CONSTA | 17-Feb-12 | 45 | Male | Psychotic Disorder, Toxicity To Various Agents, Treatment Noncompliance | Hospitalization |
| RISPERDAL | 17-Feb-12 | 66 | Female | Depressed Level Of Consciousness, Hypernatraemia, Pneumonia, Pyrexia | Hospitalization |
| RISPERDAL | 17-Feb-12 | 55 | Female | Disorientation, General Physical Condition Abnormal, Hypernatraemia, Pyrexia | Hospitalization, Other |
| RISPERDAL | 17-Feb-12 | 14 | Male | Cholestasis, Cytolytic Hepatitis | Other |
| RISPERDAL CONSTA | 17-Feb-12 | 51 | Female | Mood Swings, Pulmonary Embolism | Death, Other |
| RISPERDAL CONSTA | 17-Feb-12 | 51 | Female | Pulmonary Embolism | Death |
| RISPERDAL | 17-Feb-12 | 56 | Male | Glucose Tolerance Increased, Psychiatric Symptom | Hospitalization, Other |
| RISPERDAL | 17-Feb-12 | 56 | Male | Glucose Tolerance Increased, Psychiatric Symptom | Hospitalization, Other |
| RISPERDAL CONSTA | 16-Feb-12 | 49 | Female | Hodgkin's Disease | Other |
| RISPERDAL | 16-Feb-12 | | Female | Amnesia, Apathy, Derealisation, Emotional Disorder | Other |
| RISPERDAL | 16-Feb-12 | 25 | Female | Gestational Diabetes, Maternal Exposure During Pregnancy, Polyhydramnios | Other |
| RISPERDAL CONSTA | 16-Feb-12 | 35 | Male | Movement Disorder, Paralysis | Other |
| RISPERDAL | 16-Feb-12 | 25 | Female | Gestational Diabetes, Maternal Exposure During Pregnancy | Other |
| RISPERDAL | 16-Feb-12 | 37 | Male | Confusional State, Diarrhoea, Dyskinesia, Gait Disturbance, Hepatic Pain, Pyrexia, Speech Disorder, Tongue Paralysis | Other |
| RISPERDAL CONSTA | 15-Feb-12 | | | Delirium, Dizziness, Nausea | Other |
| RISPERDAL | 15-Feb-12 | 30 | Male | Disturbance In Social Behaviour, Suicide Attempt | Hospitalization, Other |
| RISPERDAL CONSTA | 15-Feb-12 | 30 | Male | Disturbance In Social Behaviour, Suicide Attempt | Hospitalization, Other |
| RISPERDAL | 15-Feb-12 | 32 | Male | Confusional State, Disorientation, Dizziness, Fall | Hospitalization, Required Intervention to Prevent Damage |
| RISPERDAL CONSTA | 14-Feb-12 | | Male | Condition Aggravated | Hospitalization |
| RISPERDAL | 14-Feb-12 | | | Abortion Spontaneous, Cleft Lip And Palate, Maternal Drugs Affecting Foetus | Congenital Anomaly |
| RISPERDAL | 14-Feb-12 | 78 | Female | Intentional Overdose, Self Injurious Behaviour, Sluggishness | Other |
| RISPERDAL | 14-Feb-12 | 27 | Male | Intentional Overdose, Self Injurious Behaviour | Other |
| RISPERDAL | 14-Feb-12 | 48 | Female | Blood Prolactin Increased, Chest Discomfort, Medication Error, Pituitary Tumour, Somnolence | Other |
| RISPERDAL | 13-Feb-12 | | Female | Amenorrhoea, Blood Prolactin Increased, Infertility | Other |
| RISPERDAL CONSTA | 13-Feb-12 | 48 | Male | Myocardial Infarction | Death |
| RISPERDAL | 13-Feb-12 | 42 | Male | Completed Suicide | Death |
| RISPERDAL | 13-Feb-12 | 25 | Female | Caesarean Section, Gestational Diabetes, Polyhydramnios | Other |
| RISPERDAL | 13-Feb-12 | | | Gestational Diabetes, Maternal Exposure During Pregnancy | Other |
| RISPERDAL | 13-Feb-12 | 25 | Female | Caesarean Section, Gestational Diabetes, Maternal Exposure During Pregnancy | Other |
| RISPERDAL | 13-Feb-12 | 80 | Female | Bradycardia, Coma Scale Abnormal, Hypotension | Other |
| RISPERDAL | 10-Feb-12 | 53 | Male | Deep Vein Thrombosis | Other |
| RISPERDAL | 10-Feb-12 | | Female | Drug Ineffective, Fatigue, Feeling Abnormal, Malaise, Medication Error, Schizoaffective Disorder, Weight Increased | Other |
| RISPERDAL | 10-Feb-12 | 20 | Female | Dizziness, Somnolence, Suicide Attempt | Other |
| RISPERDAL | 10-Feb-12 | 83 | Male | Agranulocytosis, Pyrexia, Respiratory Distress, Tachyarrhythmia | Hospitalization |
| RISPERDAL CONSTA | 10-Feb-12 | 37 | Male | Deep Vein Thrombosis | Hospitalization, Other |
| RISPERDAL CONSTA | 9-Feb-12 | 61 | Male | Death | Death |
| RISPERDAL CONSTA | 9-Feb-12 | | Male | Malignant Melanoma | Other |
| RISPERDAL | 9-Feb-12 | 30 | Male | Paroxysmal Perceptual Alteration | Hospitalization, Other |
| RISPERDAL | 8-Feb-12 | | Female | Death | Death |
| RISPERDAL | 8-Feb-12 | | Female | Glycosylated Haemoglobin Increased, Pollakiuria, Thirst | Other |
| RISPERDAL CONSTA | 8-Feb-12 | | | Rebound Effect, Withdrawal Syndrome | Hospitalization, Other |
| RISPERDAL | 8-Feb-12 | | Male | Anxiety, Disturbance In Social Behaviour, Dry Mouth, Insomnia, Malaise, Musculoskeletal Stiffness, Nervousness, Paraesthesia | Hospitalization |
| RISPERDAL | 7-Feb-12 | | Female | Agitation, Blood Pressure Decreased, Heart Rate Increased, Hyperhidrosis, Malaise, Pyrexia | Hospitalization, Other |
| RISPERDAL CONSTA | 7-Feb-12 | | Female | Balance Disorder, Fall, Gait Disturbance, Musculoskeletal Stiffness, Thermal Burn, Unevaluable Event | Disability, Other |
| RISPERDAL CONSTA | 7-Feb-12 | | Female | Drug Ineffective, Feeling Abnormal, Incoherent, Road Traffic Accident | Other |
| RISPERDAL | 7-Feb-12 | 40 | Male | Depressed Level Of Consciousness, Drug Screen Positive, Expired Drug Administered, Incoherent, Multiple Drug Overdose, Pyrexia | Hospitalization, Life-Threatening |
| RISPERDAL | 7-Feb-12 | 40 | Male | Cardiac Arrest | Death |
| RISPERDAL | 6-Feb-12 | | Female | Dizziness, Euphoric Mood, Feeling Abnormal, Grief Reaction, Product Contamination, Product Tampering, Wrong Technique In Drug Usage Process | Hospitalization, Other |
| RISPERDAL | 6-Feb-12 | | | Death, Respiratory Depression | Death, Other |
| RISPERDAL | 6-Feb-12 | 36 | Male | Condition Aggravated, Overdose, Treatment Noncompliance | Hospitalization |
| RISPERDAL | 4-Feb-12 | 36 | Female | Anxiety Disorder, Dehydration | Hospitalization |
| RISPERDAL | 4-Feb-12 | 36 | Female | Anxiety Disorder, Dehydration | Hospitalization |
| RISPERDAL | 3-Feb-12 | | Male | Adverse Reaction, Hallucination, Auditory | Other |
| RISPERDAL | 3-Feb-12 | 48 | Female | Right Ventricular Failure | Death |
| RISPERDAL CONSTA | 3-Feb-12 | 68 | Female | Drug Dose Omission, Hospitalisation | Hospitalization |
| RISPERDAL | 3-Feb-12 | 22 | Male | Multiple Drug Overdose Intentional, Self Injurious Behaviour | Other |
| RISPERDAL | 3-Feb-12 | 22 | Male | Intentional Overdose, Self Injurious Behaviour | Other |
| RISPERDAL | 2-Feb-12 | | Female | Depression, Suicidal Ideation | Other |
| RISPERDAL CONSTA | 1-Feb-12 | | Female | Breast Cancer Recurrent | Other |
| RISPERDAL | 1-Feb-12 | | Female | Ectopic Pregnancy, Haemorrhage, Infertility, Maternal Exposure During Pregnancy, Vision Blurred | Other |
| RISPERDAL | 1-Feb-12 | 27 | Male | Obsessive-compulsive Disorder | Other |
| RISPERDAL | 1-Feb-12 | 37 | Female | Dyskinesia, Pyelonephritis, Septic Shock, Teratoma | Hospitalization, Other |
| RISPERDAL | 1-Feb-12 | 43 | Male | Confusional State, Intentional Overdose, Self Injurious Behaviour | Other |
| RISPERDAL CONSTA | 1-Feb-12 | 47 | Male | Device Malfunction, Drug Dose Omission, Hospitalisation | Hospitalization |
| RISPERDAL | 1-Feb-12 | | | Alanine Aminotransferase Increased, Liver Disorder | Hospitalization |
| RISPERDAL | 1-Feb-12 | 59 | Female | Alanine Aminotransferase Increased, Aspartate Aminotransferase Increased, Blood Lactate Dehydrogenase Increased, Condition Aggravated, Gamma-glutamyltransferase Increased, Liver Disorder | Hospitalization |
| RISPERDAL | 1-Feb-12 | 59 | Female | Condition Aggravated, Liver Disorder | Hospitalization |
| RISPERDAL | 1-Feb-12 | 59 | Female | Condition Aggravated, Liver Disorder | Hospitalization |
| RISPERDAL CONSTA | 1-Feb-12 | 23 | Male | Drug Ineffective, Gastrooesophageal Reflux Disease, Insomnia, Negative Thoughts | Hospitalization |
| RISPERDAL | 1-Feb-12 | 88 | Female | Depression, Dizziness, Drug Interaction, Onychomycosis | Other |
| RISPERDAL CONSTA | 1-Feb-12 | 24 | Male | Aggression, Delirium, Homicidal Ideation, Treatment Noncompliance | Other |
| RISPERDAL | 1-Feb-12 | 39 | Male | Deep Vein Thrombosis, Delusion, Hallucination, Pulmonary Embolism | Hospitalization, Other |
| RISPERDAL | 1-Feb-12 | 39 | Male | Deep Vein Thrombosis, Delusion, Hallucination, Pulmonary Embolism | Hospitalization, Other |
| RISPERDAL | 31-Jan-12 | | Male | Condition Aggravated, Inappropriate Affect | Other |
| RISPERDAL | 31-Jan-12 | | | Gingival Recession, Joint Dislocation, Malocclusion, Temporomandibular Joint Syndrome | Other |
| RISPERDAL | 31-Jan-12 | | | Cleft Lip And Palate | Congenital Anomaly, Death |
| RISPERDAL | 31-Jan-12 | 24 | Male | Oesophageal Obstruction, Retching | Other |
| RISPERDAL | 31-Jan-12 | 55 | Male | Deep Vein Thrombosis | Hospitalization, Other |
| RISPERDAL | 31-Jan-12 | 55 | Male | Deep Vein Thrombosis | Hospitalization, Other |
| RISPERDAL CONSTA | 30-Jan-12 | 64 | Male | Conduction Disorder, Extrasystoles | Other |
| RISPERDAL | 30-Jan-12 | | Male | Hyponatraemia | Hospitalization |
| RISPERDAL | 30-Jan-12 | | Male | Erectile Dysfunction, Infertility | Other |
| RISPERDAL | 30-Jan-12 | 28 | Male | Mass | Other |
| RISPERDAL | 30-Jan-12 | | | Loss Of Consciousness | Other |
| RISPERDAL | 30-Jan-12 | | Male | Electric Shock, Eye Movement Disorder, Sensory Disturbance, Withdrawal Syndrome | Life-Threatening |
| RISPERDAL CONSTA | 30-Jan-12 | | Male | Anaemia, Cholestasis, Thrombocytopenia | Other |
| RISPERDAL | 30-Jan-12 | | Male | Affect Lability, Dementia | Other |
| RISPERDAL | 30-Jan-12 | | | Death, Respiratory Depression | Death, Other |
| RISPERDAL | 30-Jan-12 | 49 | Female | Nasopharyngitis, Overdose, Parkinsonism, Pneumonia Aspiration | Other |
| RISPERDAL | 27-Jan-12 | | | Attention Deficit/hyperactivity Disorder, Autism | Congenital Anomaly |
| RISPERDAL CONSTA | 27-Jan-12 | 21 | Male | Delusion, Drug Ineffective, Suicidal Ideation | Other |
| RISPERDAL CONSTA | 27-Jan-12 | | Female | Drug Ineffective, Feeling Abnormal, Incoherent, Road Traffic Accident | Other |
| RISPERDAL | 27-Jan-12 | 30 | Male | Self Injurious Behaviour | Other |
| RISPERDAL | 27-Jan-12 | 30 | Male | Altered State Of Consciousness, Self Injurious Behaviour | Other |
| RISPERDAL | 27-Jan-12 | 39 | Female | Gestational Diabetes, Normal Newborn, Oligohydramnios, Pregnancy | Other |
| RISPERDAL | 26-Jan-12 | 46 | Male | Confusional State, Delirium, Intentional Self-injury, Restlessness, Tension, Thirst | Other |
| RISPERDAL | 26-Jan-12 | 46 | Male | Cold Sweat, Confusional State, Delirium, Depressed Mood, Hyponatraemia, Inappropriate Antidiuretic Hormone Secretion, Intentional Self-injury, Pallor, Restlessness, Somnolence, Suicide Attempt, Tension, Thirst | Hospitalization, Life-Threatening, Other |
| RISPERDAL CONSTA | 25-Jan-12 | 60 | Female | Death | Death |
| RISPERDAL CONSTA | 25-Jan-12 | | Female | Balance Disorder, Fall, Gait Disturbance, Musculoskeletal Stiffness, Thermal Burn, Unevaluable Event | Disability, Other |
| RISPERDAL | 25-Jan-12 | | Male | Akathisia, Diabetic Hyperosmolar Coma, Diabetic Ketoacidosis, Hyperkalaemia, Hypertriglyceridaemia, Renal Failure, Type 2 Diabetes Mellitus | Hospitalization, Other |
| RISPERDAL | 25-Jan-12 | 7 | | Attention Deficit/hyperactivity Disorder, Autism | Congenital Anomaly, Other |
| RISPERDAL | 25-Jan-12 | | | Intercepted Drug Dispensing Error, Medication Error | Unknown |
| RISPERDAL | 25-Jan-12 | 24 | Male | Atrioventricular Block First Degree | Unknown |
| RISPERDAL CONSTA | 25-Jan-12 | 24 | Male | Atrioventricular Block First Degree | Unknown |
| RISPERDAL | 24-Jan-12 | | Male | Hallucination, Suicidal Ideation | Other |
| RISPERDAL | 24-Jan-12 | | | Microcephaly, Spina Bifida | Congenital Anomaly, Death |
| RISPERDAL | 24-Jan-12 | | Male | Coma, Self Injurious Behaviour | Other |
| RISPERDAL CONSTA | 24-Jan-12 | | Female | Blood Glucose Increased, Blood Pressure Increased, Depression, Hospitalisation | Hospitalization, Other |
| RISPERDAL | 24-Jan-12 | | Male | Coma | Life-Threatening |
| RISPERDAL | 24-Jan-12 | 33 | Male | Coma, Multiple Drug Overdose Intentional, Self Injurious Behaviour | Life-Threatening, Other |
| RISPERDAL | 24-Jan-12 | 33 | Male | Coma, Multiple Drug Overdose Intentional, Suicide Attempt | Life-Threatening, Other |
| RISPERDAL | 24-Jan-12 | 33 | Male | Coma | Life-Threatening |
| RISPERDAL | 24-Jan-12 | 67 | Male | Pancytopenia, Pneumonia, Renal Failure, Somnolence | Hospitalization |
| RISPERDAL | 24-Jan-12 | 67 | Male | Pancytopenia, Pneumonia, Renal Failure, Somnolence | Hospitalization |
| RISPERDAL CONSTA | 23-Jan-12 | | Male | Renal Failure | Hospitalization |
| RISPERDAL | 23-Jan-12 | 9 | Male | Growth Retardation, Respiratory Disorder | Other |
| RISPERDAL | 23-Jan-12 | | Female | Activities Of Daily Living Impaired, Affective Disorder, Chest Pain, Condition Aggravated, Conduct Disorder, Dysgeusia, Malaise, Movement Disorder, Muscle Spasms, Nausea, Pain, Pain In Extremity, Poriomania, Restlessness, Salivary Hypersecretion, Suicidal Ideation | Other |
| RISPERDAL | 23-Jan-12 | 92 | Female | Death | Death |
| RISPERDAL | 23-Jan-12 | 53 | Female | Pleural Effusion | Hospitalization |
| RISPERDAL | 23-Jan-12 | 37 | Male | Hospitalisation, Weight Increased | Hospitalization |
| RISPERDAL | 23-Jan-12 | 27 | Male | Coma, Multiple Drug Overdose Intentional, Self Injurious Behaviour, Sopor | Other |
| RISPERDAL | 23-Jan-12 | 27 | Male | Coma, Multiple Drug Overdose Intentional, Self Injurious Behaviour, Sopor | Other |
| RISPERDAL | 23-Jan-12 | 27 | Male | Coma, Multiple Drug Overdose Intentional, Self Injurious Behaviour | Hospitalization |
| RISPERDAL | 23-Jan-12 | | Male | Coma | Hospitalization |
| RISPERDAL CONSTA | 21-Jan-12 | 28 | Female | Delirium, Hallucination, Hyperhidrosis, Hypertension, Tachycardia | Other |
| RISPERDAL | 20-Jan-12 | | | Microcephaly, Spina Bifida | Congenital Anomaly, Death |
| RISPERDAL | 20-Jan-12 | 90 | Male | Aggression, Death, Fear, Impulse-control Disorder, Restlessness, Syncope | Death, Hospitalization |
| RISPERDAL | 20-Jan-12 | | Male | Decreased Appetite, Fall, General Physical Health Deterioration, Hepatic Cirrhosis, Hypokalaemia, Hyponatraemia, Hypophagia, Inappropriate Antidiuretic Hormone Secretion | Hospitalization, Other |
| RISPERDAL | 19-Jan-12 | | Male | Aggression, Agitation, Anger, Anxiety, Breast Enlargement, Condition Aggravated, Constipation, Deafness, Dependence, Disturbance In Attention, Drug Effect Increased, Drug Ineffective, Ear Disorder, Erection Increased, Fatigue, Feeling Abnormal, Gastric Ulcer, Influenza Like Illness, Insomnia, Memory Impairment, Mood Swings, Muscle Spasms, Pain, Rash, Rectal Haemorrhage, Somnolence, Suicidal Ideation, Unevaluable Event, Weight Increased | Other |
| RISPERDAL CONSTA | 19-Jan-12 | | Male | Completed Suicide | Death |
| RISPERDAL CONSTA | 19-Jan-12 | 45 | Male | Completed Suicide | Death |
| RISPERDAL | 19-Jan-12 | | Male | Fall, Hypokalaemia, Hyponatraemia | Hospitalization |
| RISPERDAL | 19-Jan-12 | | | Asthenia, Hemiparesis | Unknown |
| RISPERDAL | 19-Jan-12 | | Male | Hangover | Other |
| RISPERDAL | 19-Jan-12 | 36 | Male | White Blood Cell Count Decreased | Hospitalization |
| RISPERDAL | 19-Jan-12 | 36 | Male | White Blood Cell Count Decreased | Hospitalization |
| RISPERDAL | 19-Jan-12 | 70 | Male | Hangover | Other |
| RISPERDAL | 18-Jan-12 | | | Loss Of Consciousness | Other |
| RISPERDAL CONSTA | 18-Jan-12 | | Female | Balance Disorder, Fall, Gait Disturbance, Musculoskeletal Stiffness, Unevaluable Event | Disability, Other |
| RISPERDAL | 18-Jan-12 | | | Loss Of Consciousness | Other |
| RISPERDAL CONSTA | 18-Jan-12 | | Female | Aggression, Blood Prolactin Increased, Metrorrhagia, Weight Increased | Other |
| RISPERDAL CONSTA | 18-Jan-12 | | | Hospitalisation | Hospitalization |
| RISPERDAL | 18-Jan-12 | | | Loss Of Consciousness | Other |
| RISPERDAL CONSTA | 18-Jan-12 | | | Thrombosis | Other |
| RISPERDAL | 18-Jan-12 | 29 | Male | Death, Hypothermia | Death, Hospitalization |
| RISPERDAL | 18-Jan-12 | 58 | Female | Balance Disorder, Confusional State, Somnolence | Hospitalization |
| RISPERDAL | 18-Jan-12 | 58 | Female | Balance Disorder, Confusional State, Drug Interaction, Renal Failure Acute, Somnolence | Hospitalization |
| RISPERDAL | 18-Jan-12 | | Female | Balance Disorder, Confusional State, Somnolence | Hospitalization |
| RISPERDAL | 18-Jan-12 | 58 | Female | Balance Disorder, Confusional State, Drug Interaction, Somnolence | Hospitalization |
| RISPERDAL CONSTA | 17-Jan-12 | | Male | Hospitalisation | Hospitalization |
| RISPERDAL | 17-Jan-12 | 27 | Female | Dysuria, Urinary Retention | Other |
| RISPERDAL | 17-Jan-12 | 21 | Male | Pulmonary Embolism | Hospitalization, Life-Threatening |
| RISPERDAL | 17-Jan-12 | 21 | Male | Pulmonary Embolism | Hospitalization, Life-Threatening |
| RISPERDAL | 16-Jan-12 | 11 | Male | Balance Disorder, Drug Prescribing Error, Medication Error, Overdose, Somnolence | Other |
| RISPERDAL | 16-Jan-12 | 11 | Male | Balance Disorder, Drug Prescribing Error, Medication Error, Overdose, Somnolence | Other |
| RISPERDAL | 16-Jan-12 | 8 | Male | Balance Disorder, Drug Prescribing Error, Medication Error, Overdose, Somnolence | Other |
| RISPERDAL | 16-Jan-12 | 36 | Male | Abasia, Anaemia, Bedridden, Bradycardia, Granulocytopenia, Haemorrhagic Diathesis, Hypothermia, Pancytopenia, Pneumonia | Hospitalization |
| RISPERDAL | 16-Jan-12 | 36 | Male | Abasia, Anaemia, Bedridden, Bradycardia, Granulocytopenia, Haemorrhagic Diathesis, Hypothermia, Pancytopenia, Pneumonia | Hospitalization |
| RISPERDAL | 16-Jan-12 | 28 | Male | Agitation, Blood Prolactin Increased, Mass | Other |
| RISPERDAL CONSTA | 15-Jan-12 | 65 | Male | Irritability, Suicide Attempt | Hospitalization, Other |
| RISPERDAL CONSTA | 13-Jan-12 | | Female | Hospitalisation | Hospitalization |
| RISPERDAL CONSTA | 13-Jan-12 | | Male | Cholelithiasis, Hepatic Function Abnormal, Jaundice | Other |
| RISPERDAL | 13-Jan-12 | 31 | Male | Nonspecific Reaction, Product Quality Issue, Tardive Dyskinesia | Other |
| RISPERDAL CONSTA | 13-Jan-12 | | Female | Contusion, Drug Ineffective, Insomnia, Nervous System Disorder, Refusal Of Treatment By Patient, Weight Decreased | Hospitalization |
| RISPERDAL | 13-Jan-12 | 45 | Female | Self Injurious Behaviour, Sluggishness, Tremor | Other |
| RISPERDAL | 13-Jan-12 | 45 | Female | Multiple Drug Overdose Intentional, Self Injurious Behaviour, Sopor | Other |
| RISPERDAL CONSTA | 13-Jan-12 | 85 | Female | Abnormal Behaviour, Parkinsonism | Hospitalization |
| RISPERDAL | 12-Jan-12 | | Male | Abnormal Loss Of Weight, Breast Mass, Coma, Diabetes Mellitus, Feeling Abnormal, Glossodynia, Initial Insomnia, Intentional Drug Misuse, Mental Disability, Suicide Attempt, Tardive Dyskinesia, Weight Increased | Disability, Other |
| RISPERDAL | 12-Jan-12 | | Male | Motor Dysfunction, Psychotic Disorder | Other |
| RISPERDAL | 12-Jan-12 | | | Completed Suicide, Hospitalisation | Death, Hospitalization |
| RISPERDAL | 12-Jan-12 | | | Completed Suicide, Hospitalisation | Death, Hospitalization |
| RISPERDAL | 11-Jan-12 | 82 | Female | Anxiety, Folate Deficiency, Hypocapnia, Hypoxia, Neuroleptic Malignant Syndrome, Overdose, Renal Failure | Hospitalization |
| RISPERDAL | 11-Jan-12 | | Male | Glossoptosis, High Arched Palate, Hip Dysplasia, Pierre Robin Syndrome, Retrognathia, Stridor, Weight Increased | Congenital Anomaly, Hospitalization |
| RISPERDAL CONSTA | 11-Jan-12 | | Female | Nervous System Disorder | Disability |
| RISPERDAL | 11-Jan-12 | 30 | Male | Abnormal Behaviour, Aggression, Body Temperature Increased, Bronchitis, Confusional State, Irritability, Restlessness, Rhabdomyolysis, Tachycardia | Hospitalization, Life-Threatening |
| RISPERDAL | 10-Jan-12 | | | Hyponatraemia | Hospitalization |
| RISPERDAL | 10-Jan-12 | | Male | Suicide Attempt | Hospitalization |
| RISPERDAL | 10-Jan-12 | 77 | Female | Altered State Of Consciousness, Delirium | Hospitalization |
| RISPERDAL CONSTA | 9-Jan-12 | 33 | Female | Abdominal Pain, Constipation, Depressed Level Of Consciousness, Depression, Dry Mouth, Eye Pain, Fatigue, Hallucination, Auditory, Hypotension, Medication Error, Muscle Twitching, Nausea, Pruritus, Pyrexia, Tremor, Vomiting | Other |
| RISPERDAL | 8-Jan-12 | 53 | Female | Intentional Overdose | Death |
| RISPERDAL | 8-Jan-12 | 53 | Female | Arrhythmia, Intentional Overdose, Toxicity To Various Agents | Death |
| RISPERDAL | 7-Jan-12 | | Female | Parkinsonism | Hospitalization |
| RISPERDAL | 6-Jan-12 | 46 | Male | Death | Death |
| RISPERDAL CONSTA | 6-Jan-12 | 67 | Female | Cardiac Arrest | Death |
| RISPERDAL | 6-Jan-12 | | Male | Respiratory Arrest | Other |
| RISPERDAL | 6-Jan-12 | 43 | Female | Death | Death |
| RISPERDAL | 6-Jan-12 | 43 | Female | Hypophagia, Schizophrenia, Sudden Death, Vomiting | Death |
| RISPERDAL CONSTA | 6-Jan-12 | 43 | Female | Death | Death |
| RISPERDAL | 4-Jan-12 | 16 | Female | Akinesia, Drug Ineffective, Dystonia, Systemic Lupus Erythematosus, Unevaluable Event | Hospitalization, Other |
| RISPERDAL CONSTA | 4-Jan-12 | 65 | Female | Myocardial Infarction | Death |
| RISPERDAL | 4-Jan-12 | 54 | Male | Liver Disorder, Pneumonia | Hospitalization |
| RISPERDAL | 4-Jan-12 | 54 | Male | Liver Disorder | Other |
| RISPERDAL | 4-Jan-12 | 8 | Male | Lymphadenitis, Nasopharyngitis, Oropharyngeal Pain, Torticollis, Viral Infection | Other |
| RISPERDAL | 4-Jan-12 | | Male | Liver Disorder | Other |
| RISPERDAL | 4-Jan-12 | | Male | Liver Disorder | Other |
| RISPERDAL | 4-Jan-12 | 54 | Male | Cholelithiasis, Liver Disorder, Pneumonia | Hospitalization |
| RISPERDAL | 3-Jan-12 | 10 | Male | Epistaxis, Staphylococcal Infection | Other |
| RISPERDAL CONSTA | 3-Jan-12 | 33 | Female | Constipation, Depressed Level Of Consciousness, Depression, Dry Mouth, Fatigue, Hallucination, Auditory, Hypotension, Pruritus, Tremor, Vomiting | Other |
| RISPERDAL CONSTA | 3-Jan-12 | | Male | Inappropriate Schedule Of Drug Administration, Oedema Peripheral | Disability |
| RISPERDAL CONSTA | 3-Jan-12 | | | Accidental Exposure, Limb Injury, Syringe Issue | Hospitalization |
| RISPERDAL | 3-Jan-12 | 42 | Male | Hallucination, Nightmare | Other |
| RISPERDAL CONSTA | 3-Jan-12 | 42 | Male | Hallucination, Nightmare | Other |
| RISPERDAL | 3-Jan-12 | | Male | Hepatic Steatosis, Liver Disorder | Hospitalization |
| RISPERDAL | 3-Jan-12 | 37 | Female | Dyskinesia, Pyelonephritis, Septic Shock, Teratoma | Hospitalization, Other |
| RISPERDAL | 3-Jan-12 | 37 | Female | Blood Pressure Decreased, Dyskinesia, Loss Of Consciousness, Septic Shock, White Blood Cell Count Decreased | Hospitalization, Other |
| RISPERDAL | 3-Jan-12 | 80 | Male | Pancreatitis Acute, Septic Shock | Hospitalization |
| RISPERDAL | 3-Jan-12 | 80 | Male | Pancreatitis Acute, Septic Shock | Hospitalization |
| RISPERDAL | 3-Jan-12 | 80 | Male | Pancreatitis Acute, Septic Shock | Hospitalization |
| RISPERDAL | 3-Jan-12 | 80 | Male | Pancreatitis Acute, Septic Shock | Hospitalization |
| RISPERDAL | 3-Jan-12 | 80 | Male | Hypothermia, Pancreatitis Acute, Septic Shock | Hospitalization |
| RISPERDAL | 3-Jan-12 | 80 | Male | Hypothermia, Pancreatitis Acute, Septic Shock | Hospitalization |
| RISPERDAL | 3-Jan-12 | 80 | Male | Hyperparathyroidism, Hypothermia, Pancreatitis Acute, Septic Shock | Hospitalization, Other |
| RISPERDAL | 3-Jan-12 | | Male | Hypothermia, Pancreatitis Acute, Septic Shock | Hospitalization |
| RISPERDAL CONSTA | 1-Jan-12 | 42 | Female | Death, Schizophrenia, Syncope | Death, Hospitalization |
| RISPERDAL CONSTA | 1-Jan-12 | | Female | Hospitalisation | Hospitalization |
| RISPERDAL | 1-Jan-12 | 74 | Male | Anaemia, Pancytopenia | Other |
| RISPERDAL CONSTA | 1-Jan-12 | | Female | Hospitalisation | Hospitalization |
| RISPERDAL CONSTA | 1-Jan-12 | | | Hospitalisation | Hospitalization |
| RISPERDAL | 1-Jan-12 | 62 | Male | Gastrointestinal Carcinoma | Other |
| RISPERDAL CONSTA | 1-Jan-12 | 62 | Male | Gastrointestinal Carcinoma | Other |
| RISPERDAL CONSTA | 1-Jan-12 | 66 | Male | Agitation, Body Temperature Decreased, Coma, Confusional State, Dyskinesia, Hypotension, Inappropriate Schedule Of Drug Administration, Pneumonia | Hospitalization |
| RISPERDAL | 1-Jan-12 | 79 | Female | Agitation, Anticoagulation Drug Level Below Therapeutic, Cardiac Failure Congestive, Confusional State, Drug Ineffective, Joint Swelling, Weight Increased | Other |
| RISPERDAL | 1-Jan-12 | | | Asthenopia | Unknown |
| RISPERDAL | 1-Jan-12 | 67 | Male | Parkinsonism | Hospitalization |
| RISPERDAL | 1-Jan-12 | 21 | Male | Acute Psychosis, Pulmonary Embolism | Hospitalization, Life-Threatening, Other |
| RISPERDAL | 1-Jan-12 | 48 | Male | Drug Interaction, Grand Mal Convulsion | Hospitalization |
| RISPERDAL CONSTA | 1-Jan-12 | | Female | Device Malfunction, Exposure To Contaminated Device, Injury Associated With Device | Other |
| RISPERDAL | 1-Jan-12 | 21 | Male | Psychotic Disorder, Pulmonary Embolism | Hospitalization, Life-Threatening, Other |
| RISPERDAL CONSTA | 1-Jan-12 | 75 | Male | General Physical Health Deterioration, Overdose, Sedation | Other |
| RISPERDAL | 1-Jan-12 | 29 | Male | Completed Suicide | Death |
| RISPERDAL | 1-Jan-12 | 26 | Male | Cytolytic Hepatitis | Other |
| RISPERDAL | 1-Jan-12 | 6 | Male | Asperger's Disorder, Drug Interaction | Other |
| RISPERDAL | 1-Jan-12 | 66 | Female | Adverse Event, Head Injury, Hypotonia, Injury, Insomnia, Musculoskeletal Stiffness, Posture Abnormal, Product Quality Issue, Slow Speech, Tardive Dyskinesia, Victim Of Crime, Weight Increased, Wrong Technique In Drug Usage Process | Hospitalization |
| RISPERDAL | 1-Jan-12 | 89 | Male | Feeling Abnormal, Hallucination, Product Quality Issue, Somnolence | Other |
| RISPERDAL | 1-Jan-12 | 29 | Male | Akathisia, Hospitalisation, Self-injurious Ideation, Weight Increased | Hospitalization |
| RISPERDAL CONSTA | 1-Jan-12 | 29 | Male | Akathisia, Hospitalisation, Self-injurious Ideation, Weight Increased | Hospitalization |
| RISPERDAL | 1-Jan-12 | 66 | Female | Adverse Event, Head Injury, Headache, Hypotonia, Injury, Insomnia, Oedema, Pain, Product Quality Issue, Slow Speech, Tardive Dyskinesia, Weight Increased, Wrong Technique In Drug Usage Process | Hospitalization |
| RISPERDAL | 1-Jan-12 | 22 | Male | Anxiety, Drug Ineffective, Hallucination, Incorrect Route Of Drug Administration, Mental Impairment, Nervousness, Weight Increased | Hospitalization, Other |
| RISPERDAL | 1-Jan-12 | 29 | Male | Akathisia, Hospitalisation, Self-injurious Ideation, Weight Increased | Hospitalization |
| RISPERDAL CONSTA | 1-Jan-12 | 29 | Male | Akathisia, Hospitalisation, Self-injurious Ideation, Weight Increased | Hospitalization |
| RISPERDAL | 1-Jan-12 | 15 | Female | Hepatitis, Incorrect Dose Administered, Jaundice, Overdose | Other |
| RISPERDAL | 1-Jan-12 | 28 | Female | Akathisia, Anxiety, Mobility Decreased, Muscle Rigidity, Musculoskeletal Stiffness, Restlessness | Unknown |
| RISPERDAL CONSTA | 1-Jan-12 | | Male | Drug Dose Omission, Imprisonment, Incorrect Route Of Drug Administration, Product Quality Issue, Treatment Noncompliance | Hospitalization, Other |
| RISPERDAL | 1-Jan-12 | 15 | Female | Hepatitis, Incorrect Dose Administered, Overdose | Other |
| RISPERDAL | 1-Jan-12 | 38 | Female | Aggression, Anger, Arrhythmia, Convulsion, Emotional Distress, Encephalopathy, Overdose, Rhabdomyolysis, Suicide Attempt | Hospitalization |
| RISPERDAL CONSTA | 1-Jan-12 | 35 | Male | Hallucination, Overdose | Other |
| RISPERDAL CONSTA | 1-Jan-12 | 20 | Male | Rhabdomyolysis, Transaminases Increased | Hospitalization |
| RISPERDAL | 1-Jan-12 | 56 | Male | Blood Glucose Increased, Gait Disturbance, Parkinsonism | Unknown |
| RISPERDAL | 1-Jan-12 | 79 | Female | Abasia, Dysstasia, Hypokinesia, Weight Decreased | Hospitalization |
| RISPERDAL CONSTA | 1-Jan-12 | | | Hospitalisation | Hospitalization |
| RISPERDAL | 1-Jan-12 | | Male | Macrosomia | Other |
| RISPERDAL | 1-Jan-12 | 33 | Female | Incorrect Storage Of Drug, Poor Quality Drug Administered, Schizophrenia, Self Injurious Behaviour | Hospitalization, Other |
| RISPERDAL CONSTA | 30-Dec-11 | 49 | Female | Constipation, Gastrointestinal Obstruction, Pyrexia, Vomiting | Death |
| RISPERDAL | 30-Dec-11 | 31 | Female | Hospitalisation, Weight Increased | Hospitalization |
| RISPERDAL CONSTA | 30-Dec-11 | 31 | Female | Hospitalisation, Weight Increased | Hospitalization |
| RISPERDAL CONSTA | 29-Dec-11 | | Male | Bruxism, Electroconvulsive Therapy, Insomnia, Memory Impairment, Metal Poisoning, Neurological Symptom, Psychotic Disorder | Other |
| RISPERDAL CONSTA | 29-Dec-11 | 42 | Female | Drug Administration Error, Ligament Disorder, Product Quality Issue, Schizophrenia | Hospitalization, Other |
| RISPERDAL | 29-Dec-11 | 64 | Male | Anxiety, Persecutory Delusion | Hospitalization |
| RISPERDAL CONSTA | 28-Dec-11 | 55 | Male | Cardio-respiratory Arrest, Cerebral Infarction | Death |
| RISPERDAL CONSTA | 28-Dec-11 | | | Hospitalisation, Product Quality Issue | Hospitalization |
| RISPERDAL | 28-Dec-11 | 21 | Female | Fall, Headache, Intentional Overdose, Maternal Exposure During Pregnancy, Suicide Attempt, Syncope, Vertigo | Other |
| RISPERDAL | 28-Dec-11 | 46 | Male | Anger, Drug Ineffective, Hyperhidrosis, Insomnia, Nonspecific Reaction, Pain, Restlessness, Rhinorrhoea, Staring | Hospitalization |
| RISPERDAL CONSTA | 28-Dec-11 | 46 | Male | Anger, Drug Ineffective, Hyperhidrosis, Insomnia, Nonspecific Reaction, Pain, Restlessness, Rhinorrhoea, Staring | Hospitalization |
| RISPERDAL | 27-Dec-11 | | Male | Abnormal Loss Of Weight, Breast Mass, Coma, Diabetes Mellitus, Feeling Abnormal, Glossodynia, Initial Insomnia, Intentional Drug Misuse, Mental Disability, Suicide Attempt, Tardive Dyskinesia, Weight Increased | Disability, Other |
| RISPERDAL | 27-Dec-11 | | | Epilepsy | Other |
| RISPERDAL | 27-Dec-11 | 67 | Male | Altered State Of Consciousness, Amnesia, Delirium | Hospitalization, Other |
| RISPERDAL | 27-Dec-11 | | Male | Diabetes Mellitus, Weight Increased | Other |
| RISPERDAL | 27-Dec-11 | | Male | Priapism | Hospitalization |
| RISPERDAL | 27-Dec-11 | | Female | Asthenia, Constipation, Dementia, Dizziness, Drug Dose Omission, Feeling Abnormal, Product Quality Issue, Tardive Dyskinesia | Other |
| RISPERDAL | 27-Dec-11 | | Male | Aggression, Agitation, Product Quality Issue | Other |
| RISPERDAL | 26-Dec-11 | 55 | Female | Intentional Drug Misuse, Self Injurious Behaviour | Other |
| RISPERDAL | 26-Dec-11 | 92 | Female | Accidental Exposure, Bradycardia, Fatigue, Hypotension | Other |
| RISPERDAL | 26-Dec-11 | | Female | Confusional State, Dizziness, Electrocardiogram Qt Prolonged, Hypokalaemia, Muscle Contractions Involuntary, Overdose, Somnolence | Hospitalization |
| RISPERDAL | 25-Dec-11 | 48 | Female | Cystitis, Platelet Function Test Abnormal | Hospitalization |
| RISPERDAL | 25-Dec-11 | 48 | Female | Coagulation Time Prolonged, Cystitis, Death, Disease Recurrence, Epistaxis, Mouth Haemorrhage, Platelet Disorder, Platelet Function Test Abnormal, Schizophrenia | Death, Hospitalization |
| RISPERDAL | 25-Dec-11 | 48 | Female | Haemorrhage, Thrombocytopenia, Tubulointerstitial Nephritis | Death, Hospitalization |
| RISPERDAL | 25-Dec-11 | 48 | Female | Haemorrhage, Thrombocytopenia, Tubulointerstitial Nephritis | Death, Hospitalization |
| RISPERDAL | 25-Dec-11 | 44 | Male | Myocardial Infarction, Restlessness | Death |
| RISPERDAL | 25-Dec-11 | 48 | Female | Haemorrhage, Thrombocytopenia, Tubulointerstitial Nephritis | Death, Hospitalization |
| RISPERDAL | 25-Dec-11 | 92 | Female | Accidental Exposure, Arrhythmia, Bradycardia, Fatigue, Hypotension, Somnolence | Hospitalization, Other |
| RISPERDAL | 25-Dec-11 | 92 | Female | Accidental Exposure, Arrhythmia, Bradycardia, Fatigue, Hypotension, Somnolence | Hospitalization, Other |
| RISPERDAL CONSTA | 23-Dec-11 | 48 | Male | Condition Aggravated, Pneumonia, Psychomotor Hyperactivity, Septic Shock | Death, Hospitalization |
| RISPERDAL | 23-Dec-11 | | Male | Floppy Iris Syndrome | Other |
| RISPERDAL CONSTA | 23-Dec-11 | 55 | Male | Cerebral Infarction | Death |
| RISPERDAL CONSTA | 23-Dec-11 | | Male | Brain Neoplasm, Condition Aggravated | Other |
| RISPERDAL | 23-Dec-11 | | Male | Floppy Iris Syndrome | Other |
| RISPERDAL | 23-Dec-11 | | Male | Floppy Iris Syndrome | Other |
| RISPERDAL | 23-Dec-11 | | Female | Asthenia, Constipation, Dementia, Dizziness, Drug Dose Omission, Feeling Abnormal, Product Quality Issue, Tardive Dyskinesia | Other |
| RISPERDAL | 23-Dec-11 | 37 | Female | Benign Breast Neoplasm, Hyperprolactinaemia, Mastitis | Other |
| RISPERDAL | 23-Dec-11 | 12 | Female | Lung Disorder, Off Label Use | Other |
| RISPERDAL | 22-Dec-11 | 44 | Female | Amnesia, Depression, Treatment Noncompliance, Weight Increased | Other |
| RISPERDAL | 22-Dec-11 | 41 | Male | Self Injurious Behaviour, Sluggishness | Other |
| RISPERDAL | 22-Dec-11 | 30 | Female | Coma, Suicide Attempt | Other |
| RISPERDAL | 22-Dec-11 | 41 | Male | Self Injurious Behaviour, Sluggishness | Other |
| RISPERDAL | 22-Dec-11 | 30 | Female | Coma, Suicide Attempt | Other |
| RISPERDAL | 21-Dec-11 | 66 | Female | Macule | Other |
| RISPERDAL | 21-Dec-11 | | | Altered State Of Consciousness, Amnesia, Delirium | Other |
| RISPERDAL CONSTA | 21-Dec-11 | 24 | Male | Death | Death |
| RISPERDAL | 21-Dec-11 | 20 | Female | Completed Suicide, Drug Ineffective, Hallucination | Death |
| RISPERDAL | 21-Dec-11 | | Male | Atrial Septal Defect, Feeding Disorder Neonatal | Congenital Anomaly, Hospitalization |
| RISPERDAL | 21-Dec-11 | | | Epilepsy | Other |
| RISPERDAL | 21-Dec-11 | | Female | Libido Decreased | Unknown |
| RISPERDAL CONSTA | 21-Dec-11 | 49 | Male | Coma, Dysphagia, Hypoglycaemia, Sepsis | Death, Life-Threatening |
| RISPERDAL CONSTA | 21-Dec-11 | 49 | Male | Coma, Cyanosis, Dysphagia, Hypoglycaemia, Parkinsonism, Sepsis | Death, Life-Threatening |
| RISPERDAL | 20-Dec-11 | | Male | Insulin-requiring Type 2 Diabetes Mellitus | Hospitalization, Other |
| RISPERDAL CONSTA | 20-Dec-11 | | Female | Limb Injury, Product Quality Issue | Unknown |
| RISPERDAL | 20-Dec-11 | 27 | Male | Psychotic Disorder | Hospitalization |
| RISPERDAL | 20-Dec-11 | 30 | Female | Abnormal Weight Gain, Constipation, Hypothyroidism | Other |
| RISPERDAL | 20-Dec-11 | | Male | Aggression, Agitation, Product Quality Issue | Other |
| RISPERDAL | 20-Dec-11 | 55 | Female | Diarrhoea, Multiple Drug Overdose Intentional, Somnolence, Suicide Attempt, Tachycardia, Vomiting | Other |
| RISPERDAL | 20-Dec-11 | 72 | Male | Bradykinesia, Bradyphrenia, Overdose, Sopor, Speech Disorder | Hospitalization |
| RISPERDAL | 20-Dec-11 | 72 | Male | Bradykinesia, Bradyphrenia, Overdose, Sopor, Speech Disorder | Hospitalization |
| RISPERDAL | 18-Dec-11 | 21 | Female | Intentional Overdose, Suicide Attempt, Tachycardia | Other |
| RISPERDAL | 18-Dec-11 | 19 | Female | Embolism, Pulmonary Embolism | Death |
| RISPERDAL | 18-Dec-11 | 19 | Female | Embolism, Pulmonary Embolism | Death |
| RISPERDAL | 18-Dec-11 | 19 | Female | Embolism, Extrapyramidal Disorder, Pulmonary Embolism, Suicidal Ideation | Death |
| RISPERDAL | 16-Dec-11 | | Male | Abnormal Loss Of Weight, Breast Mass, Coma, Diabetes Mellitus, Feeling Abnormal, Glossodynia, Initial Insomnia, Intentional Drug Misuse, Suicide Attempt, Tardive Dyskinesia, Weight Increased | Other |
| RISPERDAL | 16-Dec-11 | 80 | Female | Dementia, Urinary Incontinence | Other |
| RISPERDAL | 16-Dec-11 | 4 | Male | Abdominal Pain, Fall, Fatigue, Overdose, Pruritus Generalised, Staring | Other |
| RISPERDAL | 16-Dec-11 | | Male | Granulomatous Liver Disease | Other |
| RISPERDAL CONSTA | 16-Dec-11 | | Male | Death | Death |
| RISPERDAL | 16-Dec-11 | | Male | Renal Failure | Death |
| RISPERDAL | 16-Dec-11 | | Male | Atrial Septal Defect, Feeding Disorder Neonatal | Congenital Anomaly, Hospitalization |
| RISPERDAL | 16-Dec-11 | 42 | Male | Drug Ineffective | Unknown |
| RISPERDAL | 16-Dec-11 | | Male | Convulsion | Other |
| RISPERDAL | 16-Dec-11 | | Female | Weight Increased | Unknown |
| RISPERDAL | 16-Dec-11 | | Male | Weight Increased | Unknown |
| RISPERDAL | 16-Dec-11 | 15 | Male | Aggression, Agitation, Anger, Constipation, Deafness, Disturbance In Attention, Drug Ineffective, Erection Increased, Fatigue, Gastric Ulcer, Gynaecomastia, Head Injury, Headache, Influenza, Insomnia, Memory Impairment, Mood Altered, Muscle Spasms, Rash, Rectal Haemorrhage, Somnolence, Suicidal Ideation, Tinnitus, Weight Increased | Other |
| RISPERDAL | 15-Dec-11 | 66 | Female | Hyponatraemia, Renal Failure | Hospitalization |
| RISPERDAL | 15-Dec-11 | | | Akathisia | Unknown |
| RISPERDAL CONSTA | 15-Dec-11 | | | Akathisia | Unknown |
| RISPERDAL | 15-Dec-11 | 25 | Male | Arthralgia, Pain | Disability, Life-Threatening, Other |
| RISPERDAL CONSTA | 15-Dec-11 | 18 | Male | Neuroleptic Malignant Syndrome | Life-Threatening |
| RISPERDAL | 15-Dec-11 | 52 | Male | Intentional Overdose, Self Injurious Behaviour, Sopor | Other |
| RISPERDAL | 15-Dec-11 | 87 | Female | Agitation, Disorientation, Loss Of Consciousness, Psychotic Disorder, Suicide Attempt | Hospitalization, Other |
| RISPERDAL CONSTA | 15-Dec-11 | 55 | Female | Osteomyelitis | Hospitalization |
| RISPERDAL | 15-Dec-11 | 65 | Female | Hypotension, Loss Of Consciousness, Malaise, Motor Dysfunction | Hospitalization |
| RISPERDAL CONSTA | 15-Dec-11 | 55 | Female | Osteomyelitis | Hospitalization, Other |
| RISPERDAL CONSTA | 15-Dec-11 | 55 | Female | Foot Amputation, Osteomyelitis | Hospitalization, Other |
| RISPERDAL | 14-Dec-11 | | Male | Brain Injury, Deep Vein Thrombosis | Other |
| RISPERDAL CONSTA | 14-Dec-11 | | Male | Brain Injury, Deep Vein Thrombosis | Other |
| RISPERDAL | 14-Dec-11 | | | Dementia, Urinary Incontinence | Other |
| RISPERDAL | 14-Dec-11 | | Female | Deformity, Dyskinesia, Musculoskeletal Stiffness, Tongue Disorder | Other |
| RISPERDAL | 14-Dec-11 | 29 | Female | Akathisia, Hypomania, Insomnia, Thirst | Other |
| RISPERDAL CONSTA | 13-Dec-11 | 39 | Male | Delirium, Incorrect Storage Of Drug, Poor Quality Drug Administered | Other |
| RISPERDAL | 12-Dec-11 | | Female | Abnormal Weight Gain, Diabetic Neuropathy, Palpitations, Type 2 Diabetes Mellitus | Other |
| RISPERDAL | 11-Dec-11 | 77 | Male | General Physical Health Deterioration, Hypothermia | Death, Hospitalization |
| RISPERDAL | 11-Dec-11 | 77 | Male | General Physical Health Deterioration, Hypothermia | Death, Hospitalization |
| RISPERDAL | 11-Dec-11 | 77 | Male | Hypothermia | Death |
| RISPERDAL | 10-Dec-11 | 87 | Male | Blood Pressure Decreased, Decreased Appetite, Delusion, Hallucination, Pneumonia Aspiration | Hospitalization |
| RISPERDAL | 9-Dec-11 | 55 | Female | Disorientation, General Physical Condition Abnormal, Hypernatraemia, Incoherent, Pyrexia | Hospitalization, Other |
| RISPERDAL | 9-Dec-11 | 66 | Female | Depressed Level Of Consciousness, Hypernatraemia, Pneumonia, Pyrexia | Hospitalization |
| RISPERDAL CONSTA | 9-Dec-11 | | Female | Device Malfunction, Exposure To Contaminated Device, Injury Associated With Device | Other |
| RISPERDAL | 9-Dec-11 | | Male | Dystonia, Hallucination, Auditory | Other |
| RISPERDAL | 9-Dec-11 | 4 | Male | Abdominal Pain, Fall, Fatigue, Overdose, Pruritus Generalised, Staring | Other |
| RISPERDAL | 9-Dec-11 | 82 | Female | Hepatitis, Leukopenia, Liver Function Test Abnormal | Hospitalization, Other |
| RISPERDAL | 9-Dec-11 | | Male | Deep Vein Thrombosis | Other |
| RISPERDAL CONSTA | 8-Dec-11 | | Female | Joint Dislocation, Limb Injury, Product Quality Issue | Other |
| RISPERDAL | 8-Dec-11 | 38 | Female | Pulmonary Thrombosis | Other |
| RISPERDAL | 8-Dec-11 | | Female | Abnormal Weight Gain, Diabetic Neuropathy, Palpitations, Type 2 Diabetes Mellitus | Other |
| RISPERDAL | 8-Dec-11 | 75 | Male | Anuria, Constipation, Visual Acuity Reduced | Other |
| RISPERDAL CONSTA | 8-Dec-11 | 58 | Male | Aggression, Anxiety | Hospitalization |
| RISPERDAL | 8-Dec-11 | 48 | Female | Depression, Suicidal Ideation | Hospitalization |
| RISPERDAL CONSTA | 8-Dec-11 | 48 | Female | Depression, Suicidal Ideation | Hospitalization |
| RISPERDAL CONSTA | 7-Dec-11 | | Female | Musculoskeletal Stiffness, Tardive Dyskinesia | Hospitalization, Other |
| RISPERDAL CONSTA | 7-Dec-11 | 55 | Female | Abscess | Other |
| RISPERDAL CONSTA | 7-Dec-11 | | Male | Drug Ineffective | Unknown |
| RISPERDAL CONSTA | 7-Dec-11 | 41 | Female | Hyponatraemia, Polydipsia, Psychotic Disorder | Hospitalization |
| RISPERDAL | 7-Dec-11 | 24 | Male | Intentional Drug Misuse, Mydriasis, Self Injurious Behaviour, Tachycardia | Other |
| RISPERDAL | 7-Dec-11 | 28 | Female | Psychotic Disorder, Suicide Attempt | Other |
| RISPERDAL | 7-Dec-11 | 24 | Male | Multiple Drug Overdose Intentional, Mydriasis, Self Injurious Behaviour, Tachycardia | Other |
| RISPERDAL | 7-Dec-11 | 58 | Female | Medication Error, Parkinson's Disease | Hospitalization |
| RISPERDAL | 7-Dec-11 | 24 | Male | Multiple Drug Overdose Intentional, Mydriasis, Self Injurious Behaviour, Tachycardia | Other |
| RISPERDAL | 7-Dec-11 | 24 | Male | Multiple Drug Overdose Intentional, Mydriasis, Self Injurious Behaviour, Tachycardia | Other |
| RISPERDAL | 6-Dec-11 | | Female | Libido Decreased | Unknown |
| RISPERDAL | 6-Dec-11 | 52 | Female | Dyskinesia, Loss Of Control Of Legs | Other |
| RISPERDAL CONSTA | 6-Dec-11 | | | Blood Prolactin Decreased, Drug Ineffective | Other |
| RISPERDAL CONSTA | 5-Dec-11 | 55 | Female | Abscess | Other |
| RISPERDAL | 5-Dec-11 | | Male | Aggression, Anger, Breast Enlargement, Condition Aggravated, Constipation, Deafness, Dependence, Disturbance In Attention, Drug Effect Increased, Drug Ineffective, Ear Disorder, Erection Increased, Fatigue, Gastric Ulcer, Influenza Like Illness, Insomnia, Memory Impairment, Mood Swings, Muscle Spasms, Rash, Rectal Haemorrhage, Suicidal Ideation, Weight Increased | Other |
| RISPERDAL | 5-Dec-11 | | Female | Type 2 Diabetes Mellitus, Weight Increased | Other |
| RISPERDAL | 5-Dec-11 | | Female | Type 2 Diabetes Mellitus, Weight Increased | Other |
| RISPERDAL CONSTA | 5-Dec-11 | 17 | Male | Dissociative Fugue, Drug Dose Omission, Off Label Use | Other |
| RISPERDAL | 5-Dec-11 | 23 | Male | Oesophageal Obstruction, Retching | Hospitalization, Other |
| RISPERDAL | 5-Dec-11 | 23 | Male | Oesophageal Stenosis | Hospitalization, Other |
| RISPERDAL | 4-Dec-11 | 49 | Female | Hyperpyrexia | Death |
| RISPERDAL | 4-Dec-11 | 30 | Female | Colitis Ischaemic | Hospitalization, Other |
| RISPERDAL | 4-Dec-11 | 30 | Female | Colitis Ischaemic | Hospitalization, Other |
| RISPERDAL CONSTA | 3-Dec-11 | | Male | Ileus Paralytic, Inappropriate Schedule Of Drug Administration, Pyrexia | Hospitalization, Other |
| RISPERDAL CONSTA | 3-Dec-11 | | Male | Inappropriate Schedule Of Drug Administration, Pyrexia, Subileus | Hospitalization, Other |
| RISPERDAL CONSTA | 2-Dec-11 | | Female | Joint Dislocation, Limb Injury, Product Quality Issue | Other |
| RISPERDAL | 2-Dec-11 | 60 | Male | Abulia, Depressive Symptom, Dizziness, Irritability, Masked Facies, Salivary Hypersecretion, Tremor | Other |
| RISPERDAL | 2-Dec-11 | 15 | Female | Intentional Overdose, Self Injurious Behaviour | Other |
| RISPERDAL | 1-Dec-11 | | Male | Diabetes Mellitus, Weight Increased | Other |
| RISPERDAL | 1-Dec-11 | | | Congenital Cystic Kidney Disease | Other |
| RISPERDAL | 1-Dec-11 | 59 | Male | Autism, Coma, Parkinsonism, Pyrexia | Hospitalization, Other |
| RISPERDAL | 1-Dec-11 | 43 | Male | Deep Vein Thrombosis | Life-Threatening, Other |
| RISPERDAL | 1-Dec-11 | 43 | Male | Deep Vein Thrombosis | Other |
| RISPERDAL | 1-Dec-11 | 55 | Female | Diarrhoea, Somnolence, Suicide Attempt, Tachycardia, Vomiting | Other |
| RISPERDAL | 1-Dec-11 | 54 | Female | Abnormal Dreams, Anticonvulsant Drug Level Above Therapeutic, Hallucination, Palpitations | Hospitalization, Other |
| RISPERDAL | 1-Dec-11 | 24 | Female | Agitation, Constipation, Drug Ineffective, Dyskinesia, Gait Disturbance, Hyperhidrosis, Incontinence, Insomnia, Musculoskeletal Stiffness, Myalgia, Overdose, Restlessness, Sedation, Skin Odour Abnormal, Speech Disorder | Other |
| RISPERDAL CONSTA | 1-Dec-11 | 24 | Female | Agitation, Constipation, Drug Ineffective, Dyskinesia, Gait Disturbance, Hyperhidrosis, Incontinence, Insomnia, Musculoskeletal Stiffness, Myalgia, Overdose, Restlessness, Sedation, Skin Odour Abnormal, Speech Disorder | Other |
| RISPERDAL | 1-Dec-11 | 69 | Female | Amnesia, Insomnia, Mental Disorder | Other |
| RISPERDAL CONSTA | 1-Dec-11 | 61 | Male | Benign Prostatic Hyperplasia, Urinary Retention | Other |
| RISPERDAL | 1-Dec-11 | 13 | Male | Abnormal Behaviour, Depression, Suicide Attempt | Hospitalization, Other |
| RISPERDAL | 1-Dec-11 | 13 | Male | Abnormal Behaviour, Depression, Suicide Attempt | Hospitalization, Other |
| RISPERDAL | 1-Dec-11 | 69 | Female | Amnesia, Cerebrovascular Accident, Insomnia, Malaise, Mental Disorder, Nervous System Disorder, Stress | Other |
| RISPERDAL | 1-Dec-11 | 89 | Female | Abasia, Abnormal Loss Of Weight, Aggression, Agitation, Clostridial Infection, Communication Disorder, Condition Aggravated, Eating Disorder, Hypertension, Urinary Tract Infection | Hospitalization, Other |
| RISPERDAL CONSTA | 1-Dec-11 | 89 | Female | Abasia, Abnormal Loss Of Weight, Aggression, Agitation, Clostridial Infection, Communication Disorder, Condition Aggravated, Eating Disorder, Hypertension, Urinary Tract Infection | Hospitalization, Other |
| RISPERDAL CONSTA | 30-Nov-11 | 86 | Male | Pulmonary Embolism | Hospitalization, Other |
| RISPERDAL CONSTA | 30-Nov-11 | 16 | Female | Galactorrhoea, Hyperprolactinaemia, Off Label Use | Other |
| RISPERDAL | 30-Nov-11 | | Male | Adverse Event, Blood Creatine Phosphokinase Increased, Mental Impairment, Substance Abuse, Treatment Noncompliance | Hospitalization, Other |
| RISPERDAL CONSTA | 30-Nov-11 | | Male | Adverse Event, Blood Creatine Phosphokinase Increased, Mental Impairment, Substance Abuse, Treatment Noncompliance | Hospitalization, Other |
| RISPERDAL | 30-Nov-11 | | Male | Tardive Dyskinesia, Type 2 Diabetes Mellitus | Other |
| RISPERDAL | 30-Nov-11 | 29 | Male | Asthenia, Confusional State, Intentional Drug Misuse, Self Injurious Behaviour | Other |
| RISPERDAL | 30-Nov-11 | 31 | Male | Convulsion, Joint Dislocation, Joint Range Of Motion Decreased, Muscle Disorder | Other |
| RISPERDAL CONSTA | 29-Nov-11 | | Female | Hospitalisation, Musculoskeletal Stiffness, Tardive Dyskinesia | Hospitalization, Other |
| RISPERDAL | 29-Nov-11 | | | Purpura | Other |
| RISPERDAL CONSTA | 28-Nov-11 | | Female | Thrombosis | Other |
| RISPERDAL CONSTA | 28-Nov-11 | | Female | International Normalised Ratio Increased | Other |
| RISPERDAL CONSTA | 28-Nov-11 | | Female | Joint Dislocation, Limb Injury, Product Quality Issue | Other |
| RISPERDAL | 28-Nov-11 | | Male | Infertility | Other |
| RISPERDAL | 28-Nov-11 | | Female | Aphasia, Depression | Other |
| RISPERDAL | 28-Nov-11 | | Female | Adverse Event, Vena Cava Thrombosis | Other |
| RISPERDAL | 28-Nov-11 | | Male | Hyponatraemia, Psychiatric Symptom | Other |
| RISPERDAL | 28-Nov-11 | | | Cleft Lip And Palate | Congenital Anomaly |
| RISPERDAL | 28-Nov-11 | | | Cyst | Other |
| RISPERDAL | 28-Nov-11 | | Female | Abortion Spontaneous, Maternal Exposure During Pregnancy | Other |
| RISPERDAL | 28-Nov-11 | | Male | Gynaecomastia, Headache, Off Label Use | Other |
| RISPERDAL | 28-Nov-11 | | Male | Adverse Event, Blood Creatine Phosphokinase Increased, Mental Impairment, Substance Abuse, Treatment Noncompliance | Hospitalization, Other |
| RISPERDAL CONSTA | 28-Nov-11 | | Male | Adverse Event, Blood Creatine Phosphokinase Increased, Mental Impairment, Substance Abuse, Treatment Noncompliance | Hospitalization, Other |
| RISPERDAL | 28-Nov-11 | 35 | Male | Electrocardiogram Qt Prolonged | Other |
| RISPERDAL CONSTA | 28-Nov-11 | 35 | Male | Electrocardiogram Qt Prolonged | Other |
| RISPERDAL | 28-Nov-11 | 48 | Male | Ejaculation Disorder, Injection Site Pain, Tremor | Hospitalization, Other |
| RISPERDAL CONSTA | 28-Nov-11 | 48 | Male | Ejaculation Disorder, Injection Site Pain, Tremor | Hospitalization, Other |
| RISPERDAL CONSTA | 28-Nov-11 | 34 | Male | Aggression | Hospitalization |
| RISPERDAL CONSTA | 28-Nov-11 | 52 | Male | Death, Inappropriate Schedule Of Drug Administration | Death |
| RISPERDAL | 25-Nov-11 | 81 | Male | Coma, Delirium, Meningeal Disorder, Pneumonia, Respiratory Failure, Somnolence | Death, Hospitalization |
| RISPERDAL | 25-Nov-11 | 81 | Male | Coma, Delirium, Meningeal Disorder, Pneumonia, Respiratory Failure, Somnolence | Death, Hospitalization |
| RISPERDAL | 25-Nov-11 | 36 | Female | Thrombophlebitis | Other |
| RISPERDAL | 25-Nov-11 | 46 | Male | Anxiety, Compulsions, Myocardial Infarction, Paranoia, Restlessness, Sleep Disorder | Death |
| RISPERDAL | 25-Nov-11 | 52 | Male | Faecaloma, Hyponatraemia, Urinary Retention | Hospitalization |
| RISPERDAL | 25-Nov-11 | 52 | Male | Faecaloma, Hyponatraemia, Urinary Retention | Hospitalization |
| RISPERDAL | 24-Nov-11 | 52 | Male | Intentional Drug Misuse, Self Injurious Behaviour, Sluggishness, Sopor | Other |
| RISPERDAL CONSTA | 23-Nov-11 | 63 | Female | Cerebral Haemorrhage | Death |
| RISPERDAL CONSTA | 23-Nov-11 | 63 | Female | Cerebral Haemorrhage | Death |
| RISPERDAL | 22-Nov-11 | 52 | Female | Dyskinesia, Loss Of Control Of Legs | Other |
| RISPERDAL CONSTA | 22-Nov-11 | 63 | Female | Cerebral Haemorrhage | Death |
| RISPERDAL CONSTA | 22-Nov-11 | 63 | Female | Cerebral Haemorrhage | Death |
| RISPERDAL CONSTA | 22-Nov-11 | 21 | Male | Hallucination, Incoherent | Hospitalization |
| RISPERDAL | 21-Nov-11 | 70 | Male | Confusional State, Dehydration, Lung Infection, Malaise, Pulmonary Embolism | Hospitalization, Other |
| RISPERDAL | 21-Nov-11 | 70 | Male | Confusional State, Malaise | Hospitalization |
| RISPERDAL | 21-Nov-11 | 70 | Male | Confusional State, Infection, Malaise | Hospitalization, Other |
| RISPERDAL | 21-Nov-11 | 70 | Male | Hallucination, Visual, Insomnia, Pneumonia, Soliloquy | Death, Life-Threatening |
| RISPERDAL | 21-Nov-11 | 70 | Male | Confusional State, Dehydration, Lung Infection, Malaise, Pulmonary Embolism | Hospitalization, Other |
| RISPERDAL | 21-Nov-11 | 70 | Male | Confusional State, Dehydration, Hyperkalaemia, Hypernatraemia, Malaise, Neurodegenerative Disorder, Pulmonary Embolism | Hospitalization |
| RISPERDAL | 21-Nov-11 | 70 | Male | Anxiety, Confusional State, Dehydration, Dementia, Disorientation, Hyperkalaemia, Hypernatraemia, Infection, Inflammation, Lung Disorder, Malaise, Memory Impairment, Pulmonary Embolism | Hospitalization, Other |
| RISPERDAL | 21-Nov-11 | | | Hallucination, Visual, Pneumonia | Death, Life-Threatening |
| RISPERDAL | 21-Nov-11 | 70 | Male | Hallucination, Visual, Pneumonia | Death, Life-Threatening |
| RISPERDAL | 21-Nov-11 | 70 | Male | Disorientation, Hallucination, Visual, Insomnia, Pneumonia, Restlessness, Screaming | Death, Life-Threatening |
| RISPERDAL | 21-Nov-11 | 70 | Male | Hallucination, Visual, Insomnia, Pneumonia | Death, Life-Threatening |
| RISPERDAL | 21-Nov-11 | 70 | Male | Hallucination, Visual, Insomnia, Pneumonia | Death, Life-Threatening |
| RISPERDAL | 21-Nov-11 | 70 | Male | Hallucination, Visual, Pneumonia | Death, Life-Threatening |
| RISPERDAL | 21-Nov-11 | 70 | Male | Hallucination, Visual, Pneumonia | Death, Life-Threatening |
| RISPERDAL | 21-Nov-11 | 70 | Male | Abnormal Behaviour, Apparent Life Threatening Event, Fatigue, Fumbling, Hallucination, Visual, Insomnia, Pneumonia | Death, Life-Threatening |
| RISPERDAL | 21-Nov-11 | 70 | Male | Fatigue, Hallucination, Visual, Insomnia, Pneumonia, Tremor, Unevaluable Event, Unresponsive To Stimuli | Death, Life-Threatening |
| RISPERDAL | 21-Nov-11 | 70 | Male | Hallucination, Visual, Pneumonia | Death, Life-Threatening |
| RISPERDAL | 21-Nov-11 | 70 | Male | Hallucination, Visual, Pneumonia | Death, Life-Threatening |
| RISPERDAL | 21-Nov-11 | 70 | Male | Hallucination, Visual, Increased Upper Airway Secretion, Insomnia, Pneumonia, Unresponsive To Stimuli | Death, Life-Threatening |
| RISPERDAL | 20-Nov-11 | 14 | Female | Hyperthermia, Hypotension, Myalgia, Neuroleptic Malignant Syndrome, Sepsis | Hospitalization |
| RISPERDAL | 20-Nov-11 | 8 | Male | Dyskinesia | Hospitalization |
| RISPERDAL | 20-Nov-11 | 34 | Male | Depression, Suicidal Ideation | Hospitalization |
| RISPERDAL | 19-Nov-11 | 39 | Male | Self Injurious Behaviour | Other |
| RISPERDAL | 18-Nov-11 | | Female | Supraventricular Tachycardia | Hospitalization |
| RISPERDAL CONSTA | 18-Nov-11 | 65 | Female | Renal Impairment | Other |
| RISPERDAL | 18-Nov-11 | | Male | Hyperglycaemia, Tardive Dyskinesia, Type 2 Diabetes Mellitus, Weight Increased | Other |
| RISPERDAL | 18-Nov-11 | | Male | Cholangitis, Cholelithiasis, Convulsion, Gastritis, Hallucination, Hepatic Steatosis, Jaundice Cholestatic, Myocardial Infarction, Pancreatitis, Sepsis, Sleep Disorder, Type 2 Diabetes Mellitus | Hospitalization, Other |
| RISPERDAL | 18-Nov-11 | 52 | Female | Dyskinesia, Loss Of Control Of Legs | Other |
| RISPERDAL | 18-Nov-11 | | | Aggression, Disturbance In Attention, Drug Ineffective, Panic Disorder, Somnolence | Other |
| RISPERDAL | 17-Nov-11 | 85 | Female | Drug Interaction, General Physical Health Deterioration, Parkinsonism, Pleurothotonus | Hospitalization |
| RISPERDAL CONSTA | 17-Nov-11 | 26 | Male | Micturition Disorder, Tachycardia | Other |
| RISPERDAL CONSTA | 17-Nov-11 | | Male | Overdose, Supraventricular Tachycardia | Other |
| RISPERDAL | 17-Nov-11 | | | Glycosylated Haemoglobin Increased, Pollakiuria, Thirst | Other |
| RISPERDAL | 17-Nov-11 | 71 | Female | Floppy Iris Syndrome | Other |
| RISPERDAL | 17-Nov-11 | 71 | Female | Floppy Iris Syndrome | Other |
| RISPERDAL | 17-Nov-11 | 70 | Male | Hallucination, Pneumonia | Death, Hospitalization, Life-Threatening |
| RISPERDAL | 17-Nov-11 | 70 | Male | Hallucination, Pneumonia | Death, Hospitalization, Life-Threatening |
| RISPERDAL | 17-Nov-11 | 70 | Male | Hallucination, Visual, Pneumonia | Death, Life-Threatening |
| RISPERDAL | 16-Nov-11 | 39 | Female | Asthma, Diverticulitis, Extrapyramidal Disorder, Thyroid Disorder, Type 2 Diabetes Mellitus | Other |
| RISPERDAL CONSTA | 16-Nov-11 | 39 | Female | Asthma, Diverticulitis, Extrapyramidal Disorder, Thyroid Disorder, Type 2 Diabetes Mellitus | Other |
| RISPERDAL | 16-Nov-11 | 37 | Male | Sudden Death | Death |
| RISPERDAL CONSTA | 16-Nov-11 | 63 | Female | Cerebral Haemorrhage | Death |
| RISPERDAL | 15-Nov-11 | | Male | Cardiac Failure Congestive, Cardio-respiratory Arrest, Congestive Cardiomyopathy, Hepatic Enzyme Increased, Hepatic Failure, Loss Of Consciousness, Mental Status Changes, Myocardial Infarction, Pneumonia, Renal Failure, Respiratory Failure | Death, Hospitalization, Life-Threatening |
| RISPERDAL | 15-Nov-11 | 63 | Female | Cerebral Haemorrhage | Death |
| RISPERDAL CONSTA | 15-Nov-11 | 63 | Female | Cerebral Haemorrhage | Death |
| RISPERDAL | 15-Nov-11 | 36 | Female | Intentional Overdose, Self Injurious Behaviour, Sluggishness | Other |
| RISPERDAL | 15-Nov-11 | 94 | Female | Hypotension, Incorrect Dose Administered, Sopor | Other |
| RISPERDAL | 14-Nov-11 | | Male | Diabetes Mellitus, Weight Increased | Other |
| RISPERDAL CONSTA | 14-Nov-11 | 44 | Female | Device Malfunction, Exposure To Contaminated Device, Injury Associated With Device | Other |
| RISPERDAL CONSTA | 14-Nov-11 | 30 | Male | Hyperlipidaemia, Hyperuricaemia, Liver Function Test Abnormal, Weight Increased | Hospitalization |
| RISPERDAL | 14-Nov-11 | 82 | Female | Hepatitis, Leukopenia, Liver Function Test Abnormal, Toxicity To Various Agents | Hospitalization, Other |
| RISPERDAL | 14-Nov-11 | 90 | Male | Aggression, Death, Fear, Impulse-control Disorder, Restlessness, Syncope | Death, Hospitalization |
| RISPERDAL | 14-Nov-11 | 15 | Male | Abnormal Behaviour, Adverse Drug Reaction, Affective Disorder, Aggression, Agitation, Anger, Anxiety, Breast Enlargement, Condition Aggravated, Constipation, Deafness, Disturbance In Attention, Drug Ineffective, Erection Increased, Fatigue, Feeling Abnormal, Gastric Ulcer, Headache, Hyperacusis, Influenza, Insomnia, Memory Impairment, Muscle Spasms, Pain, Rapid Eye Movements Sleep Abnormal, Rash, Rectal Haemorrhage, Somnolence, Suicidal Ideation, Weight Increased | Other |
| RISPERDAL | 14-Nov-11 | 37 | Female | Intentional Overdose, Self Injurious Behaviour | Other |
| RISPERDAL CONSTA | 14-Nov-11 | 63 | Female | Suicide Attempt | Hospitalization |
| RISPERDAL | 14-Nov-11 | | Female | Accidental Exposure | Hospitalization |
| RISPERDAL | 14-Nov-11 | 37 | Female | Asthenia, Intentional Overdose, Self Injurious Behaviour | Hospitalization |
| RISPERDAL | 14-Nov-11 | | Female | Accidental Exposure | Hospitalization |
| RISPERDAL | 14-Nov-11 | 77 | Female | Atrial Fibrillation, Renal Failure Acute, Retroperitoneal Haematoma, Shock Haemorrhagic | Hospitalization |
| RISPERDAL | 14-Nov-11 | 77 | Female | Atrial Fibrillation, Haematoma, Metabolic Acidosis, Renal Failure Acute, Retroperitoneal Haematoma, Shock Haemorrhagic, Tachyarrhythmia | Hospitalization |
| RISPERDAL | 14-Nov-11 | 77 | Female | Abdominal Pain, Altered State Of Consciousness, Atrial Fibrillation, Biliary Cyst, Haematoma, Haemoglobin Decreased, Metabolic Acidosis, Renal Failure Acute, Retroperitoneal Haematoma, Shock Haemorrhagic, Tachyarrhythmia | Hospitalization |
| RISPERDAL | 14-Nov-11 | 77 | Female | Atrial Fibrillation, Renal Failure Acute, Retroperitoneal Haematoma, Shock Haemorrhagic | Hospitalization |
| RISPERDAL | 14-Nov-11 | 77 | Female | Altered State Of Consciousness, Atrial Fibrillation, Biliary Cyst, Haematoma, Haemoglobin Decreased, Hypotension, Metabolic Acidosis, Platelet Count Increased, Renal Failure Acute, Retroperitoneal Haematoma, Shock Haemorrhagic, Tachyarrhythmia | Hospitalization |
| RISPERDAL | 12-Nov-11 | 25 | Male | Intentional Overdose, Self Injurious Behaviour, Sluggishness | Other |
| RISPERDAL | 11-Nov-11 | 89 | Male | Delusion, Pneumonia | Death, Hospitalization, Life-Threatening |
| RISPERDAL | 11-Nov-11 | | Female | Amnesia, Balance Disorder, Brain Injury, Confusional State, Delusion, Feeling Abnormal, Mental Impairment, Nervous System Disorder, Suicidal Ideation | Hospitalization, Other |
| RISPERDAL CONSTA | 11-Nov-11 | | Female | Amnesia, Balance Disorder, Brain Injury, Confusional State, Delusion, Feeling Abnormal, Mental Impairment, Nervous System Disorder, Suicidal Ideation | Hospitalization, Other |
| RISPERDAL | 11-Nov-11 | 78 | Female | Blood Creatine Phosphokinase Increased, Lactic Acidosis, Neuroleptic Malignant Syndrome, Rhabdomyolysis | Other |
| RISPERDAL | 11-Nov-11 | 75 | Female | Floppy Iris Syndrome, Retinal Detachment | Other |
| RISPERDAL CONSTA | 11-Nov-11 | 18 | Male | Blood Chloride Decreased, Blood Cholesterol Increased, Blood Sodium Decreased, Blood Triglycerides Increased, Diabetes Mellitus, Glycosylated Haemoglobin Increased, Serum Ferritin Decreased | Hospitalization, Life-Threatening, Other |
| RISPERDAL | 10-Nov-11 | 24 | Male | Intraocular Pressure Increased | Other |
| RISPERDAL | 10-Nov-11 | 33 | Male | Apgar Score Low, Drug Interaction, Foetal Heart Rate Abnormal | Congenital Anomaly, Other |
| RISPERDAL | 10-Nov-11 | 33 | Female | Drug Interaction, Infection, Injection Site Pain, Injection Site Warmth, Maternal Exposure During Pregnancy, Neuroleptic Malignant Syndrome, Pyrexia, Sweat Gland Disorder, Tachycardia | Other |
| RISPERDAL | 10-Nov-11 | 15 | Female | Educational Problem, Self-induced Vomiting, Suicide Attempt | Other |
| RISPERDAL CONSTA | 10-Nov-11 | 25 | Male | Micturition Disorder, Pulmonary Embolism, Tachycardia | Other |
| RISPERDAL | 9-Nov-11 | | Male | Adverse Event, Blood Cholesterol Increased, Cardiomegaly, Depression, Diabetic Complication, Drug Prescribing Error, Eye Infection, Hypertension, Infection, Liver Disorder, Nerve Injury, Polyarthritis, Sexual Dysfunction, Sleep Apnoea Syndrome, Type 2 Diabetes Mellitus, Weight Increased | Other |
| RISPERDAL | 9-Nov-11 | 92 | Female | Bradycardia, Circulatory Collapse, Convulsion, Gait Disturbance, Hypophagia, Hypotension, Lacrimation Increased, Large Intestinal Haemorrhage, Muscular Weakness, Nausea, Overdose, Salivary Hypersecretion, Thinking Abnormal, Vomiting | Hospitalization, Other |
| RISPERDAL CONSTA | 9-Nov-11 | 56 | Male | Chest Pain, Death | Death, Other |
| RISPERDAL | 9-Nov-11 | | Female | Diabetes Mellitus | Other |
| RISPERDAL CONSTA | 9-Nov-11 | | Female | Diabetes Mellitus | Other |
| RISPERDAL | 9-Nov-11 | | Male | Condition Aggravated | Other |
| RISPERDAL | 9-Nov-11 | 71 | Female | Cerebral Infarction | Other |
| RISPERDAL | 9-Nov-11 | 1.25 | Female | Accidental Exposure, Altered State Of Consciousness, Tremor | Hospitalization |
| RISPERDAL | 9-Nov-11 | 30 | Male | Agitation, Condition Aggravated | Hospitalization |
| RISPERDAL | 9-Nov-11 | 1 | Female | Accidental Exposure, Altered State Of Consciousness, Muscular Weakness | Hospitalization |
| RISPERDAL | 9-Nov-11 | 1.25 | Female | Accidental Exposure, Altered State Of Consciousness, Tremor | Hospitalization |
| RISPERDAL | 8-Nov-11 | | Female | Suicidal Ideation, Urinary Incontinence | Other |
| RISPERDAL | 8-Nov-11 | | Female | Affect Lability, Delusion, Dyslalia, Insomnia, Obesity, Protrusion Tongue, Treatment Noncompliance | Hospitalization, Other |
| RISPERDAL | 8-Nov-11 | | Male | Asthenia, Dermatitis Bullous, Erythema Multiforme, Fall, Hypothermia, Lymphadenopathy, Neutropenia, Photosensitivity Reaction, Rash, Skin Exfoliation, Thrombocytopenia | Hospitalization |
| RISPERDAL CONSTA | 8-Nov-11 | 63 | Female | Cerebral Haemorrhage | Death |
| RISPERDAL CONSTA | 8-Nov-11 | | | Pancreatitis, Respiratory Failure | Hospitalization, Life-Threatening, Other |
| RISPERDAL | 8-Nov-11 | 49 | Male | Drug Interaction, Extrapyramidal Disorder, Eyelid Oedema, Hypertension, Left Ventricular Hypertrophy, Periorbital Oedema, Renal Failure, Tachycardia | Other |
| RISPERDAL CONSTA | 8-Nov-11 | | Male | Completed Suicide | Death |
| RISPERDAL CONSTA | 8-Nov-11 | 72 | Female | Thrombosis | Other |
| RISPERDAL | 7-Nov-11 | | Male | Type 2 Diabetes Mellitus | Other |
| RISPERDAL | 7-Nov-11 | | Male | Insulin-requiring Type 2 Diabetes Mellitus | Hospitalization, Other |
| RISPERDAL | 7-Nov-11 | 59 | Male | Autism, Coma, Parkinsonism, Pyrexia | Hospitalization, Other |
| RISPERDAL | 7-Nov-11 | | Female | Type 2 Diabetes Mellitus, Weight Increased | Other |
| RISPERDAL | 7-Nov-11 | 67 | Female | Electrocardiogram Qt Prolonged, Incorrect Dose Administered, Sinus Tachycardia | Other |
| RISPERDAL | 7-Nov-11 | 67 | Female | Electrocardiogram Qt Prolonged, Incorrect Dose Administered, Sinus Tachycardia | Hospitalization, Other |
| RISPERDAL CONSTA | 5-Nov-11 | 49 | Female | Myocardial Infarction | Death |
| RISPERDAL | 5-Nov-11 | 39 | Male | Incorrect Dose Administered, Priapism | Hospitalization, Other |
| RISPERDAL | 4-Nov-11 | | | Arrhythmia | Other |
| RISPERDAL | 4-Nov-11 | | | Small Intestinal Resection | Other |
| RISPERDAL | 4-Nov-11 | 80 | Female | Blood Pressure Decreased, Confusional State, Renal Impairment | Hospitalization, Other |
| RISPERDAL CONSTA | 4-Nov-11 | | | Rebound Effect, Withdrawal Syndrome | Other |
| RISPERDAL CONSTA | 4-Nov-11 | | Female | Appetite Disorder, Arthralgia, Asthenia, Epistaxis, Migraine, Muscle Spasms, Musculoskeletal Stiffness, Speech Disorder, Thirst, Vision Blurred | Hospitalization |
| RISPERDAL | 4-Nov-11 | 36 | Male | Abnormal Behaviour, Akathisia, Intentional Drug Misuse, Tremor | Other |
| RISPERDAL | 4-Nov-11 | | | Dyskinesia, Loss Of Control Of Legs | Other |
| RISPERDAL | 4-Nov-11 | 53 | Female | Coma, Intentional Drug Misuse, Pain, Self Injurious Behaviour | Other |
| RISPERDAL CONSTA | 4-Nov-11 | 54 | Female | Delirium, Disorientation, Insomnia | Hospitalization |
| RISPERDAL | 3-Nov-11 | 74 | Female | Dementia, Hallucination, Treatment Noncompliance | Other |
| RISPERDAL | 3-Nov-11 | 27 | Female | Anhedonia, Caesarean Section, Decreased Interest, Depression, Fatigue, Hallucination, Auditory, Maternal Exposure During Pregnancy, Morbid Thoughts, Pain, Psychotic Disorder, Suicidal Ideation | Other |
| RISPERDAL | 3-Nov-11 | 74 | Female | Dementia, Drug Ineffective, Hallucination, Treatment Noncompliance | Other |
| RISPERDAL | 2-Nov-11 | 78 | Female | Blood Creatine Phosphokinase Increased, Lactic Acidosis, Neuroleptic Malignant Syndrome, Rhabdomyolysis | Other |
| RISPERDAL | 2-Nov-11 | 27 | Female | Intentional Overdose, Self Injurious Behaviour | Other |
| RISPERDAL | 2-Nov-11 | 5 | Male | Dyskinesia, Dystonia, Incorrect Dose Administered, Sluggishness | Other |
| RISPERDAL | 2-Nov-11 | 17 | Female | Completed Suicide, Multiple Drug Overdose, Suicide Attempt | Death, Hospitalization |
| RISPERDAL | 1-Nov-11 | | Male | Hypogonadism | Other |
| RISPERDAL | 1-Nov-11 | 92 | Female | Bradycardia, Circulatory Collapse, Convulsion, Gait Disturbance, Hypophagia, Hypotension, Lacrimation Increased, Large Intestinal Haemorrhage, Muscular Weakness, Nausea, Overdose, Salivary Hypersecretion, Thinking Abnormal, Vomiting | Hospitalization |
| RISPERDAL | 1-Nov-11 | 45 | Female | Hemiparesis | Other |
| RISPERDAL CONSTA | 1-Nov-11 | 54 | | Restlessness, Suicide Attempt | Hospitalization, Other |
| RISPERDAL CONSTA | 1-Nov-11 | 52 | Female | Aggression, Drug Ineffective, Paranoia, Product Quality Issue, Thermal Burn | Hospitalization |
| RISPERDAL CONSTA | 1-Nov-11 | | Male | Device Malfunction, Drug Dose Omission, Hallucination, Syringe Issue, Underdose | Other |
| RISPERDAL | 1-Nov-11 | | Female | Dysuria, Hyperprolactinaemia, Ileus Paralytic, Treatment Noncompliance | Other |
| RISPERDAL | 1-Nov-11 | | Male | Abnormal Sensation In Eye, Constipation, Headache, Insomnia, Intracranial Pressure Increased, Treatment Noncompliance | Other |
| RISPERDAL | 1-Nov-11 | 5 | Male | Accidental Overdose, Dyskinesia, Dystonia, Psychomotor Retardation, Sluggishness | Other |
| RISPERDAL | 1-Nov-11 | 59 | Female | Hepatic Function Abnormal | Hospitalization |
| RISPERDAL | 1-Nov-11 | 62 | Male | Confusional State, Constipation, Dyspepsia, Fatigue, Muscle Contractions Involuntary | Other |
| RISPERDAL | 1-Nov-11 | 59 | Female | Hepatic Function Abnormal | Hospitalization |
| RISPERDAL CONSTA | 1-Nov-11 | 30 | Male | Muscle Spasms, Neuropathy Peripheral, Paralysis, Schizophrenia | Other |
| RISPERDAL | 1-Nov-11 | 78 | Female | Psoriasis | Hospitalization |
| RISPERDAL | 1-Nov-11 | 59 | Female | Hepatic Function Abnormal | Hospitalization |
| RISPERDAL CONSTA | 1-Nov-11 | 30 | Male | Muscle Spasms, Neuropathy Peripheral, Paralysis, Schizophrenia, Scoliosis | Other |
| RISPERDAL | 31-Oct-11 | 66 | Female | Blindness, Cerebrovascular Accident, Off Label Use | Other |
| RISPERDAL | 31-Oct-11 | 36 | Male | Abnormal Behaviour, Akathisia, Intentional Drug Misuse, Tremor | Other |
| RISPERDAL | 30-Oct-11 | 84 | Female | Asthenia, Autonomic Neuropathy, Cerebrovascular Accident, Confusional State, Epilepsy, Multiple Drug Overdose, Somnolence | Hospitalization |
| RISPERDAL | 29-Oct-11 | 82 | Male | Intentional Overdose, Self Injurious Behaviour | Other |
| RISPERDAL | 29-Oct-11 | 80 | Male | Confusional State, Hallucination, Urinary Retention | Hospitalization, Other |
| RISPERDAL CONSTA | 28-Oct-11 | | Female | Blood Glucose Increased, Drug Level Decreased, Hospitalisation, Psychotic Disorder | Hospitalization |
| RISPERDAL CONSTA | 28-Oct-11 | | Female | Hospitalisation, Musculoskeletal Stiffness, Tardive Dyskinesia | Hospitalization, Other |
| RISPERDAL | 28-Oct-11 | 71 | Male | Neutropenia | Hospitalization |
| RISPERDAL | 28-Oct-11 | 71 | Female | Neutropenia | Hospitalization |
| RISPERDAL | 28-Oct-11 | 71 | Male | Neutropenia | Hospitalization |
| RISPERDAL | 27-Oct-11 | | Female | Drug Ineffective, Restless Legs Syndrome | Other |
| RISPERDAL | 27-Oct-11 | | | Blood Pressure Decreased, Confusional State, Renal Impairment | Other |
| RISPERDAL | 27-Oct-11 | | Male | Anxiety, Aphasia, Aphonia, Bladder Dilatation, Convulsion, Deformity, Disturbance In Social Behaviour, Flushing, Gait Disturbance, Insomnia, Intentional Self-injury, Personality Change, Prostatomegaly, Pruritus, Stupor, Tardive Dyskinesia, Thyroid Disorder, Tourette's Disorder, Unresponsive To Stimuli | Other |
| RISPERDAL | 27-Oct-11 | 16 | Female | Multiple Drug Overdose Intentional, Somnolence, Suicide Attempt | Other |
| RISPERDAL CONSTA | 27-Oct-11 | 34 | Male | Drug Dose Omission, Paranoia, Procedural Complication | Other |
| RISPERDAL CONSTA | 27-Oct-11 | 34 | Male | Drug Dose Omission, Paranoia, Procedural Complication | Other |
| RISPERDAL | 27-Oct-11 | 16 | Female | Multiple Drug Overdose Intentional, Somnolence, Suicide Attempt | Hospitalization, Other |
| RISPERDAL | 26-Oct-11 | | | Blood Potassium Increased, Blood Sodium Decreased, Depressed Level Of Consciousness, Renal Impairment | Other |
| RISPERDAL | 26-Oct-11 | | | Arrhythmia | Other |
| RISPERDAL | 26-Oct-11 | 59 | Male | Blood Pressure Systolic Increased, Heart Rate Increased, Medication Error, Overdose | Hospitalization |
| RISPERDAL CONSTA | 26-Oct-11 | 51 | Male | Deep Vein Thrombosis | Hospitalization |
| RISPERDAL | 26-Oct-11 | 33 | Male | Clubbing, Cough, Crepitations, Dyspnoea, Eosinophilic Pneumonia, Neutrophil Count Increased, Pneumothorax, Pulmonary Fibrosis, Respiratory Failure | Hospitalization, Other |
| RISPERDAL CONSTA | 26-Oct-11 | 50 | Female | Dystonia, Hospitalisation | Hospitalization, Other |
| RISPERDAL | 25-Oct-11 | | Female | Cataract | Other |
| RISPERDAL CONSTA | 25-Oct-11 | 43 | Male | Deep Vein Thrombosis | Other |
| RISPERDAL | 25-Oct-11 | | Female | Ovarian Cyst | Congenital Anomaly |
| RISPERDAL | 25-Oct-11 | 64 | Male | Multiple Drug Overdose Intentional, Self Injurious Behaviour, Sopor | Other |
| RISPERDAL | 25-Oct-11 | 42 | Female | Self Injurious Behaviour, Vertigo | Other |
| RISPERDAL | 25-Oct-11 | 28 | Male | Intentional Overdose, Suicide Attempt | Other |
| RISPERDAL | 25-Oct-11 | 70 | Female | Agranulocytosis | Hospitalization |
| RISPERDAL | 25-Oct-11 | 16 | Male | Accidental Exposure, Intentional Overdose | Life-Threatening |
| RISPERDAL | 25-Oct-11 | 71 | Male | Neutropenia | Hospitalization |
| RISPERDAL | 25-Oct-11 | 64 | Male | Blood Pressure Increased, Self Injurious Behaviour, Sopor, Suicide Attempt | Hospitalization |
| RISPERDAL | 25-Oct-11 | 64 | Male | Blood Pressure Increased, Self Injurious Behaviour, Sopor, Suicide Attempt | Hospitalization |
| RISPERDAL | 25-Oct-11 | 64 | Male | Blood Pressure Increased, Self Injurious Behaviour, Sopor, Suicide Attempt | Hospitalization |
| RISPERDAL CONSTA | 24-Oct-11 | | Female | Joint Stiffness, Mobility Decreased | Disability, Other |
| RISPERDAL CONSTA | 24-Oct-11 | | Male | Deep Vein Thrombosis | Other |
| RISPERDAL CONSTA | 24-Oct-11 | 30 | Female | Abortion Spontaneous, Maternal Exposure During Pregnancy | Other |
| RISPERDAL CONSTA | 24-Oct-11 | | Male | Convulsion, Drug Effect Decreased, Incorrect Dose Administered | Other |
| RISPERDAL | 24-Oct-11 | | Female | Dizziness, Euphoric Mood, Feeling Abnormal, Grief Reaction, Product Contamination, Product Tampering, Wrong Technique In Drug Usage Process | Hospitalization |
| RISPERDAL | 24-Oct-11 | 57 | Female | Agitation, Depressed Mood, Extrapyramidal Disorder | Hospitalization, Other |
| RISPERDAL CONSTA | 24-Oct-11 | 33 | Male | Hepatic Steatosis | Other |
| RISPERDAL | 24-Oct-11 | | Male | Diabetic Hyperosmolar Coma, Renal Impairment | Hospitalization |
| RISPERDAL CONSTA | 24-Oct-11 | | Male | Akathisia, Aptyalism, Asthenia, Constipation, Depression, Dizziness Postural, Drug Intolerance, Dystonia, Gynaecomastia, Headache, Hyperkinesia, Indifference, Nausea, Orthostatic Hypotension, Parkinsonism, Sedation, Sexual Dysfunction, Tremor, Urinary Incontinence, Urinary Tract Disorder, Vomiting, Weight Increased | Other |
| RISPERDAL CONSTA | 24-Oct-11 | | Female | Blood Glucose Increased, Drug Level Decreased, Hospitalisation, Psychotic Disorder | Hospitalization |
| RISPERDAL | 24-Oct-11 | | Male | Cardiac Failure Congestive, Cardio-respiratory Arrest, Congestive Cardiomyopathy, Hepatic Enzyme Increased, Hepatic Failure, Loss Of Consciousness, Mental Status Changes, Myocardial Infarction, Pneumonia, Renal Failure, Respiratory Failure | Death, Hospitalization, Life-Threatening |
| RISPERDAL | 24-Oct-11 | | Female | Type 2 Diabetes Mellitus, Weight Increased | Other |
| RISPERDAL | 24-Oct-11 | 16 | Female | Intentional Overdose, Self Injurious Behaviour | Other |
| RISPERDAL | 24-Oct-11 | 60 | Female | Dysuria, Insomnia, Parkinsonism | Other |
| RISPERDAL | 24-Oct-11 | 64 | Male | Multiple Drug Overdose Intentional, Self Injurious Behaviour, Sopor | Hospitalization, Other |
| RISPERDAL | 23-Oct-11 | 85 | Male | Eye Penetration, Fall, Ocular Hyperaemia, Retinal Haemorrhage, Vitreous Haemorrhage | Hospitalization |
| RISPERDAL | 22-Oct-11 | 38 | Male | Multiple Drug Overdose Intentional, Self Injurious Behaviour | Other |
| RISPERDAL | 22-Oct-11 | 60 | Female | Suicide Attempt | Other |
| RISPERDAL | 22-Oct-11 | 60 | Female | Suicide Attempt | Other |
| RISPERDAL | 22-Oct-11 | 38 | Male | Self Injurious Behaviour | Other |
| RISPERDAL | 22-Oct-11 | 60 | Female | Suicide Attempt | Other |
| RISPERDAL | 22-Oct-11 | 60 | Female | Suicide Attempt | Other |
| RISPERDAL CONSTA | 22-Oct-11 | 63 | Female | Cerebrovascular Accident, Viith Nerve Paralysis | Hospitalization, Life-Threatening |
| RISPERDAL | 21-Oct-11 | | Male | Acute Psychosis, Amnesia | Other |
| RISPERDAL | 21-Oct-11 | 9 | Male | Asthma | Other |
| RISPERDAL | 21-Oct-11 | | Female | Obsessive-compulsive Disorder | Other |
| RISPERDAL | 21-Oct-11 | | Female | Abnormal Weight Gain, Diabetic Neuropathy, Palpitations, Type 2 Diabetes Mellitus | Other |
| RISPERDAL | 21-Oct-11 | | | Abnormal Behaviour, Akathisia | Other |
| RISPERDAL CONSTA | 20-Oct-11 | 24 | Male | Inappropriate Schedule Of Drug Administration, Schizophrenia | Other |
| RISPERDAL | 20-Oct-11 | 57 | Female | Agitation, Depressed Mood, Extrapyramidal Disorder | Hospitalization, Other |
| RISPERDAL | 20-Oct-11 | 61 | Female | Intentional Overdose, Self Injurious Behaviour | Other |
| RISPERDAL | 20-Oct-11 | 61 | Female | Somnolence | Unknown |
| RISPERDAL | 20-Oct-11 | 8 | Male | Dyskinesia | Hospitalization |
| RISPERDAL | 20-Oct-11 | 8 | Male | Dyskinesia, Tic | Hospitalization |
| RISPERDAL | 20-Oct-11 | 8 | Male | Dyskinesia | Hospitalization |
| RISPERDAL CONSTA | 19-Oct-11 | | Male | Condition Aggravated, Muscle Atrophy | Hospitalization, Other |
| RISPERDAL | 19-Oct-11 | 35 | Male | Retinal Vein Occlusion | Hospitalization |
| RISPERDAL | 19-Oct-11 | 35 | Male | Retinal Vein Occlusion | Hospitalization |
| RISPERDAL | 19-Oct-11 | 70 | Female | Hyperkalaemia, Hyponatraemia, Hypotension, Loss Of Consciousness, Renal Impairment | Disability |
| RISPERDAL | 19-Oct-11 | 70 | Female | Hyperkalaemia, Hyponatraemia, Hypotension, Loss Of Consciousness, Renal Impairment | Disability |
| RISPERDAL | 19-Oct-11 | 80 | Female | Confusional State, Renal Impairment | Disability, Hospitalization, Other |
| RISPERDAL | 18-Oct-11 | 25 | Female | Multiple Drug Overdose Intentional, Self Injurious Behaviour, Sluggishness | Other |
| RISPERDAL | 18-Oct-11 | 25 | Female | Abdominal Pain, Intentional Overdose, Self Injurious Behaviour, Slow Speech | Other |
| RISPERDAL | 18-Oct-11 | 26 | Male | Intentional Overdose, Suicidal Ideation | Hospitalization, Other |
| RISPERDAL | 18-Oct-11 | 83 | Female | Abnormal Behaviour, Anxiety | Hospitalization |
| RISPERDAL CONSTA | 17-Oct-11 | 45 | Male | Pulmonary Embolism | Hospitalization |
| RISPERDAL | 17-Oct-11 | | Male | Cholangitis, Cholelithiasis, Convulsion, Gastritis, Hallucination, Hepatic Steatosis, Jaundice Cholestatic, Myocardial Infarction, Pancreatitis, Sepsis, Sleep Disorder, Type 2 Diabetes Mellitus | Hospitalization, Other |
| RISPERDAL | 17-Oct-11 | 70 | Male | Hallucination, Auditory, Movement Disorder, Parkinsonism | Other |
| RISPERDAL CONSTA | 17-Oct-11 | | Male | General Physical Health Deterioration, Schizophrenia, Paranoid Type | Other |
| RISPERDAL CONSTA | 17-Oct-11 | | Female | Pulmonary Embolism | Hospitalization |
| RISPERDAL | 17-Oct-11 | 26 | Male | Pneumonia, Pulmonary Eosinophilia | Disability, Hospitalization |
| RISPERDAL | 17-Oct-11 | 26 | Male | Pneumonia, Pulmonary Eosinophilia | Disability, Hospitalization |
| RISPERDAL | 17-Oct-11 | 26 | Male | Hypersensitivity, Pneumonia, Pulmonary Eosinophilia | Disability, Hospitalization, Other |
| RISPERDAL | 17-Oct-11 | 47 | Female | Drug Interaction, Inappropriate Antidiuretic Hormone Secretion | Hospitalization |
| RISPERDAL | 17-Oct-11 | 47 | Female | Drug Interaction, Inappropriate Antidiuretic Hormone Secretion | Hospitalization |
| RISPERDAL | 14-Oct-11 | | Male | Antidepressant Drug Level Decreased, Euphoric Mood, Mania | Hospitalization |
| RISPERDAL | 14-Oct-11 | | Female | Abnormal Weight Gain, Diabetic Neuropathy, Palpitations, Type 2 Diabetes Mellitus | Other |
| RISPERDAL | 14-Oct-11 | 36 | Male | Multiple Drug Overdose Intentional, Self Injurious Behaviour | Other |
| RISPERDAL CONSTA | 14-Oct-11 | 30 | Male | Dysphonia, Laryngeal Oedema | Other |
| RISPERDAL CONSTA | 13-Oct-11 | | Male | Akathisia, Amenorrhoea, Aptyalism, Asthenia, Constipation, Depression, Dizziness Postural, Drug Intolerance, Dystonia, Gynaecomastia, Headache, Hyperkinesia, Indifference, Nausea, Orthostatic Hypotension, Parkinsonism, Sedation, Sexual Dysfunction, Tremor, Urinary Incontinence, Urinary Tract Disorder, Vomiting, Weight Increased | Other |
| RISPERDAL CONSTA | 12-Oct-11 | | Male | Abdominal Distension, Aspermia, Disturbance In Attention, Drug Ineffective, Dyspepsia, Photosensitivity Allergic Reaction, Road Traffic Accident, Swelling, Weight Increased | Other |
| RISPERDAL | 12-Oct-11 | 59 | Male | Blood Pressure Systolic Increased, Heart Rate Increased, Medication Error, Overdose | Hospitalization |
| RISPERDAL | 12-Oct-11 | | Male | Abnormal Weight Gain, Diabetes Mellitus, Diabetic Ketoacidotic Hyperglycaemic Coma, Gynaecomastia | Death, Other |
| RISPERDAL | 12-Oct-11 | 28 | Male | Gaze Palsy | Other |
| RISPERDAL | 12-Oct-11 | 35 | Male | Balance Disorder, Blood Creatine Phosphokinase Increased, Muscle Spasms, Myalgia, Swelling Face | Other |
| RISPERDAL | 11-Oct-11 | | Female | Drug Intolerance, Quality Of Life Decreased | Other |
| RISPERDAL CONSTA | 10-Oct-11 | 43 | Male | Deep Vein Thrombosis | Other |
| RISPERDAL | 9-Oct-11 | 80 | Male | Pulmonary Embolism, Thrombocytopenia | Hospitalization, Life-Threatening |
| RISPERDAL | 9-Oct-11 | 80 | Male | Pulmonary Embolism | Hospitalization, Life-Threatening |
| RISPERDAL | 9-Oct-11 | 80 | Male | Pulmonary Embolism | Hospitalization, Life-Threatening |
| RISPERDAL | 8-Oct-11 | 56 | Female | Dyskinesia, Epilepsy, Loss Of Consciousness | Hospitalization, Other |
| RISPERDAL | 8-Oct-11 | 56 | Female | Tardive Dyskinesia | Hospitalization, Other |
| RISPERDAL | 7-Oct-11 | | Male | Coma, Diabetes Mellitus, Injury, Pancreatitis, Renal Failure Acute | Hospitalization, Other |
| RISPERDAL | 7-Oct-11 | 62 | Female | Mania | Other |
| RISPERDAL | 7-Oct-11 | | Female | Maternal Exposure During Pregnancy, Stillbirth | Other |
| RISPERDAL | 7-Oct-11 | | Female | General Physical Health Deterioration, Incoherent | Other |
| RISPERDAL | 7-Oct-11 | | Male | Insulin-requiring Type 2 Diabetes Mellitus | Hospitalization, Other |
| RISPERDAL | 6-Oct-11 | 38 | Female | Pulmonary Thrombosis | Other |
| RISPERDAL CONSTA | 6-Oct-11 | | Male | Akathisia, Emotional Distress, Insomnia, Overdose | Hospitalization |
| RISPERDAL CONSTA | 6-Oct-11 | 29 | Female | Accidental Exposure, Device Leakage, Device Malfunction, Exposure To Contaminated Device, Injury Associated With Device | Other |
| RISPERDAL CONSTA | 6-Oct-11 | 45 | Male | Accidental Exposure, Device Breakage, Injury Associated With Device | Other |
| RISPERDAL CONSTA | 6-Oct-11 | | | Device Malfunction, Exposure To Contaminated Device, Injury Associated With Device | Other |
| RISPERDAL CONSTA | 6-Oct-11 | | Female | Exposure To Contaminated Device, Injury Associated With Device | Other |
| RISPERDAL CONSTA | 6-Oct-11 | | | Accidental Exposure, Device Malfunction, Exposure To Contaminated Device, Injury Associated With Device, Syringe Issue | Other |
| RISPERDAL CONSTA | 6-Oct-11 | | | Accidental Exposure, Device Malfunction, Exposure To Contaminated Device, Injury Associated With Device, Syringe Issue | Other |
| RISPERDAL CONSTA | 6-Oct-11 | 29 | Female | Accidental Exposure, Device Leakage, Device Malfunction, Exposure To Contaminated Device, Injury Associated With Device, Syringe Issue | Other |
| RISPERDAL | 5-Oct-11 | | Female | Weight Increased | Unknown |
| RISPERDAL | 5-Oct-11 | | Male | Hospitalisation, Medication Error, Wrong Technique In Drug Usage Process | Hospitalization |
| RISPERDAL CONSTA | 5-Oct-11 | 62 | Female | Pulmonary Embolism | Hospitalization |
| RISPERDAL | 5-Oct-11 | 29 | Female | Blood Prolactin Increased, Breast Discomfort, Galactorrhoea | Hospitalization |
| RISPERDAL | 4-Oct-11 | 46 | Male | Dysuria, Epilepsy | Other |
| RISPERDAL | 4-Oct-11 | 46 | Male | Dysuria, Epilepsy | Other |
| RISPERDAL | 4-Oct-11 | 46 | Male | Dysuria, Epilepsy | Other |
| RISPERDAL | 4-Oct-11 | 46 | Male | Dysuria, Epilepsy | Other |
| RISPERDAL | 3-Oct-11 | | Male | Erectile Dysfunction, Musculoskeletal Stiffness, Sleep Disorder, Tremor | Other |
| RISPERDAL | 3-Oct-11 | | Female | Abdominal Distension, Aphasia, Chills, Loss Of Consciousness, Pain, Pain In Extremity, Respiratory Distress, Sleep Terror, Swelling | Other |
| RISPERDAL | 3-Oct-11 | | Male | Hospitalisation | Hospitalization |
| RISPERDAL | 3-Oct-11 | | Female | Dizziness, Euphoric Mood, Feeling Abnormal, Grief Reaction, Product Contamination, Product Tampering, Wrong Technique In Drug Usage Process | Hospitalization, Other |
| RISPERDAL CONSTA | 3-Oct-11 | | Female | Blood Pressure Increased, Cerebrovascular Accident, Medication Error, Myocardial Infarction | Life-Threatening |
| RISPERDAL | 3-Oct-11 | 75 | Male | Aortic Aneurysm | Other |
| RISPERDAL | 3-Oct-11 | | Female | Drug Tolerance Decreased, Dystonia | Hospitalization |
| RISPERDAL CONSTA | 3-Oct-11 | | Female | Obsessive-compulsive Disorder, Tardive Dyskinesia | Other |
| RISPERDAL CONSTA | 3-Oct-11 | 62 | Female | Pulmonary Embolism, Venous Thrombosis | Hospitalization |
| RISPERDAL | 2-Oct-11 | 86 | Male | Confusional State, Diplopia, Eyelid Ptosis, Gait Disturbance, Strabismus | Hospitalization |
| RISPERDAL CONSTA | 1-Oct-11 | | Female | Psychotic Disorder | Other |
| RISPERDAL CONSTA | 1-Oct-11 | 37 | Female | Injury, Psychotic Disorder | Other |
| RISPERDAL | 1-Oct-11 | 80 | Female | Hypothermia, Pancytopenia | Hospitalization |
| RISPERDAL CONSTA | 1-Oct-11 | 80 | Female | Hypothermia, Pancytopenia | Hospitalization |
| RISPERDAL | 1-Oct-11 | 80 | Female | Hypothermia, Pancytopenia | Hospitalization |
| RISPERDAL CONSTA | 1-Oct-11 | 80 | Female | Hypothermia, Pancytopenia | Hospitalization |
| RISPERDAL | 1-Oct-11 | 56 | Female | Alopecia, Blood Cholesterol Increased, Memory Impairment, Skin Wrinkling, Viith Nerve Paralysis | Unknown |
| RISPERDAL CONSTA | 1-Oct-11 | 56 | Female | Alopecia, Blood Cholesterol Increased, Memory Impairment, Skin Wrinkling, Viith Nerve Paralysis | Unknown |
| RISPERDAL | 1-Oct-11 | 17 | Male | Tardive Dyskinesia, Tic | Hospitalization, Other |
| RISPERDAL | 1-Oct-11 | 41 | Male | Dyskinesia, Hospitalisation | Hospitalization |
| RISPERDAL | 1-Oct-11 | 56 | Female | Blindness Transient, Bruxism, Choking Sensation, Dizziness, Dyspnoea, Fall, Hot Flush, Jaw Disorder, Laceration, Vertigo | Required Intervention to Prevent Damage |
| RISPERDAL | 1-Oct-11 | 41 | Female | Glaucoma, Papillitis | Other |
| RISPERDAL | 1-Oct-11 | 34 | Female | Confusional State, Dyspnoea, Heart Rate Abnormal, Hypoaesthesia, Mood Altered, Musculoskeletal Stiffness, Speech Disorder | Disability, Hospitalization |
| RISPERDAL CONSTA | 1-Oct-11 | 64 | Female | Cerebrovascular Accident, Viith Nerve Paralysis | Hospitalization |
| RISPERDAL CONSTA | 30-Sep-11 | | Female | Ileus, Inappropriate Schedule Of Drug Administration, Vertigo | Hospitalization, Other |
| RISPERDAL CONSTA | 30-Sep-11 | | Male | Diarrhoea, Hyperkalaemia, Hyponatraemia, Renal Failure Acute | Hospitalization |
| RISPERDAL | 30-Sep-11 | | Female | Type 2 Diabetes Mellitus, Weight Increased | Other |
| RISPERDAL | 30-Sep-11 | 75 | Female | Head Injury, Nervous System Disorder, Subdural Haematoma | Hospitalization, Life-Threatening |
| RISPERDAL | 29-Sep-11 | | Female | Abortion Spontaneous, Maternal Exposure During Pregnancy | Other |
| RISPERDAL | 29-Sep-11 | | | Cleft Lip And Palate | Congenital Anomaly |
| RISPERDAL | 29-Sep-11 | | | Pulmonary Thrombosis | Other |
| RISPERDAL CONSTA | 29-Sep-11 | | Female | Extrapyramidal Disorder, Immobile | Disability, Other |
| RISPERDAL | 29-Sep-11 | | Male | Gynaecomastia, Hyperphagia | Other |
| RISPERDAL CONSTA | 29-Sep-11 | 59 | Male | Apnoea, Brain Stem Ischaemia, Cardiovascular Disorder, Cerebral Artery Occlusion, Cerebral Infarction | Disability, Hospitalization |
| RISPERDAL | 28-Sep-11 | | Female | Pituitary Tumour Benign | Other |
| RISPERDAL CONSTA | 28-Sep-11 | | Female | Pituitary Tumour Benign | Other |
| RISPERDAL CONSTA | 28-Sep-11 | | Male | Blood Creatinine Increased, Overdose, Renal Impairment, Wrong Technique In Drug Usage Process | Other |
| RISPERDAL | 28-Sep-11 | | Male | Dyskinesia, Fatigue, Mental Disorder, Oral Disorder, Tinnitus, Treatment Noncompliance, Tremor | Hospitalization, Other |
| RISPERDAL | 28-Sep-11 | 86 | Female | Depressed Level Of Consciousness, Renal Impairment | Other |
| RISPERDAL | 28-Sep-11 | 86 | Female | Dehydration, Depressed Level Of Consciousness, Renal Impairment, Snoring, Transient Ischaemic Attack | Other |
| RISPERDAL CONSTA | 28-Sep-11 | 45 | Male | Psychotic Disorder, Pulmonary Embolism | Hospitalization, Life-Threatening |
| RISPERDAL CONSTA | 27-Sep-11 | 67 | Female | Basal Ganglia Infarction, Drug Interaction, Hemiparesis | Hospitalization, Life-Threatening |
| RISPERDAL | 27-Sep-11 | 79 | Female | Multiple Drug Overdose Intentional, Self Injurious Behaviour, Sluggishness | Other |
| RISPERDAL CONSTA | 27-Sep-11 | 67 | Female | Basal Ganglia Infarction, Drug Interaction, Hemiparesis | Hospitalization, Life-Threatening |
| RISPERDAL | 27-Sep-11 | 79 | Female | Multiple Drug Overdose Intentional, Sedation, Self Injurious Behaviour, Slow Speech, Ventricular Arrhythmia | Hospitalization, Other |
| RISPERDAL | 27-Sep-11 | 79 | Female | Multiple Drug Overdose Intentional, Sedation, Self Injurious Behaviour, Slow Speech, Ventricular Arrhythmia | Hospitalization |
| RISPERDAL | 27-Sep-11 | 86 | Female | Drop Attacks, Drug Interaction, Femoral Neck Fracture | Hospitalization |
| RISPERDAL | 27-Sep-11 | 86 | Female | Anaemia, Blood Creatinine Increased, Confusional State, Contusion, Creatinine Renal Clearance Decreased, Drop Attacks, Drug Interaction, Fall, Femoral Neck Fracture, Haemoglobin Decreased, Headache, Injury, Limb Deformity, Limb Injury | Hospitalization |
| RISPERDAL | 27-Sep-11 | 79 | Female | Multiple Drug Overdose Intentional, Sedation, Self Injurious Behaviour, Slow Speech, Ventricular Arrhythmia | Hospitalization |
| RISPERDAL | 27-Sep-11 | 86 | Female | Drop Attacks, Drug Interaction, Fall, Femoral Neck Fracture, Hip Fracture | Hospitalization |
| RISPERDAL CONSTA | 27-Sep-11 | 67 | Female | Basal Ganglia Infarction, Drug Interaction, Hemiparesis | Hospitalization, Life-Threatening |
| RISPERDAL | 27-Sep-11 | 88 | Female | Diarrhoea, Gastrointestinal Sounds Abnormal, Hypotension, Pancreatic Necrosis, Pancreatitis Acute, Pyrexia | Hospitalization |
| RISPERDAL CONSTA | 26-Sep-11 | 70 | Male | Delusion | Unknown |
| RISPERDAL | 26-Sep-11 | | Female | Adverse Event, Asthenia, Decreased Appetite, Dyspnoea, Incoherent, Mental Disorder, Pain, Sensory Disturbance, Weight Increased | Other |
| RISPERDAL | 26-Sep-11 | 50 | Female | Apathy, Personality Change, Weight Increased | Other |
| RISPERDAL | 26-Sep-11 | 18 | Male | Accident, Visual Impairment | Other |
| RISPERDAL | 26-Sep-11 | | Female | Brain Injury, General Physical Health Deterioration | Other |
| RISPERDAL | 26-Sep-11 | | Female | Fatigue, Poisoning | Hospitalization |
| RISPERDAL | 26-Sep-11 | 75 | Male | Muscle Rigidity | Other |
| RISPERDAL | 26-Sep-11 | 82 | Female | Blood Pressure Decreased, Loss Of Consciousness | Hospitalization, Life-Threatening |
| RISPERDAL | 26-Sep-11 | 68 | Male | Drug Administration Error, Hypotension, Medication Error, Wrong Drug Administered | Other |
| RISPERDAL | 26-Sep-11 | 68 | Male | Drug Administration Error, Hypotension, Medication Error, Wrong Drug Administered | Other |
| RISPERDAL | 26-Sep-11 | 68 | Male | Drug Dispensing Error, Hypotension, Medication Error, Wrong Drug Administered | Other |
| RISPERDAL | 26-Sep-11 | 68 | Male | Drug Administration Error, Hypotension, Medication Error, Wrong Drug Administered | Other |
| RISPERDAL | 26-Sep-11 | 27 | Female | Blood Prolactin Increased, Galactorrhoea | Hospitalization |
| RISPERDAL | 26-Sep-11 | 80 | Male | Aggression, Anxiety, Dementia Alzheimer's Type, Pulmonary Embolism, Thrombocytopenia | Hospitalization, Life-Threatening |
| RISPERDAL | 26-Sep-11 | 80 | Male | Aggression, Anxiety, Dementia Alzheimer's Type, Pulmonary Embolism, Thrombocytopenia | Hospitalization, Life-Threatening |
| RISPERDAL | 26-Sep-11 | 80 | Male | Aggression, Anxiety, Dementia Alzheimer's Type, Pulmonary Embolism, Thrombocytopenia | Hospitalization, Life-Threatening |
| RISPERDAL | 26-Sep-11 | 80 | Male | Aggression, Anxiety, Dementia Alzheimer's Type, Pulmonary Embolism, Thrombocytopenia | Hospitalization, Life-Threatening, Other |
| RISPERDAL | 26-Sep-11 | 60 | Female | Dysuria, Insomnia, Parkinsonism | Other |
| RISPERDAL | 26-Sep-11 | 60 | Female | Dysuria, Insomnia, Parkinsonism | Other |
| RISPERDAL | 24-Sep-11 | 3 | Female | Dyspnoea, Medication Error, Opisthotonus, Sluggishness, Sopor, Strabismus, Tremor | Other |
| RISPERDAL | 24-Sep-11 | 3 | Female | Dyspnoea, Medication Error, Opisthotonus, Sluggishness, Sopor, Strabismus, Tremor | Other |
| RISPERDAL | 24-Sep-11 | 3 | Female | Accidental Drug Intake By Child, Opisthotonus, Respiratory Failure, Sopor, Strabismus | Hospitalization |
| RISPERDAL | 24-Sep-11 | 87 | Female | Blood Sodium Decreased, Depressed Level Of Consciousness, Hyperkalaemia, Renal Impairment, Urinary Retention | Hospitalization, Other |
| RISPERDAL | 24-Sep-11 | 3 | Female | Accidental Drug Intake By Child, Hyporesponsive To Stimuli, Opisthotonus, Respiratory Failure, Strabismus | Hospitalization |
| RISPERDAL | 24-Sep-11 | 87 | Female | Blood Sodium Decreased, Depressed Level Of Consciousness, Hyperkalaemia, Renal Impairment, Urinary Retention | Other |
| RISPERDAL | 24-Sep-11 | 87 | Female | Blood Sodium Decreased, Depressed Level Of Consciousness, Hyperkalaemia, Renal Impairment, Urinary Retention | Hospitalization, Other |
| RISPERDAL | 23-Sep-11 | 54 | Male | Anxiety, Gastric Ulcer, Hypothyroidism, Orthostatic Hypotension, Palpitations, Vertigo | Other |
| RISPERDAL CONSTA | 23-Sep-11 | | Male | Abscess | Other |
| RISPERDAL | 23-Sep-11 | | Male | Completed Suicide | Death |
| RISPERDAL | 23-Sep-11 | | Male | Abnormal Weight Gain, Gynaecomastia, Off Label Use | Other |
| RISPERDAL | 23-Sep-11 | 49 | Male | Drug Interaction, Extrapyramidal Disorder, Eyelid Oedema, Hypertension, Left Ventricular Hypertrophy, Periorbital Oedema, Renal Failure, Tachycardia | Other |
| RISPERDAL CONSTA | 23-Sep-11 | | Female | Inappropriate Schedule Of Drug Administration, Overdose | Hospitalization |
| RISPERDAL CONSTA | 23-Sep-11 | | Female | Inappropriate Schedule Of Drug Administration, Overdose | Hospitalization |
| RISPERDAL | 22-Sep-11 | 19 | Male | Aggression, Anger, Drug Dose Omission | Other |
| RISPERDAL | 22-Sep-11 | 68 | Male | Dementia With Lewy Bodies, Insomnia | Hospitalization |
| RISPERDAL | 22-Sep-11 | 33 | Female | Hallucination, Insomnia | Other |
| RISPERDAL CONSTA | 22-Sep-11 | | Female | Ophthalmoplegia | Other |
| RISPERDAL | 22-Sep-11 | 71 | Male | Blood Glucose Increased, Drug Interaction, Drug Level Decreased, Hallucination, Olfactory, Sensory Disturbance, Suicidal Ideation, Treatment Noncompliance | Hospitalization |
| RISPERDAL | 22-Sep-11 | | Male | Delirium, Hospitalisation, Inadequate Diet, Incorrect Dose Administered, Pneumonia, Renal Failure | Hospitalization, Other |
| RISPERDAL | 21-Sep-11 | 19 | Male | Self Injurious Behaviour | Other |
| RISPERDAL | 21-Sep-11 | 23 | Female | Accidental Exposure, Diastolic Hypertension, Headache, Tachycardia | Hospitalization |
| RISPERDAL | 21-Sep-11 | 19 | Male | Agitation, Intentional Overdose, Self Injurious Behaviour, Tachycardia | Hospitalization |
| RISPERDAL | 21-Sep-11 | 19 | Male | Agitation, Intentional Overdose, Self Injurious Behaviour, Tachycardia | Hospitalization |
| RISPERDAL | 21-Sep-11 | 72 | Female | Neuroleptic Malignant Syndrome, Pneumonia Aspiration | Death |
| RISPERDAL | 20-Sep-11 | | Male | Pituitary Tumour, Type 2 Diabetes Mellitus, Weight Increased | Other |
| RISPERDAL CONSTA | 20-Sep-11 | 58 | Female | Lymphocyte Count Decreased, White Blood Cell Count Decreased | Other |
| RISPERDAL | 20-Sep-11 | 33 | Male | Pulmonary Embolism, Septic Embolus | Hospitalization, Life-Threatening |
| RISPERDAL | 20-Sep-11 | 49 | Male | Ileus, Pneumonia | Other |
| RISPERDAL | 20-Sep-11 | 49 | Male | Ileus, Pneumonia | Other |
| RISPERDAL | 20-Sep-11 | 49 | Male | Ileus, Insomnia, Pneumonia | Other |
| RISPERDAL CONSTA | 19-Sep-11 | | Male | Cardiac Disorder | Hospitalization |
| RISPERDAL | 19-Sep-11 | 35 | Male | Ischaemic Stroke | Hospitalization |
| RISPERDAL | 16-Sep-11 | | Female | Affect Lability, Delusion, Dyslalia, Insomnia, Obesity, Protrusion Tongue, Treatment Noncompliance | Hospitalization, Other |
| RISPERDAL | 16-Sep-11 | | Female | Hospitalisation, Methaemoglobinaemia | Hospitalization, Other |
| RISPERDAL CONSTA | 16-Sep-11 | | Male | Extrapyramidal Disorder, Oculogyric Crisis, Psychotic Disorder | Hospitalization, Other |
| RISPERDAL | 16-Sep-11 | | Female | Convulsion, Hypotension | Hospitalization |
| RISPERDAL | 15-Sep-11 | | Male | Tremor | Unknown |
| RISPERDAL | 15-Sep-11 | | Female | Condition Aggravated, Hospitalisation, Ill-defined Disorder, Incoherent, Nervous System Disorder, Suicide Attempt | Hospitalization, Other |
| RISPERDAL CONSTA | 15-Sep-11 | | Female | Condition Aggravated, Hospitalisation, Ill-defined Disorder, Incoherent, Nervous System Disorder, Suicide Attempt | Hospitalization, Other |
| RISPERDAL | 15-Sep-11 | 33 | | Dialysis | Other |
| RISPERDAL | 15-Sep-11 | 38 | Male | Aggression, Agitation, Breast Enlargement, Constipation, Deafness, Disturbance In Attention, Drug Effect Decreased, Drug Ineffective, Erection Increased, Fatigue, Feeling Abnormal, Gastric Ulcer, Headache, Influenza Like Illness, Insomnia, Memory Impairment, Muscle Spasms, Product Formulation Issue, Rash, Rectal Haemorrhage, Suicidal Behaviour, Tinnitus, Unevaluable Event, Weight Increased | Other |
| RISPERDAL | 15-Sep-11 | 25 | Male | Self Injurious Behaviour, Sluggishness, Tremor, Vomiting | Other |
| RISPERDAL CONSTA | 15-Sep-11 | 26 | Male | Cerebral Arteriosclerosis, Injection Site Pain | Other |
| RISPERDAL | 15-Sep-11 | 18 | Male | Accident, Paraesthesia, Syncope, Visual Impairment | Other |
| RISPERDAL | 15-Sep-11 | 88 | Male | Abnormal Behaviour | Hospitalization |
| RISPERDAL | 15-Sep-11 | 88 | Male | Abnormal Behaviour | Hospitalization |