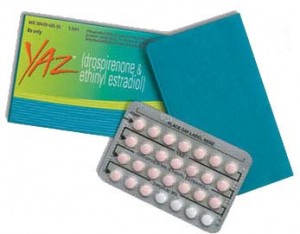 How do you become the most popular product of your kind in the US? You invest heavily in marketing and hide any facts that might be detrimental to your product. Bayer Healthcare did just this and more in their promotion of their widely sought after contraceptive, Yaz.
Yaz was originally created in 2001 by Bertex Laboratories, who initially named it Yasmin. In 2006, the Bertrex Company was taken over by Bayer Healthcare who reintroduced the product as Yaz after it was approved by the FDA that same year. Over the next few years, Bayer invested heavily in marketing which in turn proved to be a financially returning investment as Yaz became the most popular and profitable birth control method in the U.S.
While the FDA approved the contraceptive for use as a birth control method and the treatment of mild acne and premenstrual dysphoric disorder (PMDD), Bayer promoted the product past such limitations allegedly advertising that it could also treat premenstrual syndromes and any form of acne and PMDD. However, what Bayer left out or downplayed, is that Yaz had shown, in certain cases, to result in complications such as heart attacks, pulmonary embolism, blood clots, gallbladder disease, and strokes. In short, Bayer exaggerated the benefits while minimizing the adverse and fatal size effects.
The FDA issued plenty of warnings against Bayer's marketing practices, making aware the fact that their commercials were deceptive to the consumer and that the drug was only approved for sell as a birth control method. This is all the FDA has done though, and against popular demand which is calling for a recall of the product that has injured thousands of people and killed almost a hundred more.
Although attempts to have the product recalled have been unsuccessful, lawsuits against the company Bayer Pharmaceuticals have not. The Germany-based manufacturer has more than 10,000 US patients filing lawsuits against it, and according to Reuters, has already settled 3,490 cases for $750 million. These claims include negligence, strict product liability, breach of express and implied warranties, fraudulent and negligent misrepresentation, fraudulent concealment, medical monitoring, and fraud and deceit.
If you or a loved one has fallen victim to such immoral business practices, then you are entitled to being compensated for by the medical company. Bayer prioritized their greedy practices over healthy ones, and as a result, thousands of women are experiencing fatal side effects that could have been avoided if Bayer would have made them aware. Do not let one man's greed go unpunished. Timing is everything in these cases, so get in touch quickly with an experienced and specialized attorney who can make sure that you and your family are taken care of and Bayer Pharmaceuticals is not left off the hook. You are not alone in this.